Lawrence Taylor's Dangerous Addictions Nearly Cost Him Everything
On the field, Lawrence Taylor made a habit of destroying players with thrilling ease. Off the field, his demons curtailed his career and nearly destroyed him several times. Taylor is arguably one of the best NFL players ever. But his addictions helped to bring an early end to his career and has followed him into retirement. He still experiences these issues to this day.
Lawrence Tayor menaced NFL offenses for a decade
There are few, if any, people who have been in the public eye for an extended amount of time and shown less emotion than Bill Belichick. He's won six championships and is considered the best coach of all time. But he spends most of his public appearances muttering generic soundbites while wearing ratty hoodies. It takes a lot to draw passion out of him. Talking about the greatness of Lawrence Taylor is one way to do it.
Belichick says Taylor is the best player he's ever coached, including Tom Brady. Looking at the highlights of Taylor's career, it's hard to argue his claim.
"LT" was a one-man battering ram who simply would not be stopped. He came to football relatively late in life. Taylor didn't play on his high school team until his junior year. But once he got to college to play for North Carolina, his talent made him unmissable. After four years there, he was drafted second overall by the New York Giants in 1981. He hit the ground (and fearful quarterbacks) running in the NFL. He played defense with recklessness and force that entertained fans and terrified offenses.
After six years, Taylor had already won the NFL Defensive Rookie of the Year Award, won the NFL Defensive Player of the Year three times, been named a First-team All-Pro six times, become the first linebacker to be unanimously voted league MVP (defensive end Alan Page won the award in 1971), and led his team to a championship in 1986 as a member of the Giants' "Big Blue Wrecking Crew".
Injuries meant that those years ended up being the peak of Taylor's career, but he still had a good few years left in the league. He retired in 1993 with 132.5 sacks (currently tied for 14th all-time), two Super Bowls, 10 Pro Bowl selections, and eight first-team All-Pro selections. It wouldn't be long before he returned to the public eye, this time for much less celebratory reasons.
His indulgent lifestyle derailed his life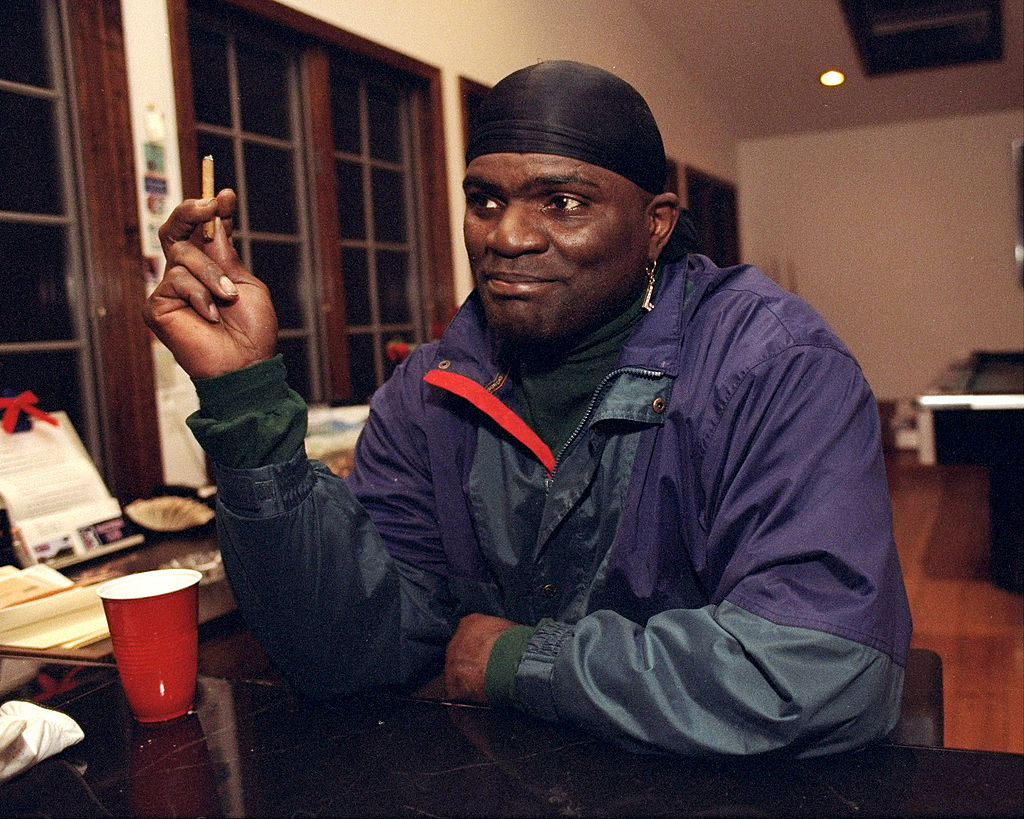 Taylor's reckless nature helped him take down quarterbacks and harmed him greatly as a civilian. The temptation of drugs and women were too strong for Taylor to turn down. Sometimes, his inability to control himself could lead to moments of comedy, such as when he showed up to a team meeting wearing handcuffs put on him by a couple of ladies he met the night before. But his habits were overwhelmingly destructive.
Taylor first tried cocaine at a party in 1981. By his third season, he was regularly doing crack. Incredibly, his drug use had next to no effect on his play, and the NFL took a long time to catch him because Taylor would get the urine of his teammates in order to pass drug tests. This maneuver didn't stop Taylor from failing a test in 1987.
He wasn't the only Giants player to partaking in illegal substances. He couldn't blame his second failed test in 1988 on anyone but himself. A third failed test would end his career, so Taylor went to rehab and forced himself to drop the drugs. But once he was out of the league, he fell right back into his old, sad routine.
Taylor's issues stuck with him post-retirement
Without football, Taylor was just an addict with a lot of time and money on his hands. He's spent most of the past twenty years bouncing back and forth between recovery and regression, with news of his arrests sadly more common than they should be. Taylor was back smoking crack the day after his final game. Chasing the next high became the only thing that mattered, to the point that his wife divorced him in 1996.
To win back the trust of her and their children, Taylor tried to quit again. He succeeded for over a year, but the monotony of golf and watching TV wasn't enough for him, and he binged on drugs and women for most of 1998. At one point, he was spending over $1000 a day on escort services and cocaine. After being arrested twice on drug-related charges, he went to rehab for a second time.
Taylor tried to fill his time with less damaging hobbies. He worked as a football analyst, acted in films and TV shows, and danced on Dancing With the Stars. But he found himself on the wrong side of the law soon enough. Taylor's been arrested three times since 2009, the infamous one occurring in 2011 when he was charged with sexual misconduct and patronizing an underage prostitute. None of these arrests have involved cocaine or crack, although he pled guilty to a DUI in 2017 after failing a breathalyzer test.
Lawrence Taylor's story is sadly familiar to anyone who is familiar with the nature of addiction. Recovery can take years to achieve, and one mistake can quickly lead to disastrous consequences. In his 2004 autobiography LT: Over the Edge, Taylor described himself as "an adrenaline junkie who lived life on a thrill ride." A man wired that way is always going to have problems aging gracefully.