LeBron James Uses 1 Tweet to Prove He Couldn't Care Less About an Angry Business Owner From His Home State
There's no way around it; NBA legend LeBron James has a ton of haters. The LA Lakers star has been in the league since 2003 and has had the pressure of becoming the next Michael Jordan on him ever since. That large spotlight on LBJ — paired with James' willingness to share his political beliefs — has led to The King picking up quite a few haters along the way.
On that list of critics, though, is a bar owner from James' home state of Ohio.
NBA star LeBron James had a controversial tweet
RELATED: LeBron James' Former Cavs Teammate Just Called Cleveland out for Being 'Scared' During LeBron's First Cavs Stint
Tuesday, April 20 was an emotional day for many Americans. A jury found Derek Chauvin, a former police officer, guilty of two counts of murder for the killing of George Floyd. The jury also found him guilty of one count of manslaughter.
While some Americans may have felt relieved over the decision, many also recognized the long road the country still has ahead of it.
On that same day, a police officer in Columbus, Ohio, shot and killed a 16-year-old Black girl, Ma'Khia Bryant. According to The New York Times, body-cam footage showed that as officer Nicholas Reardon — who had been responding to a 911 call — exited his vehicle, Bryant lunged at a woman with what appeared "to be a knife in her hand." Reardon then yelled at Bryant to get down. However, she also lunged at another woman. The officer then ultimately fired four shots at Bryant.
The shots ended up killing her.
In the midst of the emotional news regarding Chauvin and then hearing of another Black girl dying at the hands of police, NBA star LeBron James tweeted a photo of Reardon, who is white. Along with the photo, he said, "YOU'RE NEXT #ACCOUNTABILITY," and added the hourglass emoji, according to ESPN.
The tweet ultimately angered many who believe Reardon saved the women who Bryant lunged toward. James then deleted the tweet and posted a couple more in response.
"I'm so damn tired of seeing Black people killed by police. I took the tweet down because its being used to create more hate," he said in one of his tweets. "This isn't about one officer. it's about the entire system and they always use our words to create more racism. I am so desperate for more ACCOUNTABILITY."
His tweet led to a response from an angry Ohio bar owner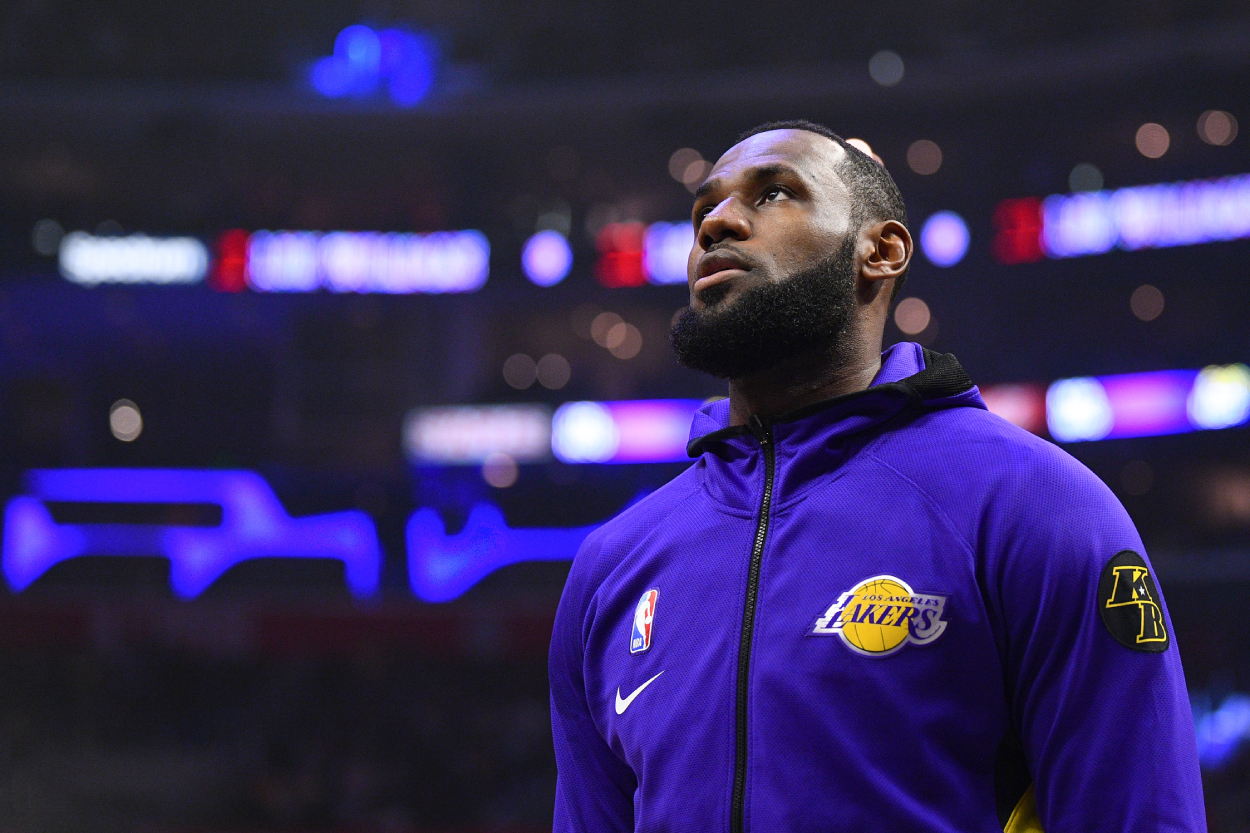 RELATED: LeBron James Initially Declined the Invitation to Star in 'Space Jam 2' but Changed His Mind Thanks to a Famous Actor's Bold Idea
Many people have expressed their frustrations with LeBron James' tweet. This includes Cincinnati bar owner Jay Linneman.
According to USA Today, Linneman owns a bar called Linne's Pub on the West Side of Cincinnati. In a Facebook post, Linneman said he would not play NBA games at Linne's Pub until James is "expelled" from the league.
"They just need to play the game and that's it," Linneman said of athletes, according to USA Today. "Their opinion doesn't really matter. They're using their position to push their opinions, and that's just not right."
So, what does James think of this new rule?
"Aww Damn! I was headed there to watch our game tonight and have a drink! Welp," James tweeted.
Others reacted to the anti-LeBron James bar
RELATED: LeBron James Carried 2 Cavs Teammates to the NBA Finals Before They Both Later Became Reality TV Stars
LeBron James wasn't the only one who responded to Linneman's new rule.
Taylor Rooks of Bleacher Report tweeted, "I don't understand what people think they accomplish with this," while sports and political commentator Keith Olbermann posted, "Update, June 2021: Ohio bar closes."
Former NBA player Rex Chapman also just replied to James' tweet with a bunch of laughing emojis.
However, not everyone took James' side. In a direct reply to LBJ's tweet, Tank Carder, a former Cleveland Browns player who only played in the NFL from 2012 through 2016, tweeted, "No one wants you there, please believe that. Your stock is dropping daily bud."
It'll be interesting to see if anything else comes of this no-NBA-game mandate and if Linneman sticks to his policy.