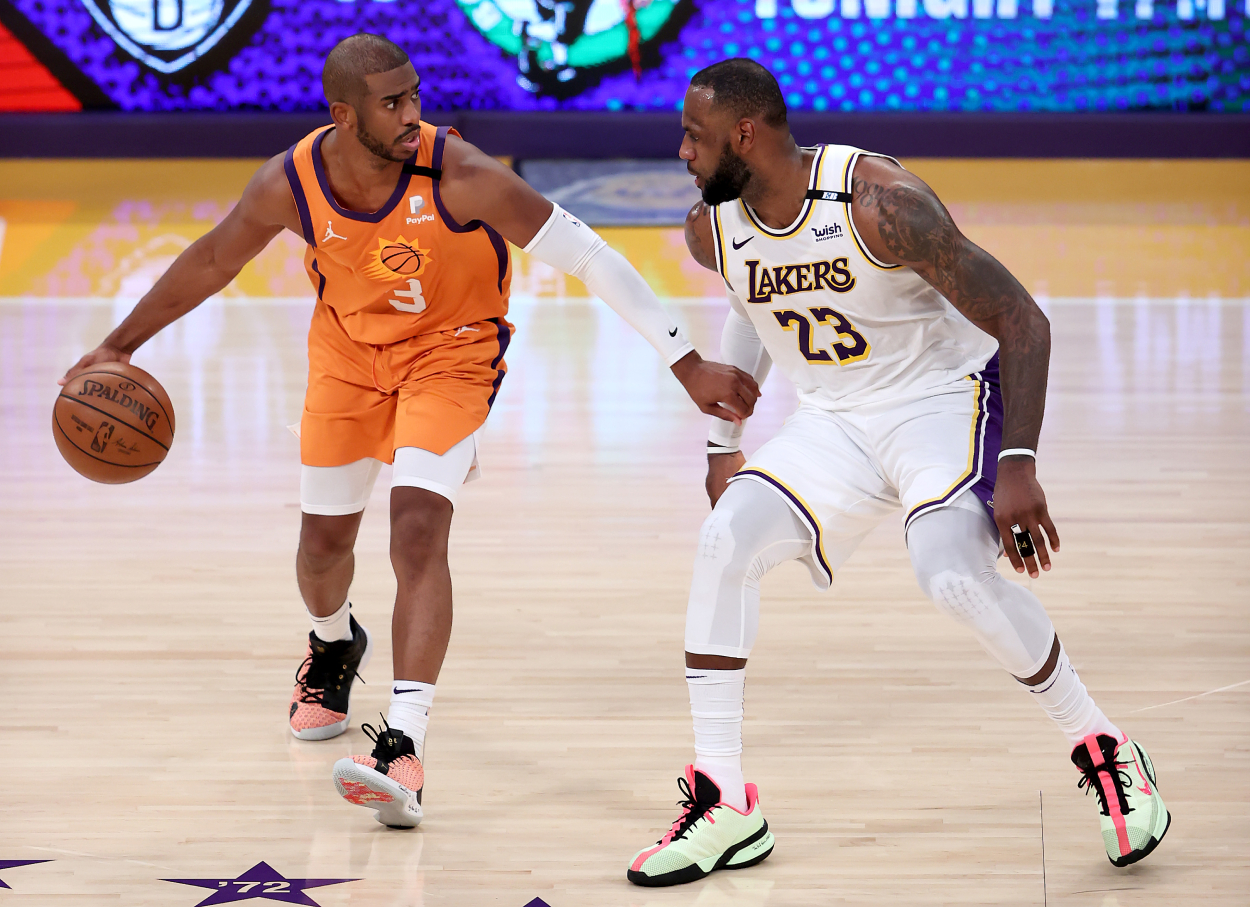 LeBron James Gives a 1-Word Answer When Asked About Chris Paul Potentially Joining the Lakers
The Los Angeles Lakers need to improve their roster before the 2021-22 season so that LeBron James can win another title. So, during a recent interview, James gave a one-word response when asked about the idea of Chris Paul potentially making the move to LA to team up with him and Anthony Davis.
Although injuries played a massive role in LeBron James and the Los Angeles Lakers' early exit in the 2021 NBA playoffs, they would still like to improve their team before the 2021-22 season. One type of player the Lakers hope to reportedly add is a playmaker who can help James play off the ball a bit more next season.
So, who would fit that role best? Well, of course, many people may think of James' longtime friend and banana boat crew member Chris Paul, who is currently playing in the NBA Finals with the Phoenix Suns. Paul's future past this series is also unknown right now, as he has a player option for next season.
Because of Paul's cloudy future, James recently received a question about maybe teaming up with CP3 on the Lakers, and he ultimately gave a one-word answer.
LeBron James is rooting for Chris Paul in the NBA finals
Paul has been in the NBA since 2005, and he had never played in the finals until this year. Now, he and the Suns are just two wins away from winning a championship, which would, obviously, be the first of Paul's Hall of Fame career.
James and Paul have been friends for years, so The King recently revealed on Jimmy Kimmel Live! that he is, in fact, rooting for the Suns over the Milwaukee Bucks in the finals.
"I have a horse in the race, and he goes by the name of Chris Paul," James said on the July 13 episode. 
James continued: "That is my brother. We've known each other since my junior year of high school. … We actually met for the first time when we were in eighth grade. We played in the same AAU national basketball tournament in Orlando, Florida, and then we officially met my junior year."
James and Paul were both a part of the 2003 national high school recruiting class, as James was the No. 1 overall prospect and Paul was No. 6. But James eventually went straight to the NBA out of high school, and Paul played at Wake Forest for two seasons.
Through four games in the 2021 NBA Finals, Paul and the Suns are tied 2-2 with the Bucks, and he has averaged 21.0 points and 8.3 assists per game.
LeBron James gave a one-word answer when asked about Chris Paul potentially going to the Lakers
According to Bleacher Report, Marc Stein recently reported that the Lakers want to add a playmaker this offseason so that LeBron James and Anthony Davis can play more at the 4 and 5 next year. So, who would better fill that position than Paul, one of the greatest facilitators the game has ever seen?
During James' appearance on Jimmy Kimmel Live!, guest host Arsenio Hall brought up how Paul almost played for the Lakers in 2011, way before James went to LA. However, the league owned the New Orleans Hornets — Paul's team at the time — and then-NBA commissioner David Stern vetoed a trade that would have sent Paul to the Lakers to play with Kobe Bryant.
While talking about the failed Paul-Lakers trade, Hall had one question for James.
"Could it still happen, and would you like it to still happen?" Hall asked, referring to Paul potentially playing for the Lakers.
James just laughed in response, and Hall brought up how The King probably didn't want to answer because it would be considered tampering, which would result in a fine. But Hall then said, "You probably can't talk about that. Of course, you'd love to play with your friend. We'd love it."
James' response?
"Absolutely."
Could Chris Paul actually join the Lakers?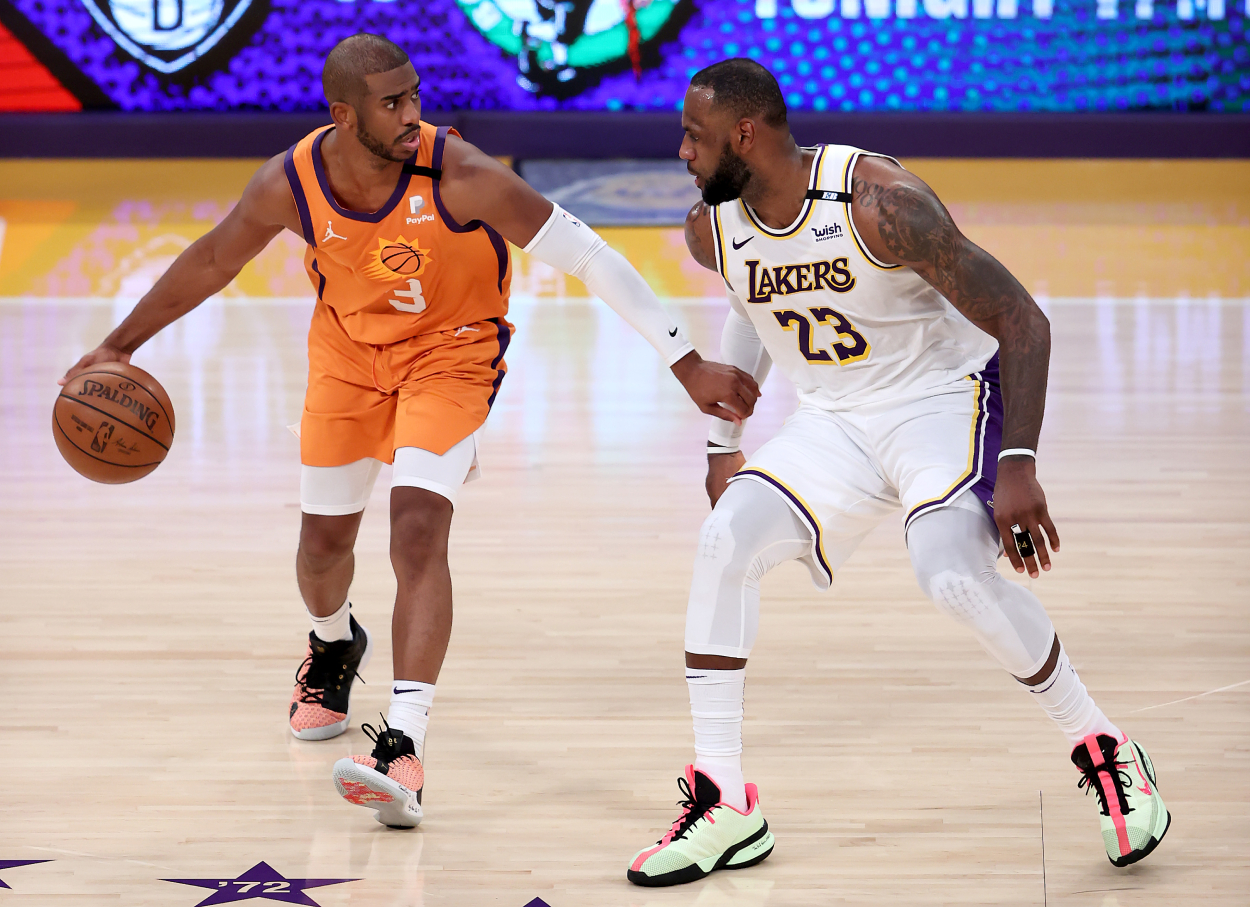 In all reality, it would be pretty hard for the Lakers to add Chris Paul this offseason. He has a $44.2 million player option for next season, and he could even opt out and get a bigger and longer deal, especially after averaging 16.4 points and 8.9 assists this year, while also leading the Suns to the finals.
The Lakers simply don't have the cap space to afford that unless they can figure out some sort of trade where they'd be able to free up some space for Paul. It's also hard imagining Paul leaving Phoenix after reaching his first finals ever this season.
Sure, a Paul-James-Davis Big Three would be fun to watch, and yes, the Lakers need a playmaker. But, as of right now, the possibility of that happening doesn't seem too likely — even if James would "absolutely" love to see it.
Stats courtesy of Basketball Reference