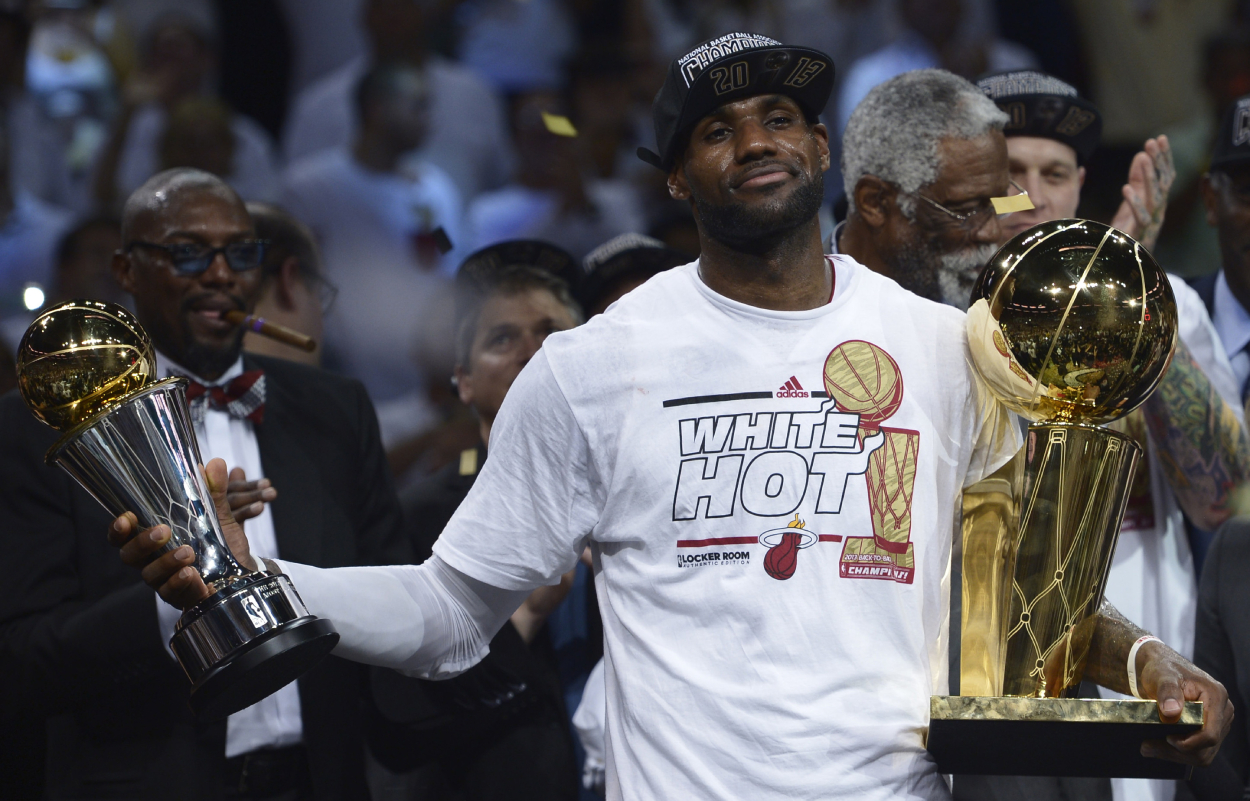 LeBron James Has 4 Championships, but Shaquille O'Neal Strongly Believes He Should Have Another: 'We Were No. 1'
LeBron James has won four championships, two coming with the Heat and one each with the Cavs and Lakers, but he could have won another. In fact, his former Cavs teammate, NBA legend Shaquille O'Neal, strongly believes The King would have won his first title sooner had it not been for a teammate's unfortunate injury.
Many of you can recite LeBron James' career path in your sleep: He spent his first eight NBA seasons without a championship before winning two with the Miami Heat. James has since won two more (one apiece) with the Cleveland Cavaliers and Los Angeles Lakers.
However, what if he had won a title sooner in his career? NBA legend Shaquille O'Neal strongly believes The King should have done just that.
LeBron James and Shaquille O'Neal paired up on the Cavs in 2009-10
Through the first seven seasons of his career, LeBron James transformed the Cavaliers into one of the best teams in the league. They went to the NBA Finals in 2007 before having the NBA's best record in 2008-09.
However, after falling short in the 2009 Eastern Conference Finals, the Cavs made a big move to try to help James win his first title: They brought Shaquille O'Neal to Cleveland by sending Sasha Pavlovic, Ben Wallace, a second-round pick, and cash to the Phoenix Suns.
O'Neal was no longer the dominant player he had been for the Lakers, but he had just earned an All-Star selection with the Suns the season before, averaging 17.8 points and 8.4 rebounds. So, he essentially still had the talent to help James win it all.
And the Cavs played like a team that could do it.
Shaq only posted 12.0 points and 6.7 rebounds per game that season, but the Cavs had the best record in the NBA again. They went 61-21, and James won his second consecutive league MVP.
O'Neal, though, missed the last 23 games with an injured hand, not playing again until the playoffs, and he and Cleveland never found their rhythm again. The Cavaliers eventually lost to the Boston Celtics in six games in the Eastern Conference semifinals.
The Celtics went on to reach the NBA Finals that season, and Kobe Bryant and the Lakers won the title.
Shaq thinks the Cavs would have won it all had he been healthy
In 2016, O'Neal said to Yahoo Sports that he thought the Cavs would have won the championship in 2010 had he been healthy. He has since stood by that claim in a recent interview with Sportscasting.
"We were No. 1; everything was good," O'Neal said while talking to Sportscasting about his and The General's partnership with Black Entrepreneurs Day. "I knew my role: just to back [LeBron] up. If he looks to me, I score. If not, set picks, get him open, rebound, knock other players on their ass. I knew my role. We were in first. We were playing against Boston, and Big Baby (Glen Davis), who could never stop me, did hack-a-Shaq. And as soon as I grabbed the ball, I couldn't feel my thumb; I had that injury before; I knew my hand was broke."
O'Neal said he did everything he could to stay in shape during the weeks that he couldn't play, but it just wasn't enough.
"So, now when your hand is broke, you're out four weeks; there's nothing you can do," he said. "Did cardio, I ate right, I went to the gym … I was there every night, running the treadmill. And then when I came back to play, I'm like, 'I'm in people shape, but I'm not in basketball shape,' and we could just never get it going again."
O'Neal's struggles certainly played a role in the Cavs losing in the semifinals. He only averaged 11.5 points and 5.5 rebounds in 11 postseason contests. Before his injury, he had been averaging 15.9 points and 6.9 rebounds in his previous 14 games.
Although he was in his late 30s, a healthy Shaq was still a scary Shaq, and he could have very easily helped the Cavs reach the promised land.
LeBron James' career path would likely look totally different had he won the 2010 title with the Cavs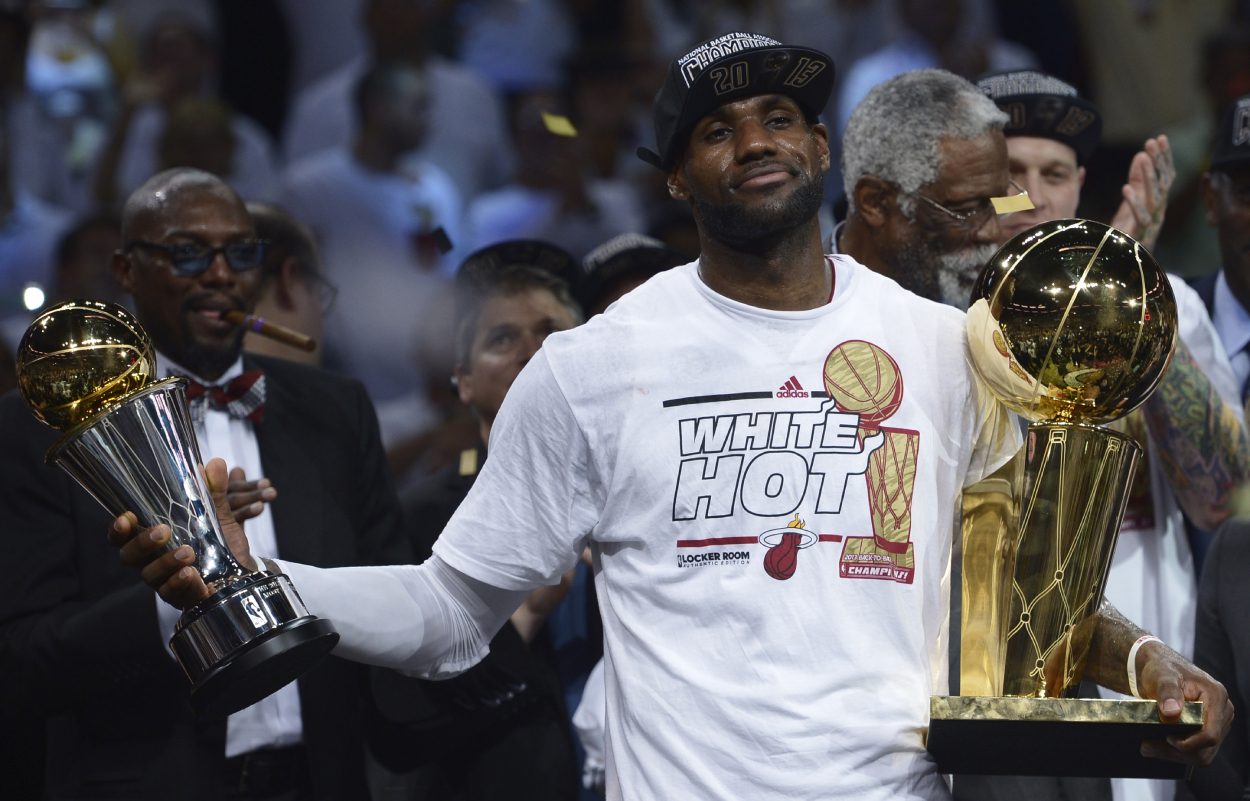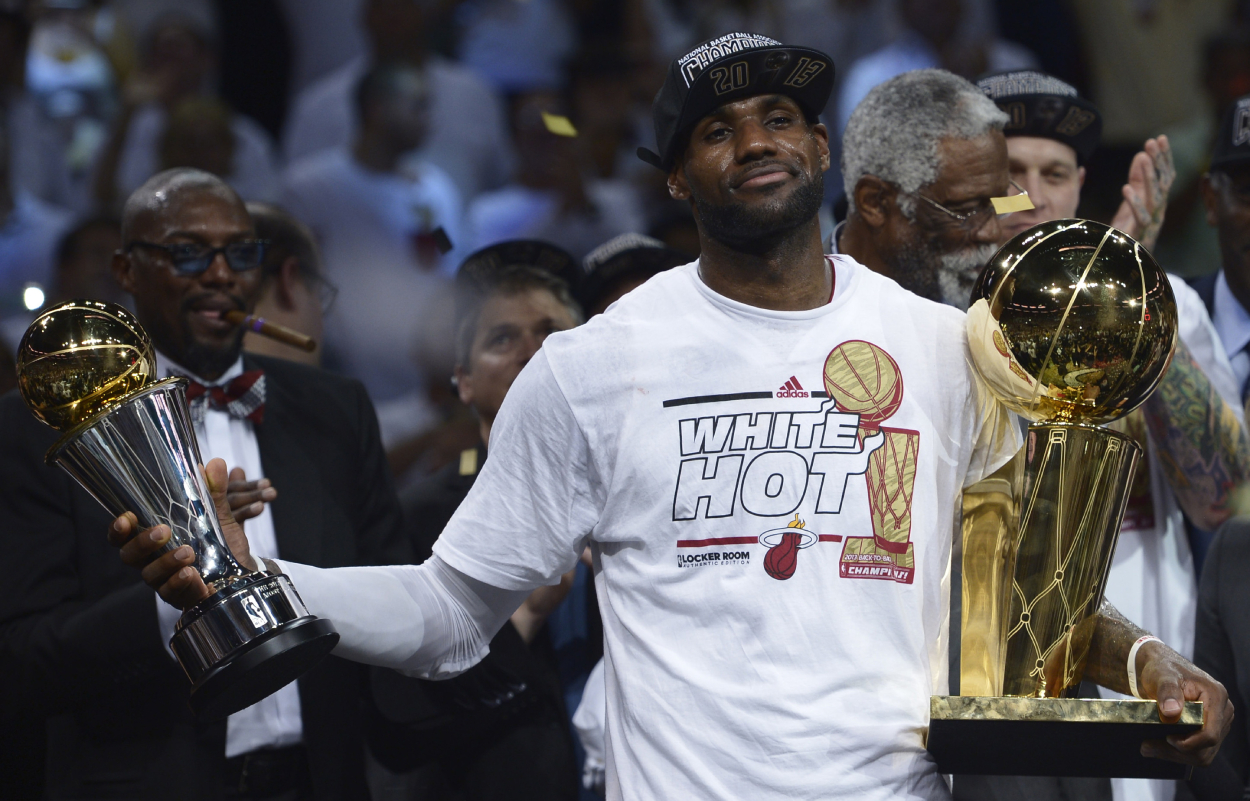 LeBron James' career path would have likely been totally different had he and Shaq won the 2010 championship with the Cavs.
After their loss in the semifinals, The King ended up leaving and going to the Miami Heat. It's hard to imagine that he still would have done that had he just won the title in Cleveland.
If he had stayed on the Cavs, James would have never won two rings in Miami. Cleveland also wouldn't have drafted Kyrie Irving in 2011, meaning he and James would have never played together during LeBron's second stint on the team from 2014-15 through 2016-17.
Obviously, the future Hall of Famer would have likely found other ways to win titles, but his paths to winning them would have just been very different.
All in all, James is a four-time NBA champion and one of the greatest basketball players of all time. His career path, though, wouldn't look like how it does now had it not been for Shaq's broken hand.
Stats courtesy of Basketball Reference