LeBron James' Activism Has Now Led to Him Producing a Documentary About Racism
The killing of George Floyd has sparked activism against racism and police brutality across the entire country, and even the world. However, one of the most popular athletes in the world, LeBron James, has voiced his opinions on these issues for years. Now, in the aftermath of Floyd's killing, James is producing a documentary about racism.
LeBron James has been a leading voice against racism
RELATED: Stephen Jackson Admits LeBron James Is the Greatest Athlete Ever; His Reasoning Has Nothing to Do With Basketball
Throughout the years, LeBron James has used his platform to help make a change in America. He has ultimately been a major activist for standing up against police brutality and racism. 
The country saw this publicly when James, Dwyane Wade, Carmelo Anthony, and Chris Paul went on stage at the ESPYS in 2016. They did so to urge other athletes to be active socially, according to ESPN. 
"Tonight we're honoring Muhammad Ali, the GOAT," James said at the ESPYS, according to ESPN. "But to do his legacy any justice, let's use this moment as a call to action to all professional athletes to educate ourselves, explore these issues, speak up, use our influence and renounce all violence and, most importantly, go back to our communities, invest our time, our resources, help rebuild them, help strengthen them, help change them. We all have to do better."

LeBron James
James' activism has continued in recent days following the death of George Floyd.
Floyd's death has sparked activism across the world
RELATED: Floyd Mayweather to Pay for Four Funeral Services for George Floyd
Since the killing of George Floyd, many people have protested against racism and police brutality in America. This has not just been famous athletes like LeBron James either as people throughout the entire country and world have spent their time protesting the problems in the U.S.
James has also continued to use his platform during all of this.
On Instagram, James posted a photo of side-by-side pictures of Derek Chauvin, the officer that knelt on the back of George Floyd's neck for over eight minutes, and Colin Kaepernick. They were both kneeling in the photo, and it said, "This… … Is Why." He also posted a picture of himself from a few years back, wearing a t-shirt that said, "I can't breathe."
On Twitter, James has also been very active. He tweeted this.
He also called out New Orleans Saints quarterback Drew Brees for continuing to criticize NFL players who kneel during the national anthem. 
"WOW MAN!! Is it still surprising at this point," James tweeted. "Sure isn't! You literally still don't understand why Kap was kneeling on one knee?? Has absolute nothing to do with the disrespect of [the flag] and our soldiers (men and women) who keep our land free. My father-in-law was one of those men who fought as well for this country. I asked him question about it and thank him all the time for his [commitment]. He never found Kap peaceful protest offensive because he and I both know what's right is right and what's wrong is wrong! God bless you."
Now, James is continuing his activism.
James and his company will produce a documentary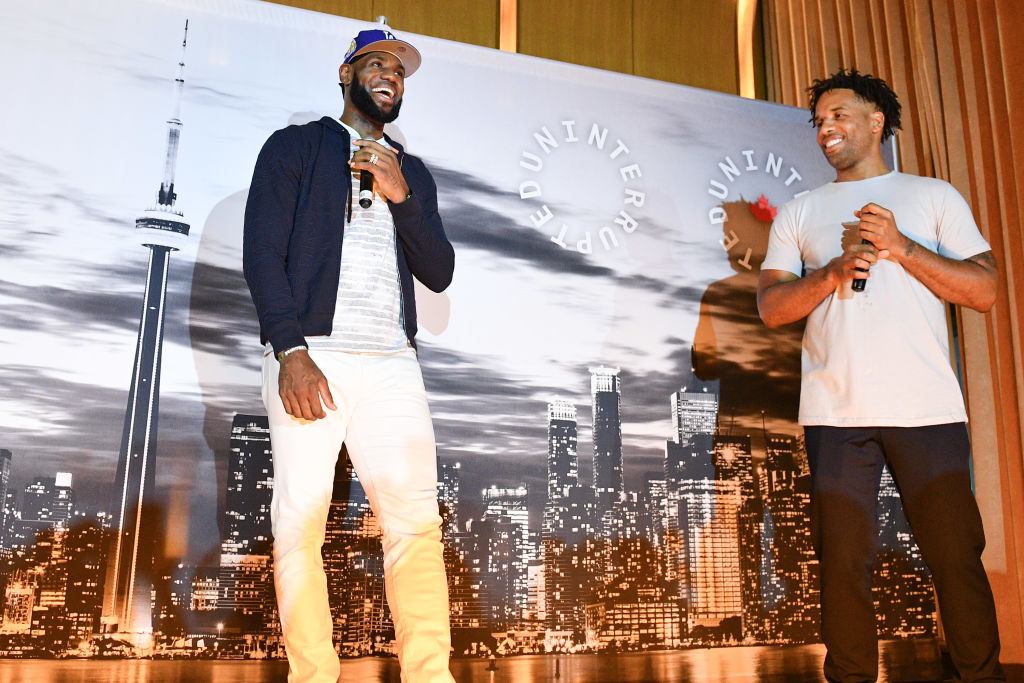 RELATED: Colin Kaepernick Revealed What Event Helped Inspire His Activism
Earlier this week, Cleveland.com reported that James and Maverick Carter's SpringHill Entertainment will produce a documentary about the 1921 Tulsa race massacre, which is considered to be one of the worst acts of racism-fueled violence in the history of America.
A group of white rioters in Tulsa destroyed the black community in the city 99 years ago. The neighborhood, which was known for being wealthy, was called "Black Wall Street," according to Cleveland.com. Historians have said that 300 deaths likely occurred, but only 36 were reported at the time, according to Cleveland.com. 
"The fabric of this country is soaked in racism and today 99 years later, we're still fighting for change," director Salima Koroma wrote on Twitter, according to Cleveland.com. "That's why I'm partnering with SpringHill Entertainment to tell the story of Black Wall Street."
LeBron James has been told to "Shut up and dribble" in the past. That is the last thing he will do. Maybe some Americans will have an opportunity to learn a lot by watching the upcoming documentary James and his company are producing.