LeBron James' Admission Proves How Much 'The Decision' Kept Him From Winning Another Title
The story of LeBron James' NBA career has been told ad nauseam. Every basketball fan in the sports universe could probably write a book about James' path to becoming a star and get most of the facts 100% accurate.
But no matter who is writing the book, there will always be one chapter everyone includes: The Decision.
Whenever haters want to criticize The King, they likely bring up the one mistake he made at 25 years old when he decided to announce his free agency decision during a TV special on ESPN. It's the one thing critics love to bring up, even though it happened over a decade ago.
However, James recently discussed his first season after participating in The Decision, and his admission revealed just how much the one mistake kept him from winning another championship.
'The Decision' instantly turned LeBron James into a villain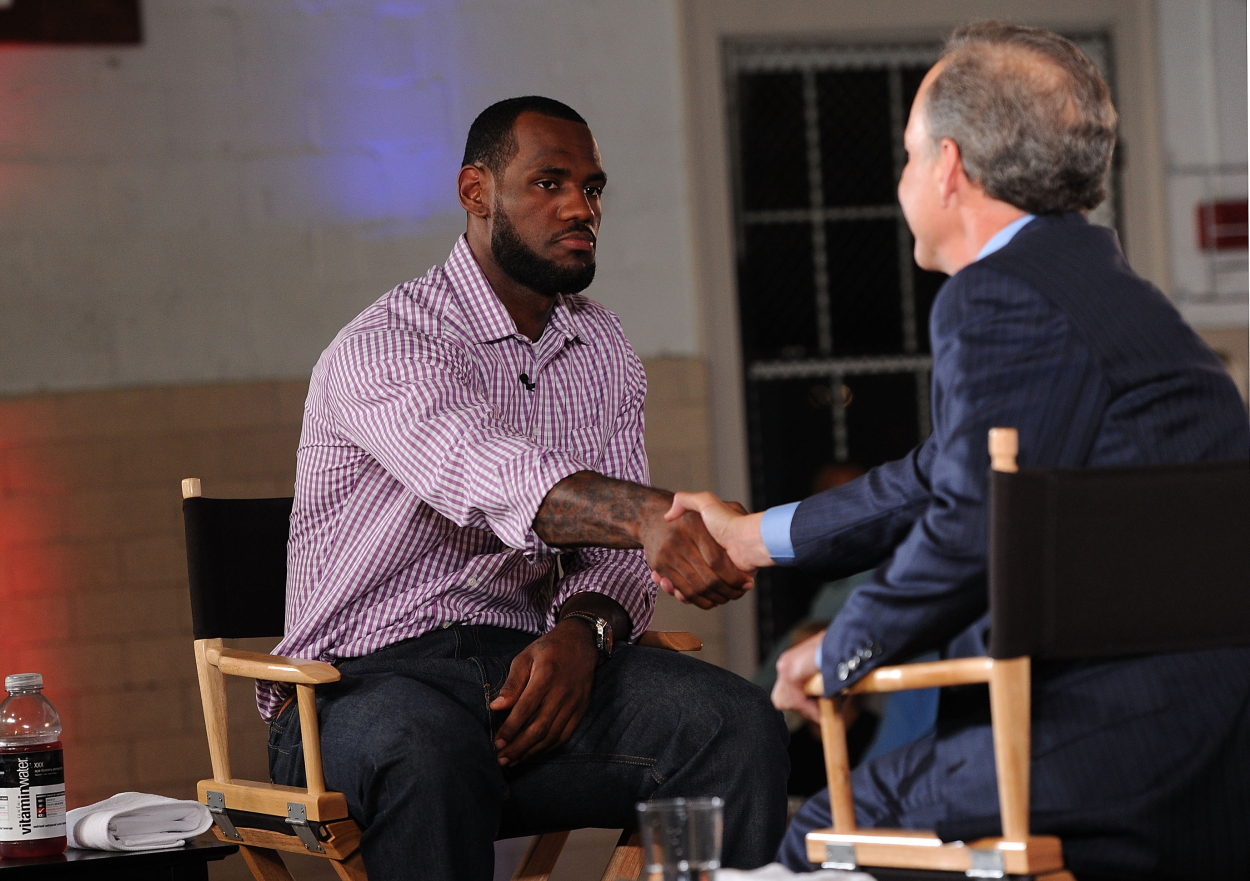 James instantly became the NBA's biggest villain after announcing he was leaving the only team he had ever played for, the Cleveland Cavaliers, to create a Big Three on the Miami Heat.
Cavs fans burned his jerseys. Others ridiculed him for having a massive ego.
After celebrating his achievements throughout his first seven seasons, fans everywhere began rooting against LeBron, forgetting that The Decision actually raised money for charity.
"The backlash to The Decision always mystified me," Sports Illustrated's Chris Mannix wrote in 2020. "Was it cruel to Cleveland? Of course. Was it poorly executed? I don't think it needed an hour, or 437 questions from Jim Gray before LeBron got to his infamous 'I'm taking my talents to South Beach' line."
James has repaired his image over time (although his haters still bring up that one moment). Winning a championship back in Cleveland in 2016 certainly helped him in that aspect.
But The Decision might have kept him from winning a title in 2011.
LeBron let his critics affect him during the 2011 NBA Finals
LeBron James and the Miami Heat seemed to relish in the fact that fans hated them, especially during their first year together in 2010-11. They won each playoff series in just five games to reach the NBA Finals, and they then faced the Dallas Mavericks in the championship round.
However, that was easily James' worst Finals performance out of the 10 he has made in his career. He averaged only 17.8 points and even recorded just eight on 3-of-11 shooting in Game 4. James hasn't averaged under 25.0 points in a Finals since.
While recently giving advice to Baltimore Ravens quarterback Lamar Jackson, James discussed what he learned from that experience.
"My first year in Miami, I was down there; I wanted to prove everybody wrong," he said on the March 4 episode of The Shop. "And I like literally lost myself in the moment. I lost myself. And I got all the way to the championship that year and lost. Afterwards, I was like, 'We lost because I wasn't even there.'"
LeBron was so focused on what others thought that he lost sight of his goal: winning a championship. So, he decided to no longer care about meaningless opinions, which resulted in a dominant run over the next decade. Had The Decision not made him such a villain, though, who's to say he wouldn't have five titles on his resume right now instead of four (Dirk Nowitzki even admitted that the Mavs wouldn't have won it had they met the Heat after 2011)?
But while LeBron's choice resulted in a Finals loss, it also led to The King winning back-to-back titles.
LeBron James' move to the Heat was still worth it
If he could it all over again, LeBron James likely wouldn't take part in The Decision, but he probably would still move to the Heat. The TV special didn't play a role in his success after 2011, but his choice to sign with Miami had a lasting impact on his entire career.
LeBron may have never won his 2012 and 2013 titles had he not played with Dwyane Wade and Chris Bosh. And he wouldn't have learned about everything it takes to become a champion had he not been a part of the Heat culture with Pat Riley and Erik Spoelstra.
James only won two titles with the Heat, but the lessons he learned there helped him during his other Finals runs and the two championships he won with the Cavs and Lakers.
No, LeBron James' career didn't benefit from The Decision. It hurt it if anything. But his decision (to join the Heat) made him the four-time champion he is today.
Stats courtesy of Basketball Reference
RELATED: Despite Their Emotional Divorce, Pat Riley Shares His Admiration for LeBron James, Compares Him to Michael Jordan