LeBron James Just Admitted He Was Legitimately Monitoring Stephen Curry to See if He Could Make 16 3-Pointers in One Game: 'Just Lets You Know How Freaking Amazing This Guy Is'
Heading into the Golden State Warriors Dec. 11 matchup with the Philadelphia 76ers, Stephen Curry is 10 3-pointers away from setting the NBA's record for threes made. The Dubs played Portland on Dec. 8, and the question around the league was, "Could Steph make 16 and break the record tonight?"
Apparently, LeBron James was under the impression he could.
It's not out of the realm of possibility that Curry goes off and hits 10 threes against the Sixers. Anything is possible when it comes to Steph and shooting.
But the fact that LeBron was watching the Warriors-Blazers contest intently to see if Chef Curry could cook up 16 threes in a single game?
That's bonkers.
Stephen Curry is closing in on the all-time 3-point makes record (among other records)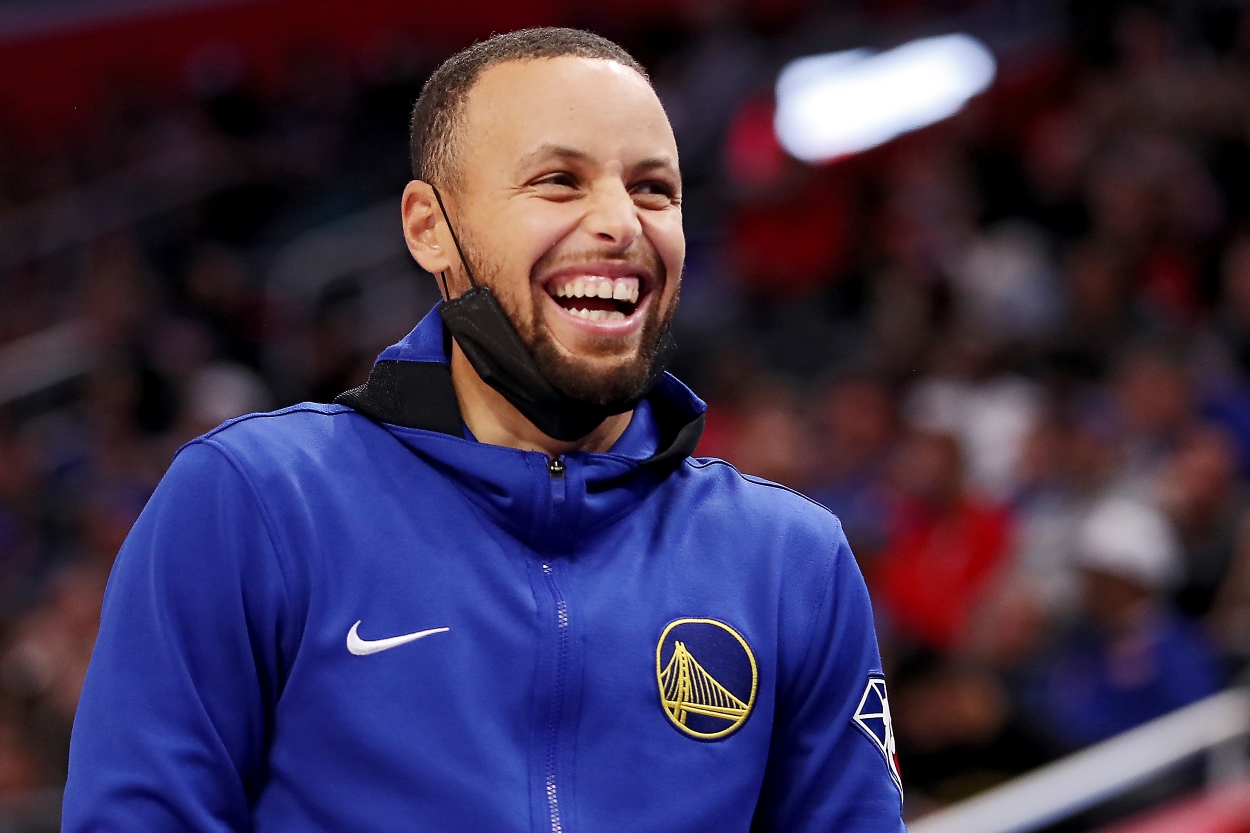 Before the game in Philly, Steph sits on 2,964 made threes. Ray Allen is the current record-holder at 2,973.
Allen is also first in attempts, but Curry is third and closing in, fewer than 600 back. The two-time MVP has already taken 320 triples through 24 games. That's 320 through roughly 30% of the year.
He's on pace to break the record (his own) for 3-pointers attempted in a season, and he'll pass Allen in attempts too by the end of this year or early next year.
He's also seventh all-time in 3-point shooting percentage, which is wild considering the amount he's taken.
All of these records will be long gone and obliterated by the time Steph retires.
LeBron James didn't doubt that Steph was capable of 16 threes in a single game
The NBA world was watching when Golden State played Portland. Could Curry hit 16 threes in one game to break Allen's record?
Via CBSSports, even Steph thought maybe. Why not?
"If you've seen the way I've played, especially recently, I'm not shy about shooting the ball, so the game will dictate what that looks like," he said. "I'm not coming out with that as the true goal of how I play, but crazier things have happened."
LeBron wasn't putting it past him either, as he said in an ESPN piece:
We were really tracking him to see if he would make 16 3s in a game, it just lets you know how freaking amazing this guy is. I mean, if there's one guy in NBA history that can make 16 3s, it would be Steph Curry.

We're all witnesses to what Steph Curry has done in his career and the way he's changed the game and he's a once-in-a-lifetime basketball player.

LeBron James on Steph Curry approaching Ray Allen's record for most 3-pointers made in a career
Straight from The King's mouth to everyone's ears. If anybody could do it, it would be Steph.
The Warriors' star is already the greatest shooter in NBA history
In addition to breaking Allen's mark, Curry is on pace to break his own record of 450 triples made in a single year. So he's going to break a record he already broke once before.
Steph leads the league in 3-point attempts at 13.3 a night. He's hitting 41.3% of those. For reference: Buddy Hield is second in the NBA in shots from deep (10.0) and is hitting 34.7%.
Donovan Mitchell, Damian Lillard, and Jordan Clarkson round out the top five in 3-point attempts. None of them are shooting better than Mitchell's 34.8%.
Curry is also first in the NBA in threes made per night at 5.5. Hield is second at 3.5.
Steph is taking and making more threes than any other player — by a lot. He's about to set multiple all-time shooting records and all of this in one season.
Three simple words sum it all up:
All statistics courtesy of NBA.com.