LeBron James Shares Advice for Tom Brady Ahead of TB12's Return to New England by Recalling His Infamous Game Back in Cleveland: 'Quiet the Crowd Like I Was Able To'
Many of us remember when LeBron James returned to Cleveland with the Miami Heat. It was probably one of the most intense sporting events in history, given the amount of animosity fans had toward The King for leaving the Cavaliers and teaming up with Dwyane Wade and Chris Bosh.
Now, NFL GOAT Tom Brady is in a similar situation, although not exactly the same, as Brady will make his return to New England when the Tampa Bay Buccaneers face the Patriots on Sunday. Ahead of Brady's big visit to Foxborough, James sent out some advice while recalling his return to The Land.
LeBron James had an intense return to Cleveland with the Miami Heat
After spending seven seasons with the Cavs and taking them to their first-ever NBA Finals, LeBron James left Cleveland — where he essentially grew up given he was born and raised in nearby Akron — and he teamed up with Dwyane Wade and Chris Bosh on the Miami Heat in 2010.
On Dec. 2 of that year, James played in Cleveland as a visitor for the first time. He took the court in front of a fan base that saw some of its most passionate supporters burn his jerseys.
The atmosphere was unique, to say the least.
"It was something that nobody had ever seen before," James recalled in 2018, per ESPN. "Everybody knew the emotions behind it. Cable television made sure that they captured every moment. It was an eerie feeling, just going back. It was an uncomfortable feeling going back because of the situation. And I knew how up in bunches everybody was."
James even told ESPN in 2017 that some fans threw batteries at him and his teammates that night.
"Once I hit the court in warm-ups, you could hear the boos," he said in 2018. "It was probably the loudest I've ever heard boos in my life."
The man who eventually won the Cavaliers a championship in 2016 went on to shut those fans up. He scored 38 points and shot 15-of-25 from the field that night. James also collected five rebounds and dished out eight assists for the Heat, which helped Miami win big, 118-90.
The King shared some advice for Tom Brady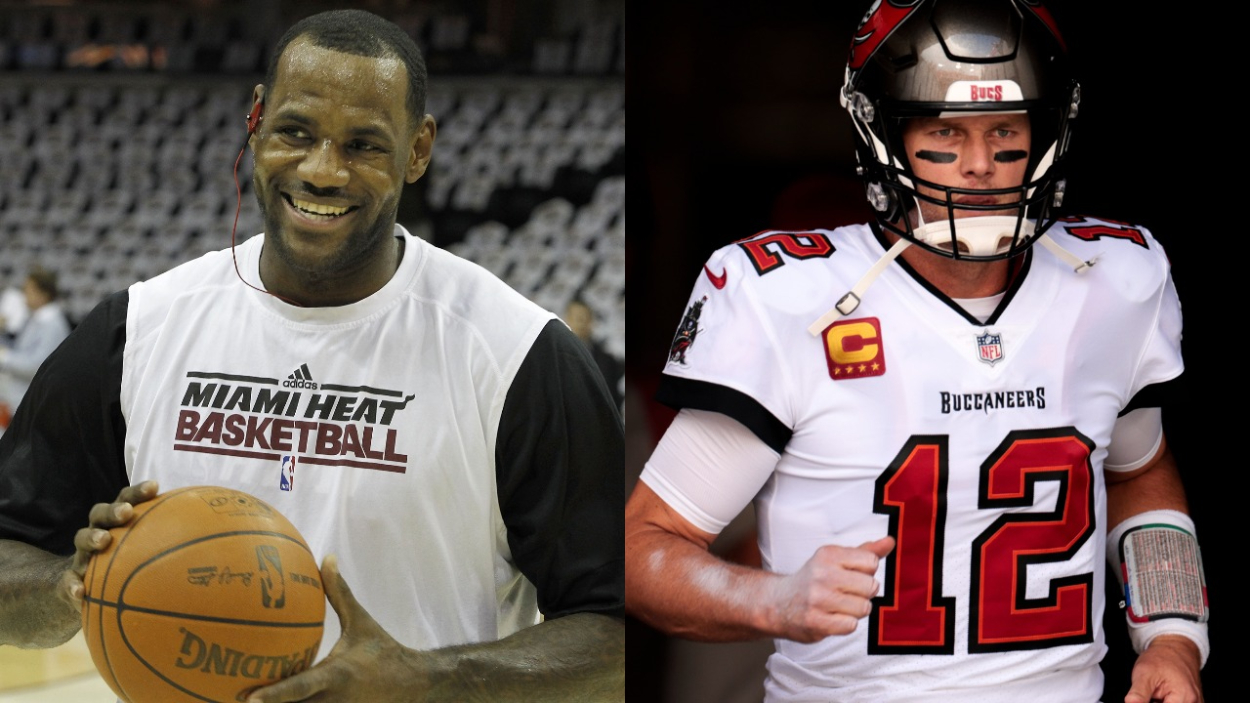 James, now a star on the Los Angeles Lakers, sat down with Peyton and Eli Manning during their Monday Night Football telecast on Sept. 27, and he shared some advice for Tom Brady, who returns to New England with the Buccaneers on Oct. 3.
"I remember that day like it was yesterday, December 2, 2010. It was rough. I got no sleep the night before. I already knew the adversity and how crazy it was going to be. It was very challenging," James said, per Bleacher Report. "… I know Tom did so many great things down there in Foxborough, down there with the Patriots. But they're gonna root for who they root for and you know they're gonna root for the Pats. It can get a little ugly. He's got to go in there and quiet the crowd like I was able to do the night of December 2, 2010."
So, Brady needs to essentially "quiet the crowd"  if he wants to deem the night a success. But whether he does that or not, he certainly won't receive the same amount of hate as James did when he went back to Northeast Ohio.
Tom Brady's return to New England won't be as intense as LeBron James' visit to Cleveland
Tom Brady's return to Foxborough will likely be more like Peyton Manning's return to Indianapolis, although Brady left the Patriots on his own while the Indianapolis Colts cut Manning. Indy fans, however, greeted Manning with a significant amount of cheers given he won a Super Bowl there. Brady, on the other hand, won six Super Bowls on the Pats and went to three others. That's a far cry from what LeBron James had accomplished in Cleveland at the time he visited with the Heat.
When James went to Miami, he had yet to win a single title. He had also said publicly that he wouldn't "stop until" he won a championship for Cleveland, per the New York Post. So, fans felt their hometown kid betrayed them and flat out lied, which led to emotions spilling over the moment he announced his decision to leave, as well as during the game he returned home with the Heat.
James, of course, didn't lie, and he kept his promise by winning a title for the Cavs in 2016, but no one knew that at the time in 2010.
Brady's return to New England will still likely be emotional; he spent 20 years there. But if Pats fans treat him like Cavs fans treated LeBron, they will easily become the biggest villains in sports.
Like Sportscasting on Facebook. Follow us on Twitter @sportscasting19.
RELATED: LeBron James Once Sent an NBA Team Into a Brutal 'Tailspin' With Just 1 Big Performance: 'We Never Recuperated'