LeBron James Has Already Set a Precedent That Could Lead to a Fast and Furious NBA Trade Deadline for the Los Angeles Lakers
LeBron James and the Los Angeles Lakers continue to struggle as the NBA's Feb. 10 trade deadline approaches. Speculation as to what one of the league's marquee franchises may do at said deadline is ramping up with each passing day.
LeBron and general manager Rob Pelinka put this Lakers roster together, so they could also tear it down.
And there's already precedent for a James team doing just that, which proves LA's moves may come fast and furious as the deadline approaches.
The Los Angeles Lakers' roster re-tool has not gone as planned
James and Pelinka guttered almost the entire LA roster this past offseason. Only The King, Anthony Davis, and Talen Horton-Tucker remained from the 2020-21 iteration of the Lakers.
The plan appeared to be to bring in a load of veterans with playoff and championship experience. Rajon Rondo, Carmelo Anthony, Dwight Howard, Wayne Ellington, Kent Bazemore, and Trevor Ariza were all added to the roster. All those players are 32 or older.
But things haven't worked out as LeBron and his Lakers GM had hoped. The team sits at 19-19 and in eighth place in the West.
To reach its championship aspirations, LA needs to undergo another roster overhaul. And James already has a history of re-tooling a championship roster on the fly.
LeBron James traded away nearly half the Cleveland Cavaliers' roster at the 2018 trade deadline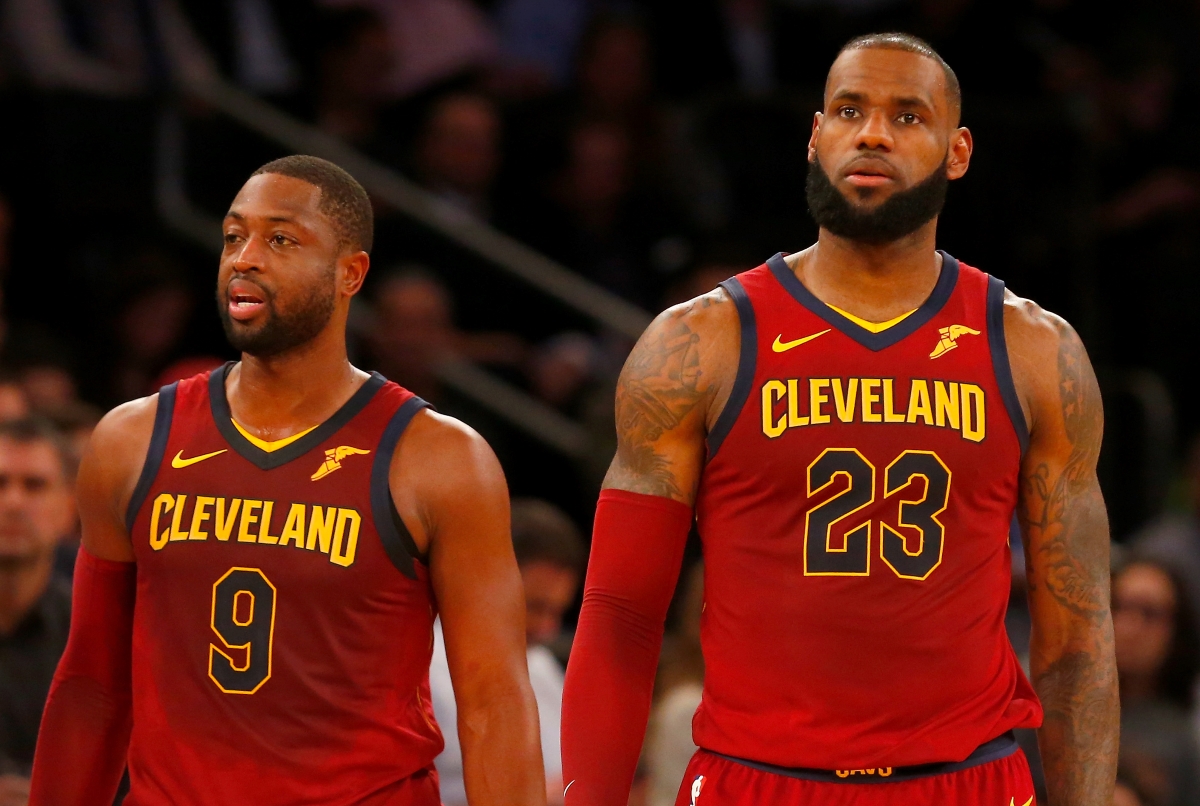 LBJ was desperate to reach a fourth consecutive NBA Finals in 2017-18. But things weren't going as planned for the Cleveland Cavaliers (sense a theme here?) as that year's deadline approached.
So LeBron and Co. blew it up.
According to SBNation, the Cavaliers dealt six players and a first-round pick to four different teams in three separate trades to bring in four new players.
All in barely more than an hour.
Gone were Isaiah Thomas, Jae Crowder, Channing Frye, LeBron's BFF Dwyane Wade (which proved no one was safe), Iman Shumpert, Derrick Rose, and a 2018 first-round pick. In came Larry Nance Jr., Jordan Clarkson, George Hill, and Rodney Hood.
An active trade deadline, to say the least.
In some ways, the plan worked out. The Cavs made the Finals that year, but they were swept by the Golden State Warriors.
Rondo has already been dealt this year. And if 2018 is any indication, plenty more trades could be in the works.
A roster reconstruction may be what's needed for LA's title hopes
A .500 record will not get it done for James and the Lakers. Something (or many things) with the team's current roster isn't working. Perhaps it's time to take a page out of the 2018 Cavs' playbook and blow it all up.
The Big Three of LeBron, Davis, and Russell Westbrook is likely here to stay. Anthony, who's been the team's fourth-best player, also isn't going anywhere.
But those other old guys on the fringes who aren't performing up to expectations are certainly not safe.
James has already done it once, which means the Lakers and their fans could be in for a busy day come Feb. 10.
All statistics courtesy of Basketball Reference.