LeBron James and the Ancient Lakers May Be Looking at a Bizarre Strategy
Last season the Los Angeles Lakers were tied with the Brooklyn Nets as the third-oldest team in the NBA. The Lakers' roster had an average age of 28.2. The injury-plagued club had to go through the Play-In Tournament to reach the playoffs and bowed out in the first round. Not exactly a stirring title defense. Their solution? Get older. LeBron James was the oldest player on the Lakers roster last season at 36.
But James is in luck. LA brought in an older player in 37-year-old Carmelo Anthony. They have also acquired two other players 35 or older in Trevor Ariza and Dwight Howard. The Lakers already had 36-year-old Marc Gasol and are expected to re-sign 36-year-old Jared Dudley (who, let's face it, is a coach in uniform at this point).
But Lakers coach Frank Vogel seems to think his guys are channeling Benjamin Button because his strategy looks quite odd.
Frank Vogel thinks LeBron James and his old Lakers pals are going to run
Not counting salary-cap holds, the Lakers have eight players on their roster who are 32 or older. Dudley would make it nine. The 12 players currently under contract have an average age of 31.2. Only the 1998 Chicago Bulls at 31.7 were older when hoisting the Larry O'Brien Trophy. But coach Frank Vogel seems to think he's got a bunch of kids.
Dynamic and fast-breaking.
First, Vogel has seldom coached that style. In nine full seasons as an NBA head coach, Vogel's teams have finished in the top 10 in fast-break points just twice, with only one of those a top-five finish. Conversely, he's had teams in the bottom 10 three times.
So that casts some doubt on the fast-breaking part of the equation.
LeBron James can still get out and run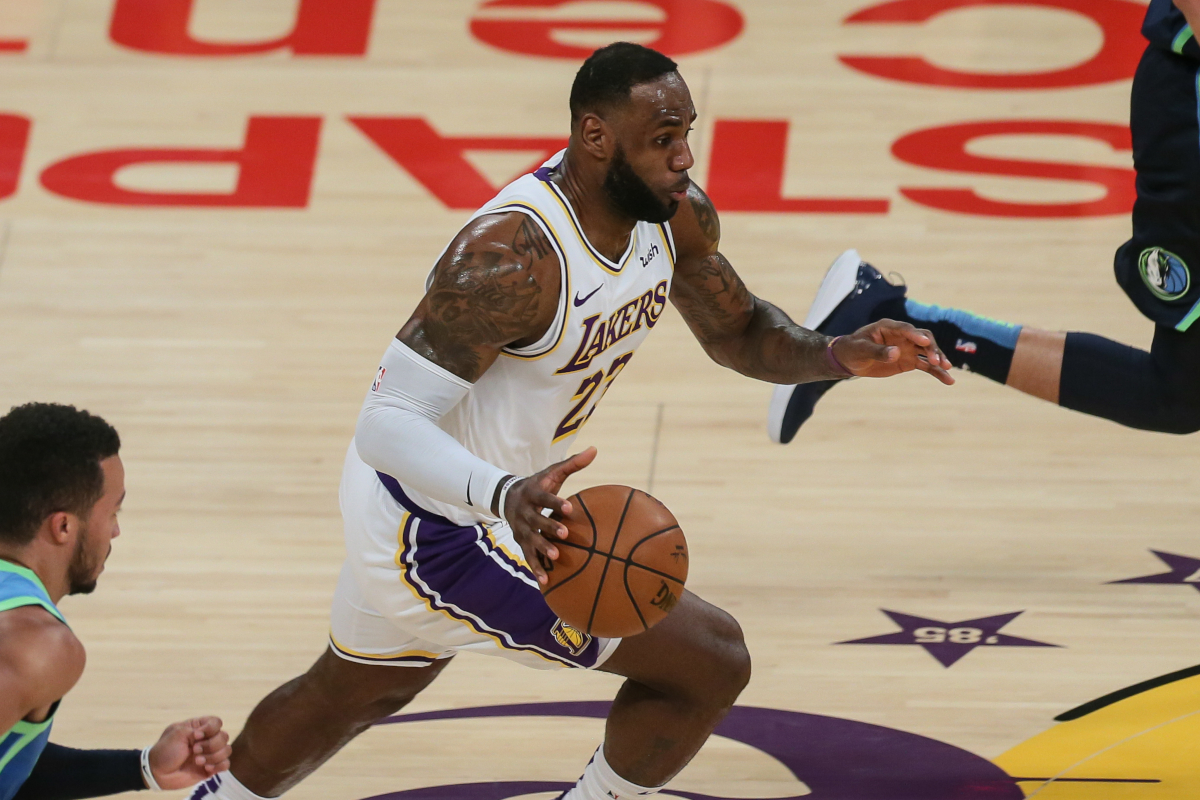 Vogel isn't entirely out of bounds thinking his team will be able to get up and down the court quickly. Even at 36, LeBron James was second in the NBA last season in fast-break points, scoring 4.5 per game. However, the Lakers only managed to finish 11th in the league at 13.3 a night. The only other Laker in the top 50 was Russell Westbrook, 28th at 2.7 for Washington.
Howard is no longer the athletic specimen he was in his Orlando days, and Anthony wasn't a speedy player when he was younger. He's developed an excellent catch-and-shoot game, which is quicker than dribbling 20 seconds of the shot clock in isolation. So that's a start.
Compared to other more mature teams, Michael Jordan's 1998 Bulls club was 19th in the NBA in fast-break scoring at 13.2 points a game. More scoring happened in transition in that era because teams attacked the basket in those situations. The pull-up 3-pointer was not yet a thing.
There is something to be said for experience. But expecting older players to run the floor with regularity is not ordinarily one of those things.
The retooled Lakers say they can defy the odds
The Lakers heard the jokes. Whether they kept the receipts, a la Kevin Durant and Draymond Green in Tokyo, remains to be seen.
The oldest Laker (at least until they re-sign Jerry West) is Anthony.He's defiant about his team's ability to beat Father Time.
If something stands out about the Lakers roster, it's the relative lack of championship-level experience. LeBron James has four titles. Ariza, Gasol, Howard, Davis, and Talen Horton-Tucker (who played 17 minutes during the 2020 title run) have one apiece.
Of the other Lakers, only newcomers Westbrook and Kendrick Nunn have Finals experience. Wayne Ellington has played 11 postseason games — one for each season of his career.
Kareem Abdul-Jabbar was a Finals MVP at 38 in 1985. That is the beginning and end of the list of players who were top options for a title-winning team at a comparable age to James.
Without diving into the GOAT debate, LeBron James is the best player of his generation. He's also got a ton of postseason experience. But can you assume he will still carry the load? He'll be 37 in late December and has had two major injuries in three seasons. It may not be impossible, but it's not a lock, either.
Statistics courtesy of Basketball Reference and NBA.com.