LeBron James and His 2 Sons All Share This Good Habit
In case you didn't pay attention for the last 17 years, the best NBA player goes by the name LeBron James. Not only is he the most dominant player of his era, but the forward is also building a strong case to rival Michael Jordan as the greatest of all time.
While James' genetic attributes play a large role in success, his legacy is also built on hard work and good habits. Simply put, the 35-year-old consistently displays a dedication to the game few other players can rival.
Now it seems like James has passed his relentless work ethic down to his children. Both of his sons show signs of the same drive that propelled James to the upper echelons of NBA glory.
LeBron James' family
LeBron married his high-school sweetheart Savannah Brinson in September 2013. Before their marriage, however, they already had two children together. LeBron Raymone James Jr., or Bronny, was born in 2004. Bryce Maximus James was born in 2007. Finally, LeBron's daughter Zhuri was born, in 2014.
The James family work ethic
In August 2019, LeBron shared a video revealing just how dedicated his sons are to their basketball careers. The patriarch had woken up for a 5 a.m. workout, expecting his whole family to still be asleep. Instead, he found his son Bronny already dressed and practicing in their driveway.
More surprising, after a few minutes, Bryce also appeared on the scene. He'd heard the sound of the bouncing basketball and wanted to join his brother in his early morning practice. LeBron later tweeted about the event, saying it made him cry to see his two sons emulating his morning habits.
On a recent podcast, LeBron revealed another factor in his formula for success: getting plenty of sleep. He considers a full hours of sleep a mandatory part of his routine. Sometimes he'll get as much as 10 hours per night. It's safe to say LeBron has passed this practice down to his two sons.
Bronny James' high school career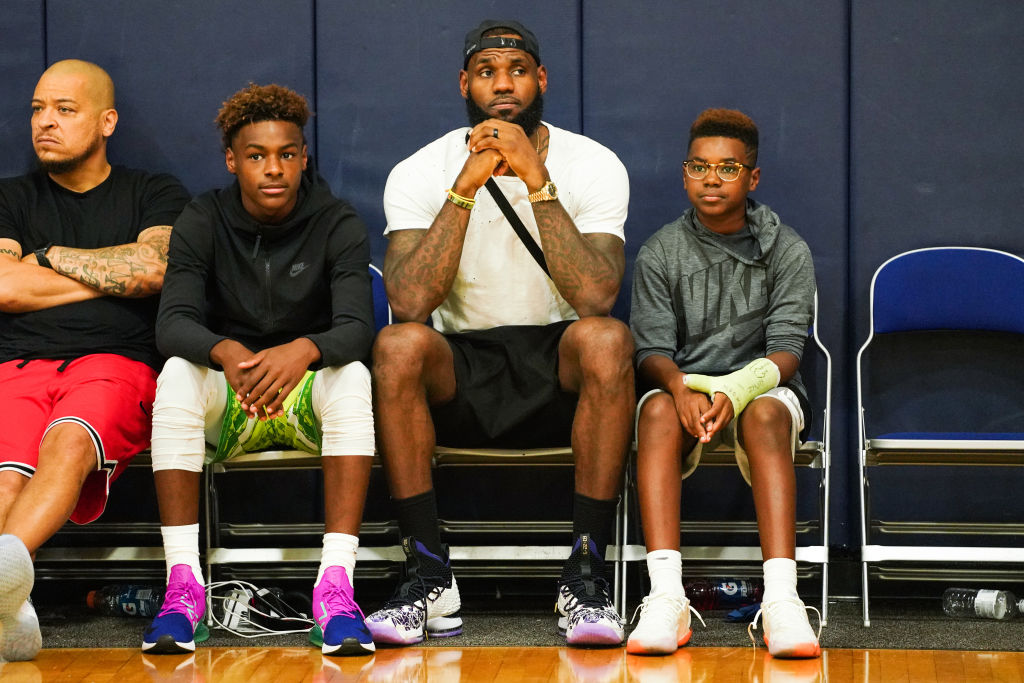 Of LeBron's two sons, Bronny has received the most attention so far. He recently made his high school basketball debut. On November 21, 2019, Bronny came off the bench for Sierra Canyon School, scoring 10 points in a win against Montgomery High School.
A few weeks later, Bronny excelled during a high-profile game against his father's high school, St. Vincent­–St. Mary High School. During the game, Bronny racked up 15 points, contributing a go-ahead layup that helped his team secure a victory. As a result, he earned MVP honors.
Scouts agree that Bronny shows an intuitive feel for the game, as well as an unusual degree of poise for his age. At just 15 years old, he already stands at an impressive 6-foot-2, which gives him an advantage over many of his peers. While Bronny's frame is somewhat slighter than his father's, the young athlete shows a silky shooting touch and excellent handle. 
With all of this attention toward Bronny, it's important to note that Bryce has also flashed some top-level skills in his AAU career. In fact, LeBron recently made headlines when he declared that Bryce was the best shooter in the household. If their early successes pay off, NBA fans will have a lot to look forward to in the coming years.
Follow more updates from Sportscasting on our Facebook page.