LeBron James and Jeanie Buss Worked Together To Cut Out Ridiculous Lakers Drama
LeBron James and the LA Lakers have had an incredible season. They not only had the best record in the Western Conference, but they also ran through the Western Conference playoffs to earn a spot in the NBA Finals. It took a lot of work to get to where they are now, though. James' first season with the Lakers was full of drama and losing, so how did they get to the NBA Finals one season later? It has been in large part due to James and Lakers owner Jeanie Buss cutting out the drama.
There was a lot of drama on the LA Lakers in 2018-19
RELATED: LeBron James Has Sadly Had to Mourn Two Deaths During the 2019-20 Season
LeBron James left the Cleveland Cavaliers to go to the LA Lakers during the 2018 offseason. This came after he went to four consecutive NBA Finals with the Cavaliers, and eight consecutive overall, as he went to four other Finals with the Miami Heat.
However, James and the Lakers struggled during the 2018-19 season. He dealt with a groin injury and played in the fewest games of his career, making people speculate if Father Time had finally caught up to him. The Lakers struggled as a team too, as they went 37-45 and missed the playoffs. It was the first time James had missed the playoffs since the 2004-05 season.
If a LeBron James-led team is losing, there is already a ton of drama ignited by the media, as negative headlines about him or other people on the team seem to always come out. However, there actually was a ton of drama going on within the organization that year.
The team failed to trade for Anthony Davis that season and there was tension among then-president of basketball operations Magic Johnson, then-coach Luke Walton, and general manager Rob Pelinka, according to ESPN.
Johnson then ultimately stepped down prior to the Lakers' final home game that season. When he stepped down, he also insinuated that there was "backstabbing" going on within the organization, per ESPN. He then later appeared on ESPN's First Take and took some shots at Pelinka and business operations president Tim Harris.
So, how did the Lakers turn things around from being a circus to an NBA Finals team?
LeBron James had dinner with Jeanie Buss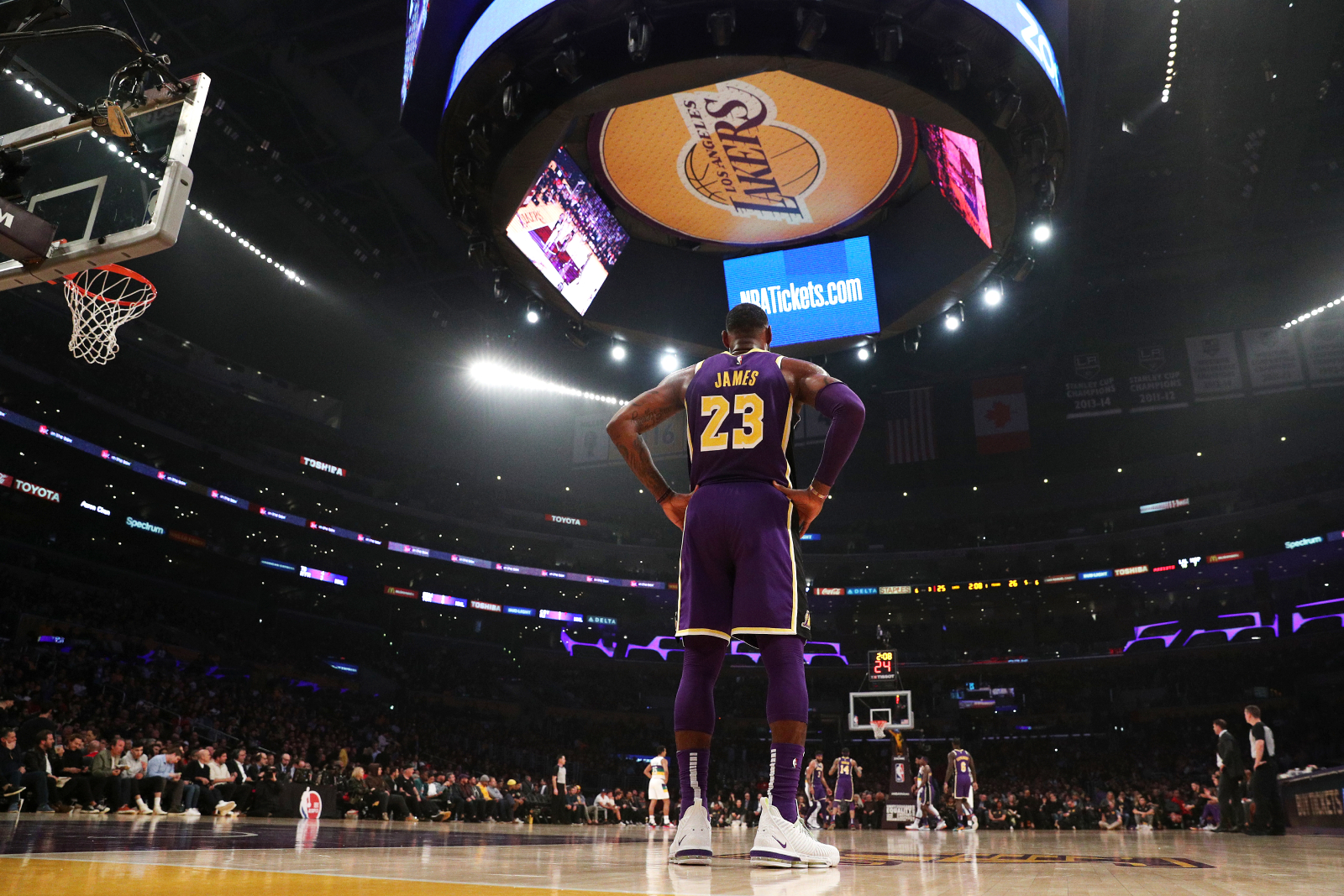 RELATED: Lakers Owner Jeanie Buss Just Revealed How Much Longer She Wants LeBron James To Play
In March 2019, James and Buss had dinner together, ESPN reported. James' agent Rich Paul also attended the dinner, as well as Lakers executive Linda Rambis. This was actually a pretty big deal, as Paul, while talking to ESPN, couldn't recall James ever formally dining with Heat owner Micky Arison while playing in Miami, or Cavaliers owner Dan Gilbert while playing in Cleveland.
During the meeting, it became clear that the drama needed to stop. It was also clear that James wasn't going to add to it, and that they were in it together.
"We understand that things happen. We're not pointing the finger at anybody, and we're going to stay down with you," Paul said of the message James gave to Buss at the dinner, according to ESPN. "We're committed to you and we'll come out of this on top. We'll come out of this different than what the world sees. Let the people who talk, talk. We just gotta do the work."
The Lakers have had a ton of success since then
RELATED: LeBron James Spent His First Nike Check the Only Way a Teenager Would
During the 2019 offseason, the Lakers finally traded for Anthony Davis, and the team got a new coach, Frank Vogel. James then came to training camp and appeared to be on a mission. 
"I'm very motivated," James said, per ESPN. "But I'm right now not in the talking-about-it mode. I've been very quiet this summer for a reason. My mother always told me, 'Don't talk about it, be about it.' So that's where I'm at."
Since then, James has led the Lakers to an incredible season. The team went through many hardships this year: Kobe Bryant's death, the COVID-19 pandemic, and more and more instances of social injustice taking place in America. But the Lakers continued to succeed through it all, reaching the NBA Finals and taking a 3-1 lead in the first four games of the series. 
James has been incredible this year too. In the regular season, he averaged 25.3 points per game, 7.8 rebounds, and an NBA-leading 10.2 assists, proving that Father Time hasn't quite gotten him yet.
Sure, LeBron James' play on the court has led the LA Lakers back to the NBA Finals this season. However, no one should overlook his and Jeanie Buss' work to cut the drama out.
Stats courtesy of Basketball Reference