LeBron James and the Lakers Preparing for a Hollywood Blockbuster Divorce Drama This Summer
It's always nice to go home for a quiet weekend. LeBron James of the Los Angeles Lakers experienced some of that in Cleveland. But he forgot the quiet part. An eventful All-Star Weekend for The King saw him hit the game-winner for his team in the main event, receive recognition as one of the 75 (or 76) greatest players in NBA history, and hobnob with Michael Jordan.
That's some serious stuff for the scrapbook. But James wasn't done there. He also lobbed several shots across the bow of the Lakers.
Let's recap:
He didn't rule out a third stint with the Cleveland Cavaliers.
He lavishly praised Oklahoma City Thunder general manager Sam Presti.
And he declared that whichever team drafts his son, Bronny, will get him as part of a package deal.
Hey, we did say it was eventful.
LeBron James launched a game of chicken with the Lakers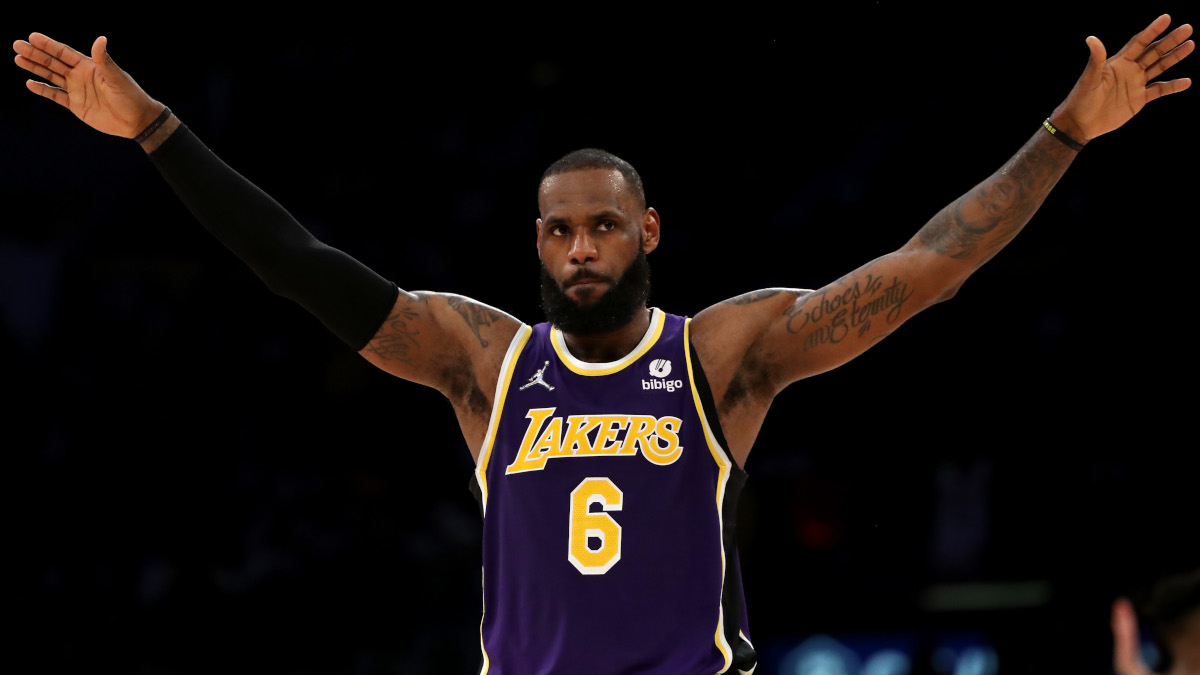 About the only thing LeBron James didn't do during All-Star Weekend was to grab the microphone and scream, "I'm comin' for you, Rob Pelinka!!!!!"
Not that the Lakers' GM didn't get the message loud and clear. With apologies to the 1980s trio Bananarama, it's shaping up to be a cruel summer in LA.
Not that fall or winter have been great for the Lakers, either. Pelinka remade the team last summer, trading three rotation players for fading superstar Russell Westbrook. He signed ancient warriors Carmelo Anthony, Trevor Ariza, DeAndre Jordan, Wayne Ellington, Kent Bazemore, Dwight Howard, and Rajon Rondo.
And, in the recent Lakers tradition of overvaluing their young players, management let valuable reserve Alex Caruso walk so they could hand 2019 second-round pick Talen Horton-Tucker $30.8 million, including an $11 million player option for 2023–24.
In the truest sense of the meme with the dog in the burning restaurant, things have gone fine for LA. LA staggered to the break at 27–31, ninth in the Western Conference. Last year, the Lakers had to win a play-in game to get the seventh seed without Westbrook. Now, with the 2016–17 NBA MVP, they might have to win two games to get the eighth spot in the bracket.
It may never rain in Southern California. But it's looking like it's about to pour in Lakerland.
LeBron James won't win a showdown for LA with Pelinka
The Lakers didn't make a move at the trade deadline, and Pelinka explained the lack of activity away, per Mike Trudell of NBA.com.
"We were aggressive in a lot of conversations trying to improve the team — we always want to put this team in the best position to win a championship," the GM said. "But ultimately, we didn't find a deal that had a net positive effect for the short-term success of the team and the long term, and those are both things we consider."
There were reports the Lakers balked at a deal to dump Westbrook on the Houston Rockets for the equally onerous contract of John Wall because Pelinka didn't want to surrender his 2027 first-round pick.
Instead, LA will slog forward with the cast it has, except for Anthony Davis, who will miss at least a month with a sprained foot.
From a distance, it seems LeBron James is pushing the organization to choose between him and Pelinka. History says that's a battle LeBron will lose.
Pelinka outmaneuvered Magic Johnson for the job the Laker legend once had. And remember, this is the franchise that in 2017 chose Magic and Pelinka over Jerry West.
For 40 years, West was the Lakers. He joined the team before its first season in LA in 1960. He stayed until the Shaquille O'Neal-Kobe Bryant team he built won the title in 2000. According to Sam Amick of The Athletic, when he wanted to come back in a consultant role in 2017, The Logo was told there wasn't a place for him.
James came to the Lakers in July 2018. If the organization treated West the way it did, what chance does LeBron think he has?
Then again, that might be the plan.
James gave the Lakers a title; now he might be plotting an exit
This summer, the biggest Hollywood blockbuster might play out at the Lakers' facility in El Segundo. Call it "The Summer of Discontent," starring LeBron James.
James is eligible for a two-year, $97.1 million extension in August. Otherwise, he's an unrestricted free agent in July 2023. There's a chance he signs a one-year extension to get his timeline matched up with Bronny's first year of draft eligibility.
But after the salvos LeBron fired in Cleveland, the Lakers might not want to do him any favors.
Instead, it promises to be a turbulent summer in LA. Westbrook has a $47.1 million player option for next season. Spoiler alert: He's opting in. There's no way he gets max money as a free agent after the season he's having.
And the Lakers have a boatload of expiring contracts. Only James, Davis, and Horton-Tucker have guaranteed deals for 2022–23. Westbrook and Kendrick Nunn ($5.3 million) are sitting on player options, and LA has team options for Stanley Johnson ($2.4 million) and Austin Reaves ($1.6 million).
That's it.
The options are grim and grimmer. James and the Lakers could take an awkward final spin together. Or LeBron can try to force a trade.
Then there's the nuclear option: Pelinka strikes first and trades The King without consulting him. LeBron James doesn't have a no-trade clause, so it's conceivable.
Whatever happens with LeBron James come this summer, one thing is definite. You're going to want to grab some popcorn because the Showtime Lakers phrase is about to take on a whole new meaning.
Contract information courtesy of Spotrac.
RELATED: Kendrick Perkins Encourages LeBron James to Rejoin Cavs