LeBron James Once Unabashedly Put Another NBA Legend in the GOAT Conversation: 'Pound-for-Pound, Probably the Greatest Player Who Ever Played'
The name Allen Iverson is synonymous with the word "fearless." The way Iverson grew up in Hampton, Va., it needed to be. But AI also needed to be fearless on the court as well. At his size, Iverson had no business driving recklessly into the trees, but he did. Repeatedly. In the process, he earned the respect of players across the league, both past and present, one of which happens to be The King himself, LeBron James.
In fact, James indirectly invoked the GOAT clause, calling AI the greatest "pound-for-pound" player in NBA history.
Allen Iverson, regardless of size, is one of the best of all time
The Answer played with one of the most complete and terrifying offensive games in basketball history. He had the quickness, the burst, the speed, the skill.
All he didn't have was the size. But far more important things never stopped Iverson, so why should that?
Bubba Chuck arrived in the NBA as the No. 1 pick in the 1996 draft out of Georgetown. He immediately lit up scoreboards across the league and embarrassed even the best defenders (including Michael Jordan, who went stumbling backward after an AI crossover).
Iverson started 74 out of a possible 76 games and scored 23.5 points a night right from the jump on his way to earning the 1996-97 Rookie of the Year Award.
He made 11 All-Star teams, was seven times a member of an All-NBA squad, and was named the 2000-01 MVP. He carried that Philadelphia 76ers squad to the NBA Finals, scoring 31.1 points on 25.5 shots a night.
The former Hoya scored his way into the Hall of Fame, and to do that at his size made him a basketball legend — even to LeBron.
LeBron said Allen Iverson was 'probably the greatest who ever played' at his size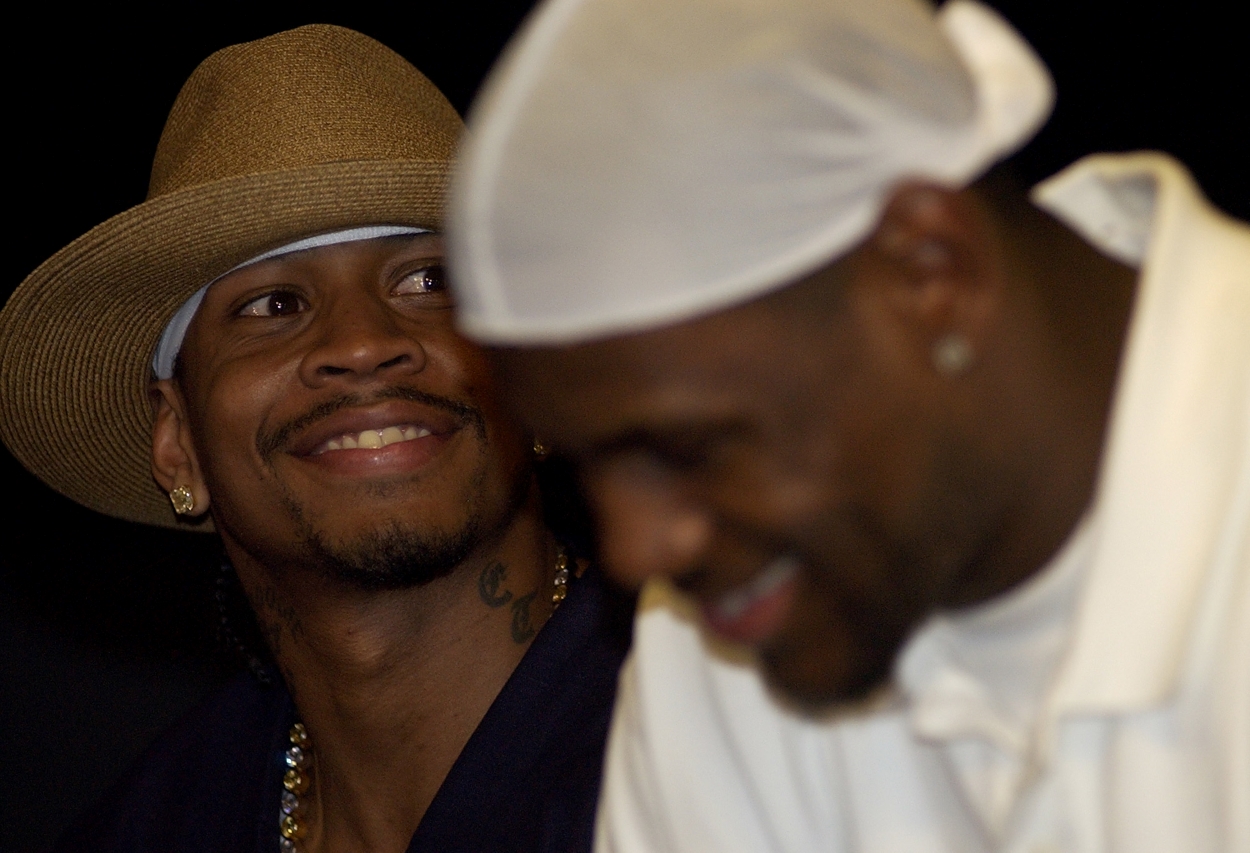 It's hard to find a basketball fan not enamored by AI, either through his game, his swagger, or both. As LeBron told ESPN back in 2013:
"They say he was 6 feet, but A.I. was like 5-10½. Do we even want to say 160? 170 [pounds]? Do we even want to give him that much weight? And he played like a 6-8 2-guard. He was one of the greatest finishers we've ever seen. You could never question his heart. Ever. He gave it his all. A.I. was like my second-favorite player growing up, after MJ."

LeBron James on Allen Iverson
LBJ went on to praise the diminutive scoring machine even further, tossing out a comparison to one of the greatest pound-for-pound fighters in history.
"[Iverson] reminds me of Floyd Mayweather. You could never question [Iverson's] heart, his will to want to win. A true warrior."

James comparing Iverson and Floyd Mayweather
In all seriousness, though — with all of these celebrity boxing matches happening now, would anyone want to jump into the ring with AI?
The Hall of Famer was a four-time scoring champion for a reason
Iverson had all the offensive game. Blow-bys, crossovers, floaters, step-backs, they were all in his bag.
The Bethel native is 25th all-time in points with 24,368. The only other player on the NBA's all-time scoring list at 6-foot or less is Chris Paul. He's 45th overall with more than 4,000 fewer points.
Statistically, Iverson is the greatest pound-for-pound scorer in league history. For James, that puts AI in the rarest of territories.
All statistics courtesy of Basketball Reference.