LeBron James and Anthony Davis Have 1 Teammate That Is Ready to Dominate for the Lakers, and NBA Teams Should Be Terrified
The Los Angeles Lakers will soon resume the 2019-20 NBA season in the Orlando bubble as they look to win an NBA championship with LeBron James and Anthony Davis. However, so far at practice in the bubble, one Lakers player is absolutely dominating. It is not James; it is not Davis, either. Kyle Kuzma is reportedly playing really well for the Lakers in Orlando, and NBA teams should be terrified.
Kyle Kuzma's stats have not been as good this season
Kuzma entered the league in 2017-18, and he ultimately had an excellent rookie season for the Los Angeles Lakers. He averaged 16.1 points per game and 6.3 rebounds. The Lakers were not very good, though, as they went 35-47 and missed the playoffs. 
During the 2018-19 season, after the Lakers added LeBron James in the offseason, Kuzma actually took another step production-wise. He averaged 18.7 points per game and 5.5 rebounds. However, James only played in 55 games, the fewest in his career, and the Lakers missed the playoffs again as they went 37-45. 
This season, however, with the addition of Anthony Davis, the Lakers have been excellent. They are 49-14 and No. 1 in the Western Conference. Kuzma, however, has not put up nearly as good of numbers. He is averaging 12.5 points per game and 4.5 rebounds this season.
However, he is reportedly dominating in the bubble.
Lakers coach Frank Vogel seems excited about how Kyle Kuzma is playing
As the Lakers prepare to resume the season at the end of July, Lakers head coach Frank Vogel seems pretty happy with how Kuzma is playing.
"Kuz has been one of our best players since this restart in these practices, he's had a couple of stretches where he just dominated the floor and it's been really encouraging to see," Vogel said, according to Lakers reporter Mike Trudell. "He had some inconsistency with the beginning of our season because he dealt with three different injuries that really prohibited him from getting his legs under him. The shot-making wasn't always there, but it's been there at a very high level during this restart."
Vogel also continued to express his excitement for what Kuzma can mean to the franchise.
"We're very encouraged and excited about what having a real/healthy training camp could mean for him," Vogel said, according to Trudell. "Hopefully that leads to an increased role and gives us that boost that we're looking for."
He can help the Los Angeles Lakers win an NBA championship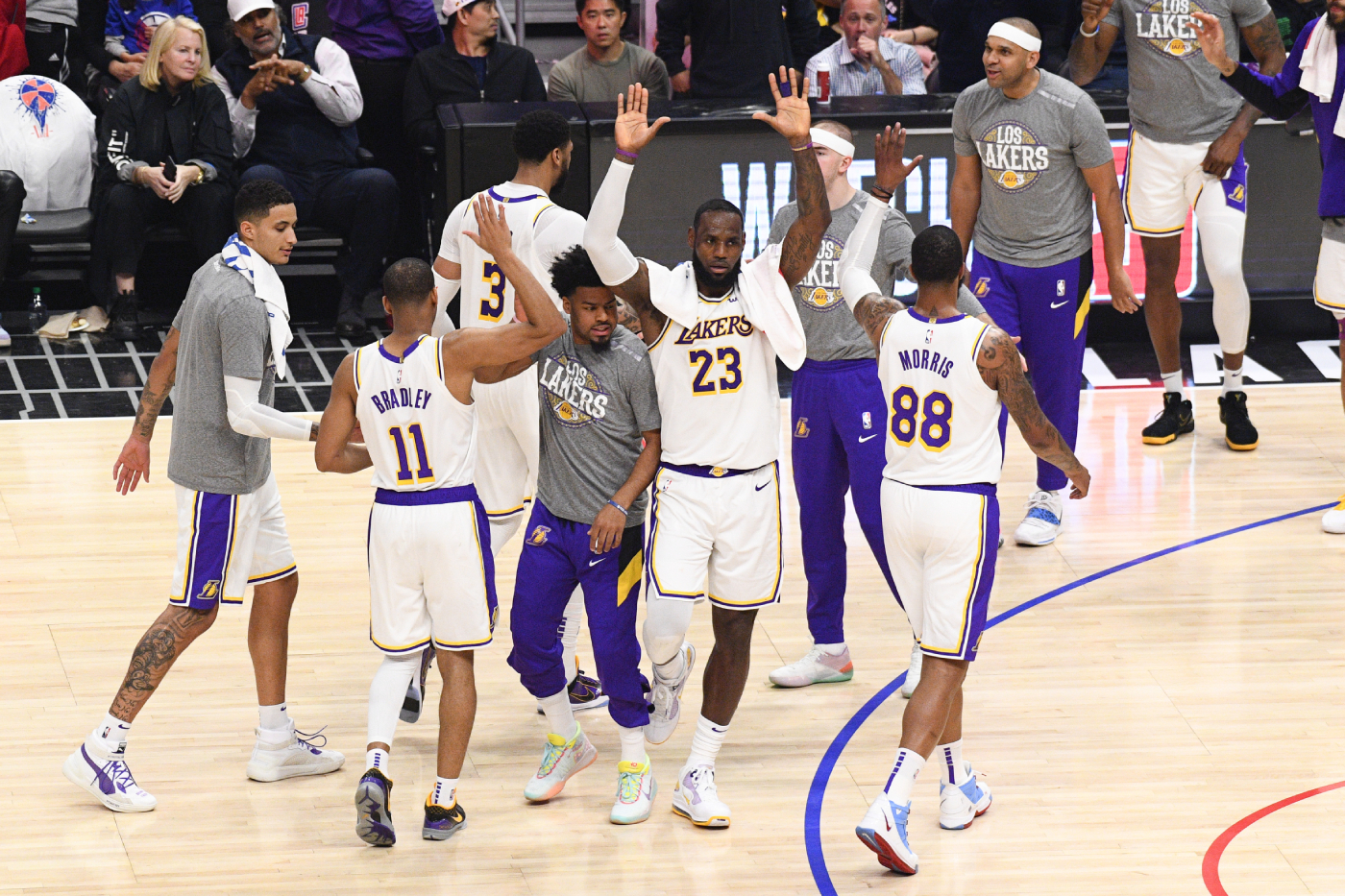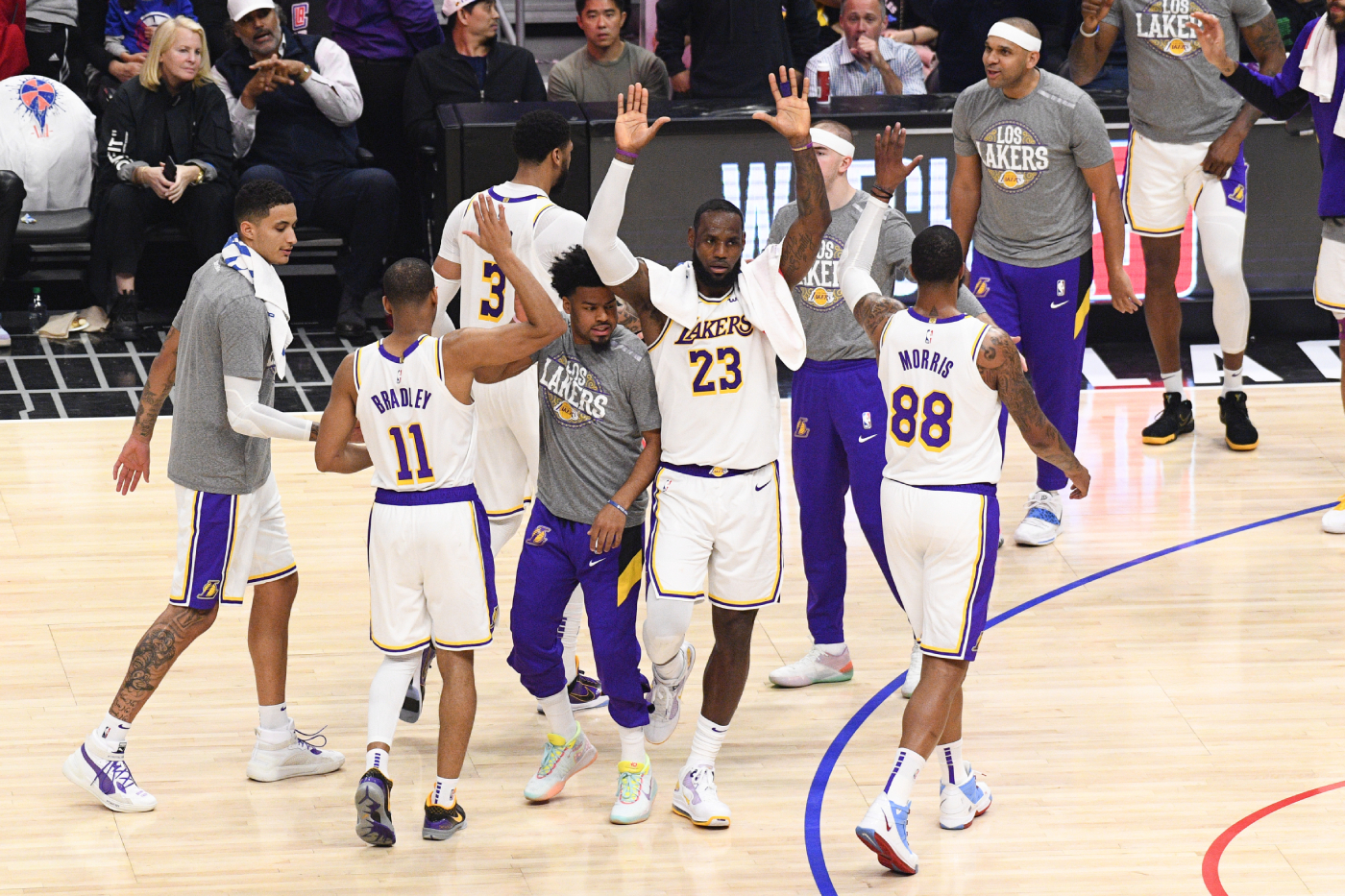 The Lakers head into the NBA restart with the No. 1 record in the Western Conference. They should be there after the seeding games too as they are five-and-a-half games ahead of the Los Angeles Clippers. 
A productive Kuzma could mean a lot for the Lakers, and should ultimately terrify other NBA teams. James — who is an MVP candidate — is averaging 25.7 points per game, 7.9 rebounds, and a league-leading 10.6 assists. Additionally, Davis is averaging 26.7 points per game and 9.4 rebounds. No other players average over 13 points per game, though. 
The Lakers are going to need another scoring option to get out of the Western Conference. The Clippers are the main team standing in their way in the West. They have Kawhi Leonard (26.9 points per game), Paul George (21), and two other guys who average over 18 points per game in Lou Williams and Montrezl Harrell. 
Additionally, if the Lakers make the NBA Finals, they could face the Milwaukee Bucks, and they have Giannis Antetokounmpo (29.6 points per game), Khris Middleton (21.1), and Eric Bledsoe (15.4). 
History has shown that three or more scoring options are better than two. Just look at James' Miami Heat and Cleveland Cavaliers teams, the Boston Celtics when they were led by Kevin Garnett, Paul Pierce, and Ray Allen, and the Golden State Warriors with Steph Curry, Klay Thompson, and Kevin Durant. Three scoring options almost always equal success.
If Kuzma can dominate like he reportedly has been in practice, and if he can give the Lakers that third scoring option that they desperately need, they will be tough to beat and could potentially leave the bubble as NBA champions.
Stats courtesy of Basketball Reference