Could LeBron James and Anthony Davis Be Traded by Los Angeles Lakers This Offseason?
The Los Angeles Lakers have dropped nine out of their last 12 games, making NBA title aspirations an even greater pie in the sky scenario. The Lakers hoped that their trio of LeBron James, Anthony Davis, and Russell Westbrook would translate to sustained success, but the 2021-22 campaign has been anything but that.
Los Angeles is sitting in a position where reaching the playoffs is a significant uphill battle ahead. All leads to an inevitable busy offseason that some around the league believe should see the franchise consider moving James and Davis.
Lakers' struggles continue to hit new lows
The Lakers are playing like they expect the other shoe to drop, and it hasn't for various reasons, be it injuries or inconsistent performance.
The team has hit an obvious breaking point exemplified by their lackluster effort, especially after Sunday's blowout loss to the Pelicans.
"It's really easy to give up and throw in the towel and say negative things," Howard said via Lakers Nation. I'm really lost for words, but we got to stay positive. We can't sulk in defeat and we can't quit on each other. I know it's been a very rough season, but nah, I think that'll be bad."
Los Angeles may be without Anthony Davis for the next month, but there is no competitive fire pushing them forward. New Orleans controlled the entire contest leading Lakers fans to boo the team after seemingly every turnover in the second half. Meanwhile, James, Russell Westbrook, and Trevor Ariza chose to engage in verbal spats with angry fans.
The Lakers are not playing anywhere near like a team that can realistically compete for an NBA title, let alone secure a playoff spot. All those factors have created an uncertain future ahead, leading executives around the league to believe that significant change is ahead that could include moving the team's two primary stars.
Could the Lakers trade LeBron James and Anthony Davis next offseason?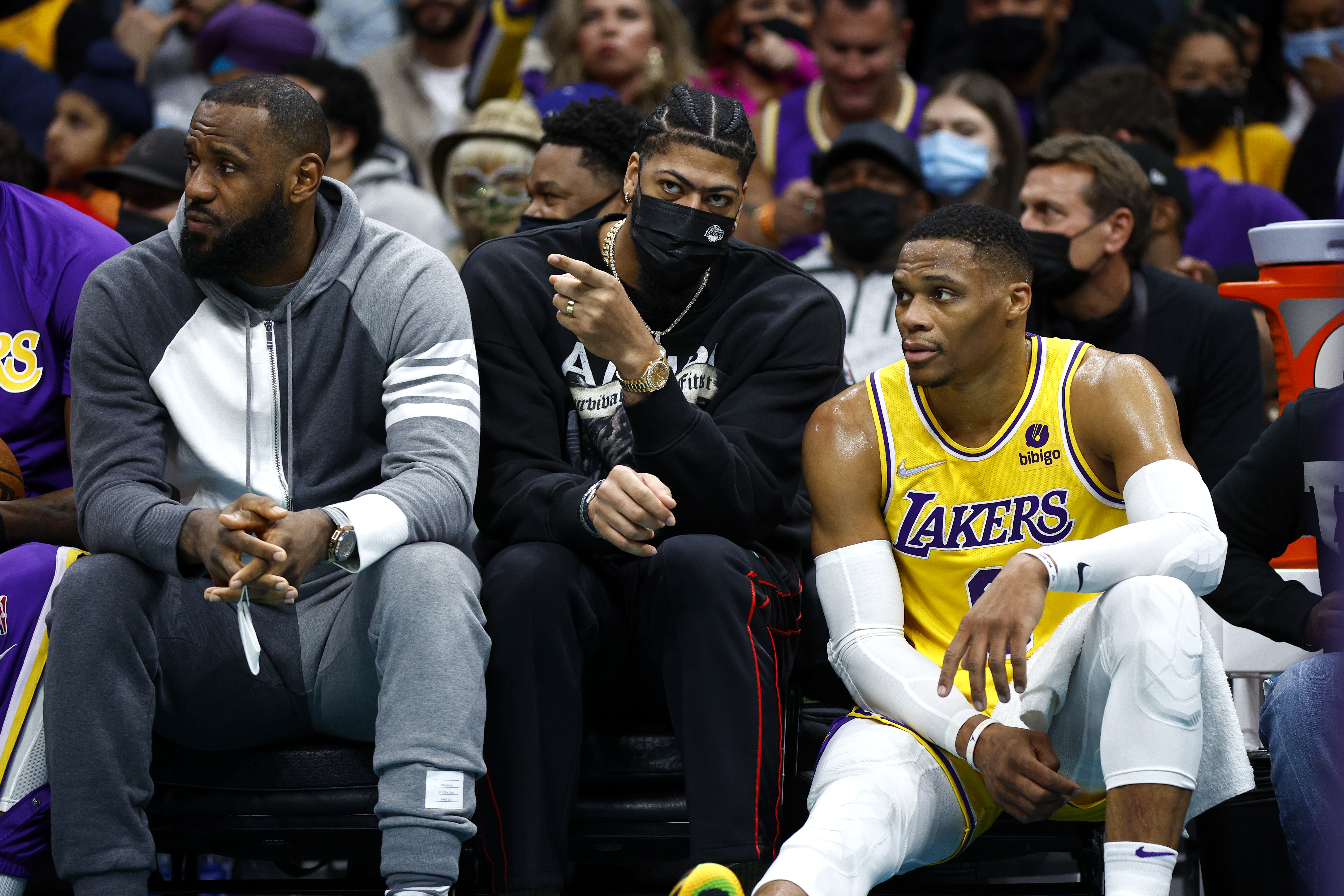 The Lakers have all but waved the white flag, as the organization will make best with the current roster.
The dysfunction on the court will expectedly lead to some significant change next offseason. However, ESPN's Brian Windhorst voiced on the Brian Windhorst & The Hoop Collective podcast that some around the league suggest that the franchise should trade both LeBron James and Anthony Davis.
"People in the league who have a lot of experience say they should trade 'em," Windhorst said. "Trade 'em both."
The Lakers sit stuck between a rock and a hard place. The organization wants to move forward with their two star forwards leading the charge, but the team has only fallen further south since winning the 2020 NBA title. James is under contract through the 2022-23 campaign, while Davis is in the second year of his five-year, $189.9 million deal.
Adding Russell Westbrook turned into a disastrous decision while the supporting cast has been anything but that. The case for trading Davis isn't due to his talent but his inability to stay on the court. He's moving through another campaign where he's missed significant playing time.
James remains one of the league's best players, but his impact on the game isn't what it once was, while injuries are factoring in more prominently into the equation. The Lakers front office can head into various directions, but moving either James or Davis won't likely be on the table. However, crazier things have occurred.
Lakers need to dive headfirst into a roster revamp
Anything short of NBA title contention this season will result in massive roster change.
LeBron James' recent comments voicing his long-term commitment speak to his desire to win another NBA title in Los Angeles. However, the deeper question may concern Anthony Davis' future. When healthy, he's a highly impactful player, but it's his history with injuries that draws significant doubt.
James will continue to play at an elite level, but his body is finally showing that Father Time is catching up as he can no longer handle the ridiculous workload he has carried throughout his entire career. He needs a stable supporting cast and another star player that can be dependable, and right now, the Lakers don't possess either.
The bottom line is that significant change is on the horizon. What it will look like remains a mystery, but that will soon be known.
Contract figures courtesy of Spotrac.
Like Sportscasting on Facebook. Follow us on Twitter @sportscasting19.
RELATED: The Los Angeles Lakers Are Finally Doing the Smart Thing by No Longer 'Yielding' All Decisions to LeBron James