LeBron James Once Attempted to Bring a Former All-Star to the Cavs but Received a Strong Rejection Instead: 'I Didn't Wanna Play With LeBron'
When LeBron James left the Cleveland Cavaliers the first time, his main reason for leaving was clear: He wanted to win a championship, and the Cavs weren't helping him do that. But prior to his first Cleveland departure, James supposedly tried bringing a former All-Star to the Cavs, as he reached out to Metta World Peace.
While James and the Cavaliers would have complemented World Peace well, the 2003-04 All-Star and Defensive Player of the Year decided against it. He didn't want to play with The King.
LeBron James and the Cavs were close to becoming a championship team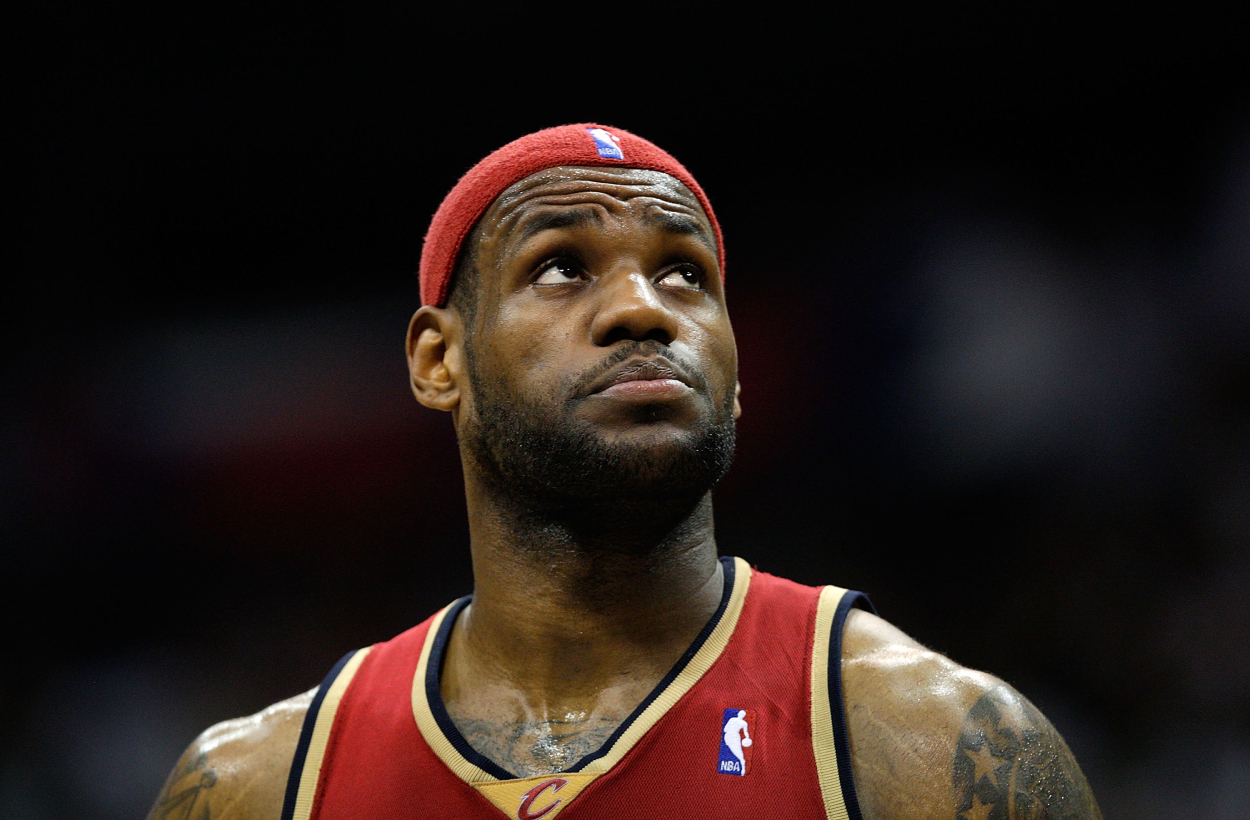 After going to Cleveland with the No. 1 overall pick in the 2003 NBA Draft, LeBron James took the Cavs to heights they had never reached before. He helped them reach their first NBA Finals in 2007 (and the San Antonio Spurs won 4-0) before they eventually became one of the league's powerhouses a few seasons later.
The Cavaliers finished with the NBA's best record in 2008-09 and recorded the most wins in franchise history, as they went 66-16. But once they got to the playoffs, they fell short of reaching the finals, losing to Dwight Howard and the Orlando Magic 4-2 in the conference finals.
Cleveland then improved its roster for the 2009-10 season with the hopes of finally winning the championship that James and the city desperately wanted. The Cavs did this by adding Shaquille O'Neal and later Antawn Jamison to a roster that already consisted of James, Mo Williams, Zydrunas Ilgauskas, and Delonte West.
Their moves worked for the regular season, as they finished with the No. 1 record in the NBA again (61-21). But Cleveland lost to the Boston Celtics in the Eastern Conference semifinals. The loss then led to James going to the Miami Heat during the offseason.
However, what if the Cavs would have added another former All-Star in 2009-10?
Metta World Peace said LeBron James asked him to play on the Cavs
In 2008-09, Metta World Peace — also known as Metta Sandiford-Artest and Ron Artest — played for the Houston Rockets and averaged 17.1 points, 5.2 rebounds, and 1.5 steals per game. He helped Houston make the Western Conference Semifinals before losing in seven games to the Lakers.
World Peace was then a free agent after that 2008-09 season. And we aren't 100% sure whether that was when LeBron James supposedly reached out to him, but context clues point to that being the case.
"So, LeBron James hit me up one time when he was with the Cavs," World Peace said on the Aug. 9 episode of Shannon Sharpe's Club Shay Shay.  "I remember I was excited because LeBron hit me up; I'm a big fan. Even though he's younger, I was a big fan. But before that, I didn't wanna play with Kobe — RIP Kobe — I didn't wanna play with LeBron, I didn't wanna play with [Tracy McGrady]; I wanted to play against these guys. So, when LeBron hit me to come play with [him], I was like, 'I can't come play.'"
World Peace, who also starred for the Bulls, Pacers, and Kings, essentially wanted to play against other All-Stars; he didn't want to team up with them. But he then said he had trouble finding a team, so he eventually played with another star anyway.
"No teams wanted me," he said to Sharpe. "After that, I didn't call back LeBron, so then the Lakers called; I said, 'I gotta just go because I don't know if I'm gonna get a contract.' But it's not in me to play with anyone."
World Peace ultimately teamed up with Kobe Bryant and the Los Angeles Lakers. Had he gone to the Cavaliers, though, it's hard to imagine them losing during the 2009-10 playoffs, especially since they had the best record in the league without him. Winning a title would have also made it more difficult for James to go to Miami in the offseason.
Everything, however, still worked out for World Peace.
Metta World Peace won an NBA championship with Kobe Bryant and the Lakers
World Peace then spent the next four seasons with LA, and he achieved the ultimate goal: He helped them win a championship in his first season on the team.
The Lakers, who had also won the 2009 title, faced the Boston Celtics in the 2010 NBA Finals, and the series went to seven games. However, with 1:01 left in that Game 7, World Peace hit a 3-pointer to increase LA's lead from three points to six, which essentially clinched the title.
James, on the other hand, still got his rings as well, winning back-to-back championships on the Heat a couple of seasons later in 2011-12 and 2012-13. He and the Cavs also won a title together in 2015-16.
Everything eventually worked out for both World Peace and James. But Cavs fans now must wonder how far that 2009-10 team could have gone had World Peace moved to Cleveland instead of LA.
Stats courtesy of Basketball Reference