LeBron James' Best Game With the Lakers Signals a Recipe for Disaster
If LeBron James ever needed a reminder that he's still an elite talent in his 19th campaign, he showcased that in Saturday's win over the Golden State Warriors. James' dominant performance snapped another disappointing skid for a Los Angeles Lakers team that appears destined for a play-in tournament spot.
The four-time league MVP's remarkable season hasn't come with sustained team success. Beyond that, his latest historic outing shines a bright light on the potential disaster ahead for the Lakers' playoff push.
LeBron James tallies his career-best outing as a Laker in win over Warriors
Saturday's contest against the Warriors followed much of the same game flow that has haunted the Lakers through the season.
Los Angeles started fast, holding a 14-point advantage, but a second-quarter defensive collapse led to Golden State scoring 42-points to grab a halftime lead.
Golden State's scoring outburst marked the fourth straight game that Los Angeles allowed an opponent notched at least 40 points in a period. James responded with the best single-game performance of his Lakers' tenure, tallying 56 points, tied for the third-highest output in his 19-year career.
His historic scoring outing, which is only second to Kobe Bryant's 60 points in his final game for a player 37 years old or older, helped the Lakers dig out of a 14-point deficit to grab a much-needed win. The Warriors had no answer for James as he shot an efficient 19-of-31 from the floor, including 6-of-11 from distance.
After the contest, the 18-time All-Star focus was on finally getting his team into the win column after four straight losses.
"Our guys were following me off the floor tonight going into the locker room and they asked me, 'How does it feel to score 56?'" James said via ESPN. "I said, 'Right now, I don't give a damn about the 56. I'm just happy we got a win.' That's just literally the first thing that came to my mind."
James' impressive outing certainly showcased he remains at the top of his game. However, it also sheds light on a potentially concerning reality ahead for the Lakers.
LeBron James' best game with the Lakers signals a recipe for disaster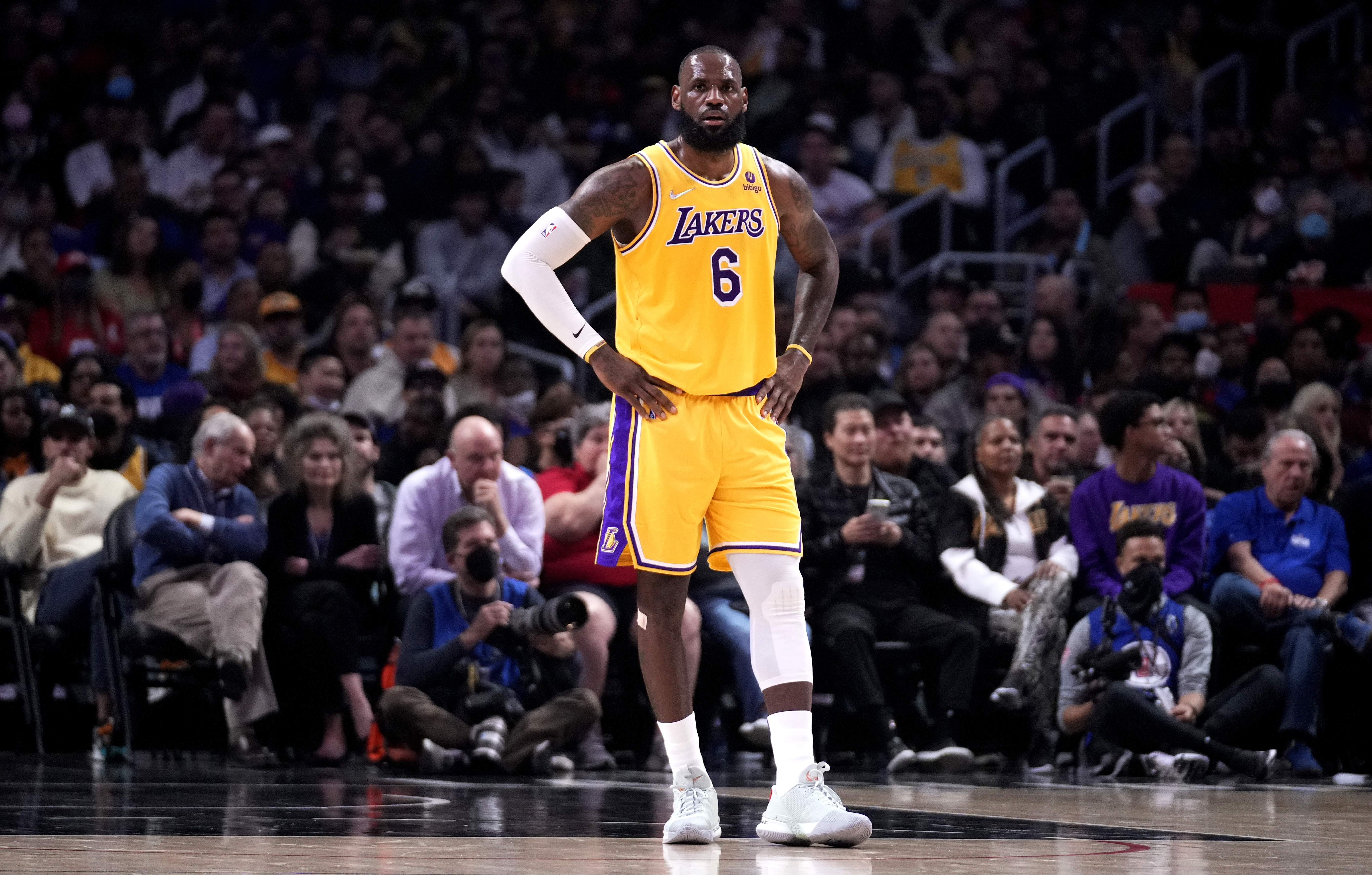 Before beating the Warriors, the Lakers dropped seven out of their previous eight games.
Even after Saturday's win, Los Angeles' path toward avoiding the play-in tournament looks inevitable due to trailing the Los Angeles Clippers by five games for the eighth spot. Meanwhile, Denver Nuggets hold a nine-game lead for the sixth position with only 19 regular-season games left.
The daunting uphill battle ahead aside, the victory over Golden State underlined that LeBron James needed a remarkable performance to get his team a win. Stephen A. Smith emphasized that notion during his appearance on Sunday on ESPN's NBA Countdown show.
"It says all the superlatives that you can throw out there about him," Smith said. "But it also comes associated with a level of sadness because this is what it takes for the rest of the Lakers to get a win. LeBron has to do that in order to end a losing streak."
Anthony Davis' absence certainly shifts things further into that standing. However, the situation speaks volumes regarding the Lakers' lack of consistency around James. The 37-year-old is having a historic campaign, but he isn't receiving any support to lift the team forward.
Russell Westbrook has fallen well short of being the third star the team needs, while the rest of the roster isn't showing any stability. Malik Monk, Austin Reaves, and Carmelo Anthony have been bright spots, but beyond that, it's hard for Los Angeles to count on any other player.
If it continues to require James to play at a ridiculously high level to keep the Lakers competitive, it only spells disaster ahead.
Lakers need to step around LeBron
LeBron James is proving that he is an ageless wonder, but his heavy workload has come at a cost.
As much as he wants to maximize his ability, his body is finally showing signs of aging. He missed eight games due to an abdominal strain and five straight games last month due to continued swelling in his left knee. On top of that, the 37-year-old compared his knee issue to the right high ankle sprain he suffered last season that forced him to miss nearly two months.
James is averaging 36.8 minutes per game, which is the fourth-highest in the league trailing only Fred VanVleet, Pascal Siakam, and James Harden. The four-time league MVP can certainly record many highly productive games ahead, but the wear and tear are showing in his 19th campaign.
The Lakers need the rest of the roster to provide stable production to keep him as fresh as possible. James will continue to shoulder a significant workload, but if Westbrook and the supporting cast can step up, Los Angeles will only stand to find success.
Like Sportscasting on Facebook. Follow us on Twitter @sportscasting19.
RELATED: The Lakers Are Reportedly Considering a Drastic Move to Fix Their Russell Westbrook Dilemma