LeBron James Can't Hide His Excitement, Sends Strong Messages About His New Teammates
LeBron James is coming off a championship-winning season with the LA Lakers, as he and Anthony Davis were very, very difficult to stop last year. However, while the Lakers already had a strong team, they somehow managed to get even stronger this offseason. James seems pretty excited, too, as he couldn't hide his excitement while recently discussing the Lakers' newest acquisitions.
The LA Lakers will be even stronger in 2020-21
After winning a championship with LeBron James and Anthony Davis last season, the Lakers have built a team that should be ready to repeat in 2020-21.
LA has added Dennis Schroder, who averaged 18.9 points per game or more in two of the last three seasons. They also brought in Montrezl Harrell, who won the Sixth Man of the Year Award with the LA Clippers last season after averaging 18.6 points per game and 7.1 rebounds.
These two big-time acquisitions are in addition to three-time All-Star big man Marc Gasol coming to the Lakers, as well as Wesley Matthews.
All of these guys will play big roles for the Lakers this upcoming season, and James appears to know how important they will be.
LeBron James sends strong messages about his new teammates
James recently appeared on the Road Trippin' podcast, and he was raving about his new teammates.
"I'm happy as hell to have big Marc Gasol," James said. "Happy to have Marc, another champion, won with the Raptors two years ago, who I've always loved. … Wesley Matthews, who I've loved to compete against, and his father is a former Laker as well. We got two guys who have family [with] Laker ties."
He then continued to discuss getting Harrell, who was on the Lakers' rival, the LA Clippers, last season.
"We got [Montrezl], Sixth Man of the Year award winner, who's going to help our bench, which we struggled with this past year with our bench in keeping that up," James said.
Then, James discussed the addition of Dennis Schroder, who will be a big-time upgrade at guard for them.
"Then we got the runner-up [for] Sixth Man of the Year award in Dennis Schroder, who I call, his nickname, I don't know if he like it or not, we have not had the conversation, but he's Dennis the Menace," James said. "I love what he brings to the game. His tenacity, he's a dog. He gets under the skin. He's a Richard Jefferson, Draymond Green type guy, where if he's your teammate, you love the s*** out of him, if he's not, you can't f****** stand him."
James certainly seems excited about his new teammates. So, what are the Lakers' chances this year?
How successful can the Lakers be in 2020-21?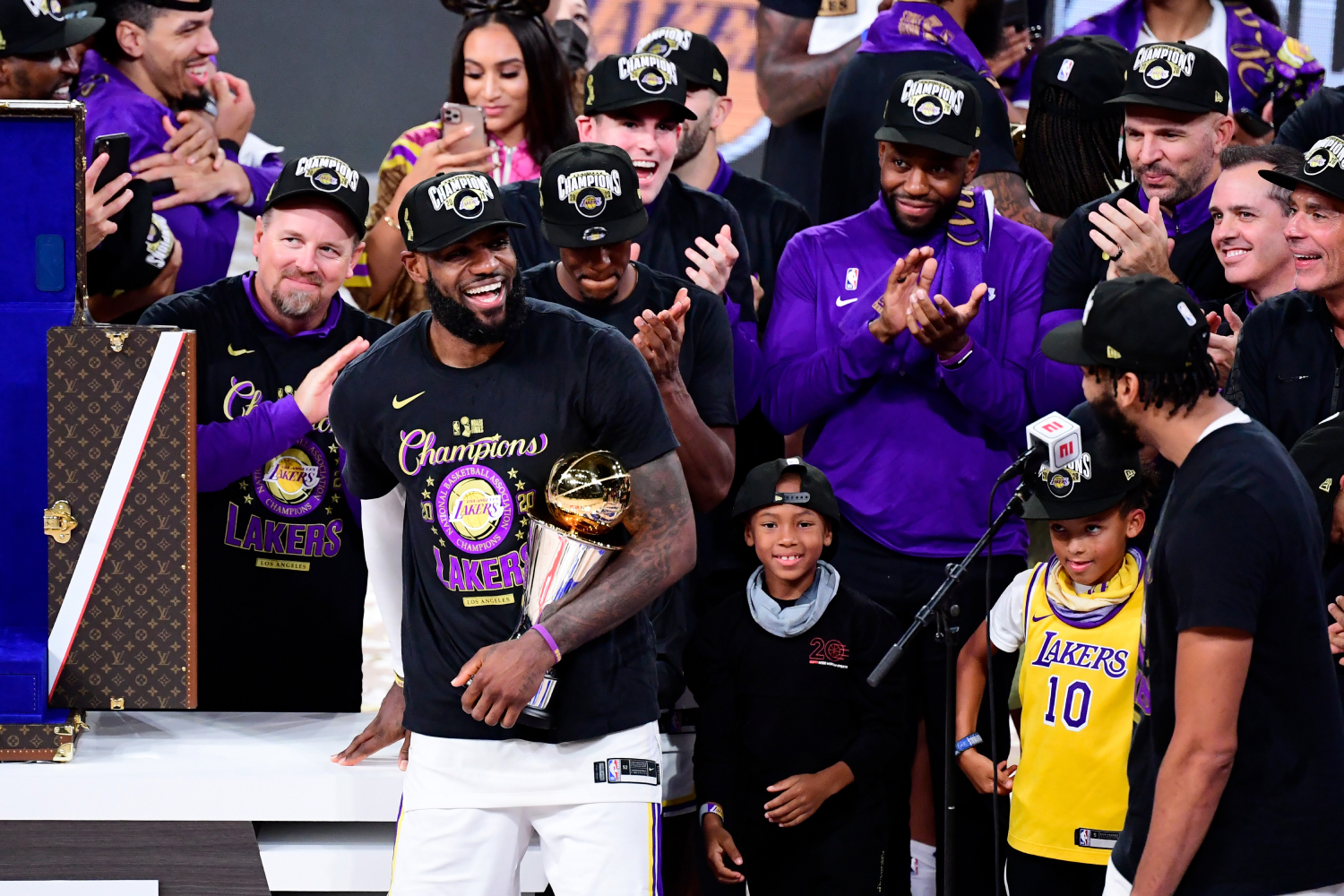 Let's be honest — this team is stacked, especially with these new additions.
James and Davis — who are both expected to be back back — were one of the best duos of all-time last year. James averaged 25.3 points per game, 10.2 assists, and 7.8 rebounds, while Davis averaged 26.1 points per game and 9.3 rebounds. The Lakers also bring back their third-leading scorer in Kyle Kuzma, who averaged 12.8 points per game last season, but he might not even be one of the top four scorers in 2020-21.
Schroder will be a big-time upgrade over Avery Bradley and Rajon Rondo offensively, as he averaged 18.9 points per game last season. Harrell will also be an upgrade offensively over Dwight Howard, as he averaged 18.6 points per game last season. Additionally, Gasol will fill the void that Howard left defensively, which means that the Lakers don't really have any holes. LA will also have some nice role players in Matthews, Kentavious Caldwell-Pope, Alex Caruso, and Markieff Morris.
This roster easily makes the Lakers the favorites in the Western Conference, and should make them the favorites to win the championship again. As long as the Lakers stay healthy, they are in a great position to repeat as champions in 2020-21.
Stats courtesy of Basketball Reference