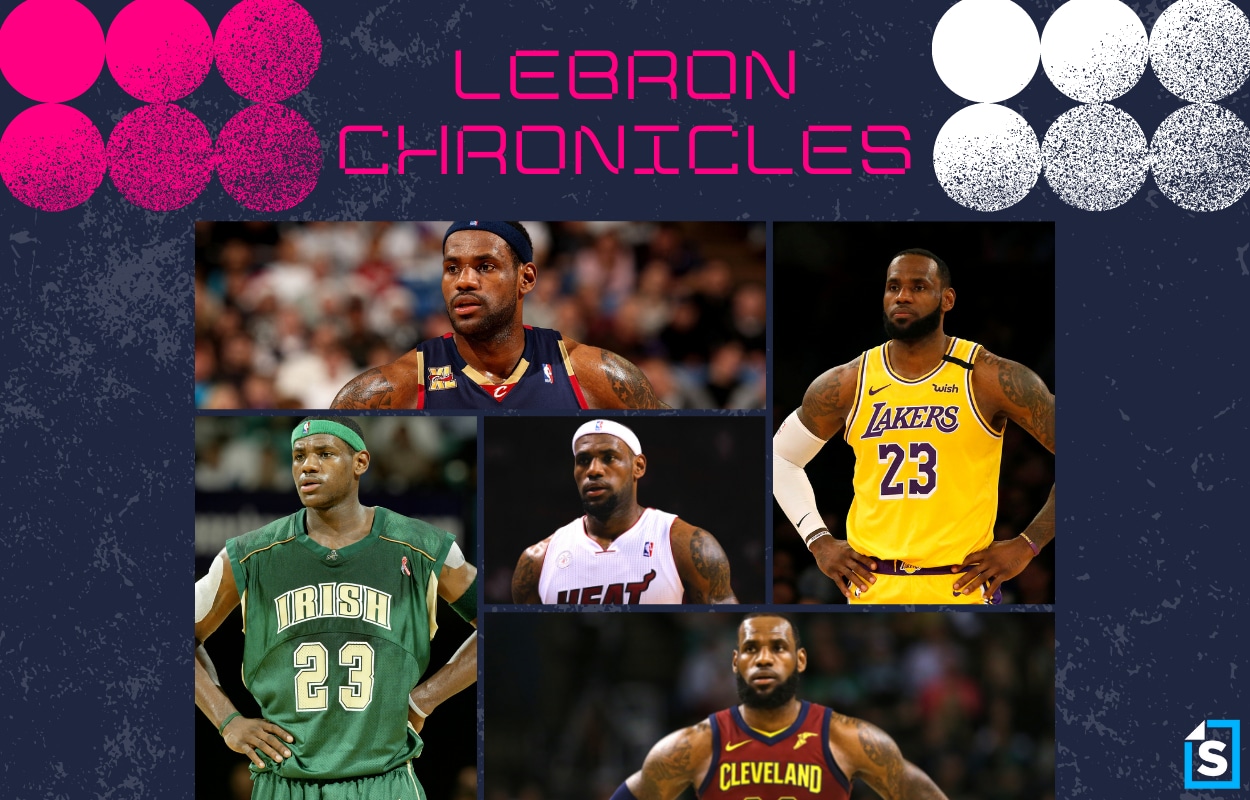 LeBron James Chronicles: A Cavs Fan's Emotional Recollection of the King's Legendary Career so Far
LeBron James has had an iconic career so far and has impacted the lives of many. This is an emotional recollection of it from a die-hard Cleveland Cavaliers fan.
Growing up in Ohio during the early 2000s, you had to become a LeBron James and Cleveland Cavaliers fan. 
I was 7 years old when he entered the league. I just cared about riding bikes and watching Disney Channel. (I had a huge crush on Hilary Duff. I still do, but don't tell my wife.) As I got older, I began seeing more and more kids in LeBron jerseys, so I decided to ask my parents if I could start staying up late for NBA games.
None of my family members are die-hard NBA fans. They are from Ohio or Indiana, so they love college football or college basketball. The pros? Not so much.
My first memory of watching James was actually during his first playoff run in 2006. He and the Cavs played Gilbert Arenas and the Washington Wizards in the first round of the postseason. I was on a trip with my family, and I remember putting Game 6 on in our hotel. Cleveland led the series 3-2, and the Wizards didn't want their season to end. It went to overtime, and Washington led 113-112 with just a few seconds left. That was until Damon Jones hit a jumper to put the Cavaliers up one. Caron Butler missed the game-winning attempt for the Wizards, and the buzzer went off.
The Cavs won.
It was Cleveland's first playoff series win in 13 years, so all the players jumped on Jones at the end. They were celebrating with child-like enthusiasm. It was an incredible moment, and I had been lucky enough to watch it.
The next morning, I saw a group of high schoolers getting breakfast at our hotel and heard one say, "I wonder if the Cavs won." I told them what happened and felt as excited as LeBron and his teammates the night before. At that moment, I knew I was a huge Cavaliers fan and that LeBron was my hero.
But I didn't know how much of a role he and the Cavs would play in my life moving forward.
From high school phenom to hometown kid in the NBA
I was too young to pay close attention to LeBron during his high school years — and even his first couple of seasons in the NBA. Growing up in Ohio and eventually becoming a sports journalist, I quickly learned how much he meant to the state.
James grew up in Akron and eventually went to St. Vincent-St. Mary High School. Local fans knew he was a big deal early on in his prep career. That's actually how ESPN's Brian Windhorst started covering him. LBJ wasn't just good at basketball, though. He could have played college football. Urban Meyer tried recruiting him to Notre Dame until someone told the eventual national championship-winning coach that this kid was "the next Michael Jordan," not another prospect at wide receiver.
That hype followed The King throughout his prep career. He filled tiny gyms with everyday people and even NBA legends. He appeared on the cover of Sports Illustrated, and the magazine deemed him "The Chosen One." James was the real deal. He was a big man with handles and had the athleticism of all your favorite athletes combined. He was essentially Magic Johnson 2.0, and it was Showtime every night he took the court.
After his senior year in 2003, LeBron's hometown team, the Cavs, had the No. 1 overall pick. They had been awful since before the turn of the century. The franchise had never reached the NBA Finals. The city of Cleveland was cursed. 
It needed someone to save it.
In the 2003 NBA Draft, the Cavaliers drafted the hometown kid with the first overall pick. It didn't matter that he was coming straight out of high school. The Cavs believed he could take them to the promised land and decided to select him over other studs, including Carmelo Anthony, Dwyane Wade, and Chris Bosh (let's forget about that Darko Milicic pick).
Once he got to the pros, the question became whether the young phenom would live up to the hype. The NBA had just lost Michael Jordan to his third and final retirement that offseason, and the league needed a young face to take over.
James quickly became that person. There was no adjustment period. The transition from high school to the NBA almost came easy. In his first career game, the 6-foot-9 small forward dropped 25 points, six rebounds, nine assists, and four steals against the Sacramento Kings. He then averaged 20.9 points, 5.9 assists, and 5.5 rebounds and won the Rookie of the Year Award over his good friend, Carmelo.
The Cavs weren't very good in his rookie year, but they improved significantly. They went from a 17-win team without him to a decent 35-47 squad. 
James took the next step in his sophomore season, averaging 27.2 points, 7.4 rebounds, and 7.2 assists en route to his first All-Star selection. Cleveland had its first winning season since 1997-98.
LeBron's team missed the playoffs that year but proved it would soon become a problem for the rest of the Eastern Conference. It was also on the verge of capturing my heart.
The King's first run to the NBA Finals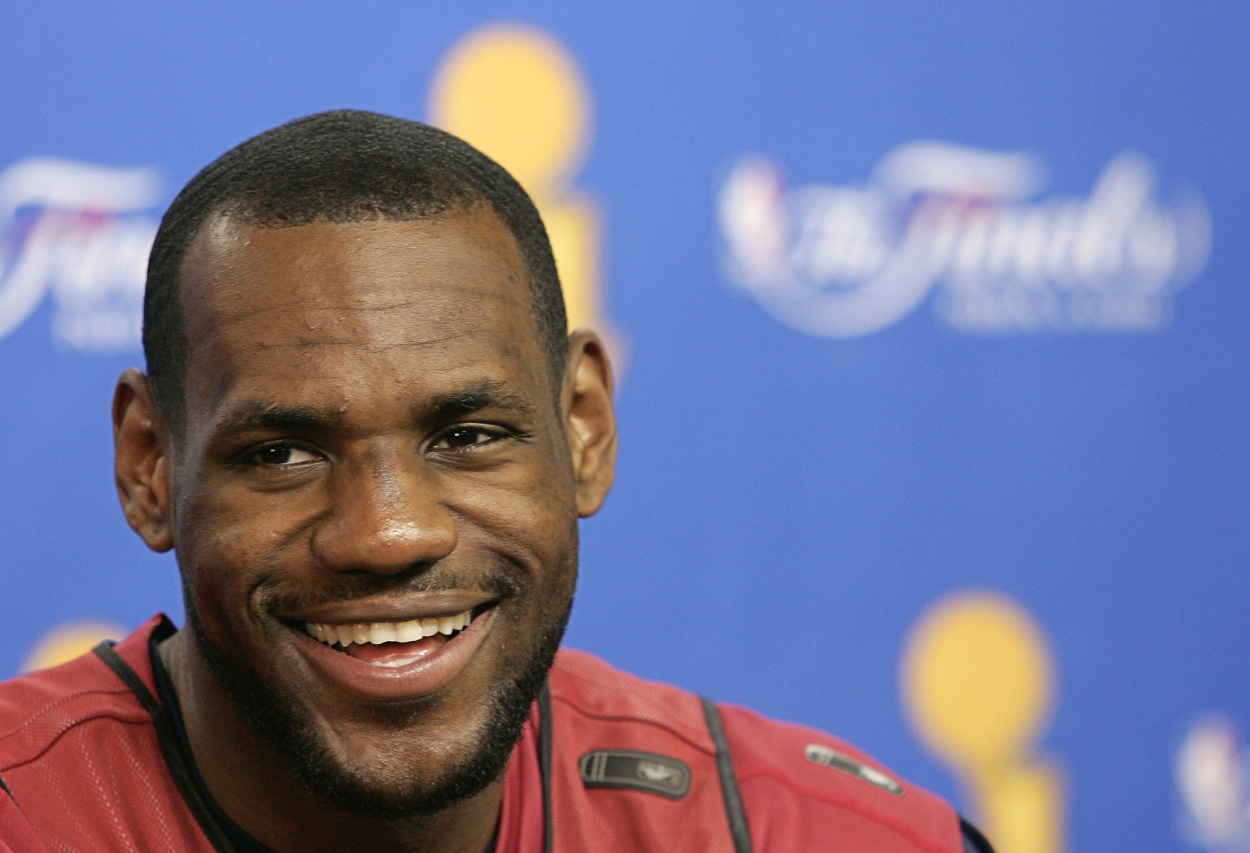 The Cavs made the playoffs for the first time in eight years during the 2005-06 season and won the ensuing first-round series over the Wizards. LeBron was unreal in his playoff debut, averaging 35.7 points, 7.5 rebounds, and 5.7 assists in six games. He was also efficient, making 51.0% of his shot attempts and 38.2% of his three-pointers.
But they had a much more difficult challenge in the conference semifinals: the Detroit Pistons.
Led by Richard "Rip" Hamilton, Chauncey Billups, Rasheed Wallace, Ben Wallace, and Tayshaun Prince, the Pistons had reached three straight Eastern Conference Finals and two consecutive NBA Finals. They won the championship over Kobe Bryant, Shaquille O'Neal, and the Los Angeles Lakers in 2004.
That didn't bother LeBron. 
After falling behind 2-0, James and the Cavs won three straight to take a 3-2 lead. Detroit's experience was too much, and the team came back to win the series in seven games. But Cleveland showed it could compete with the best of the best.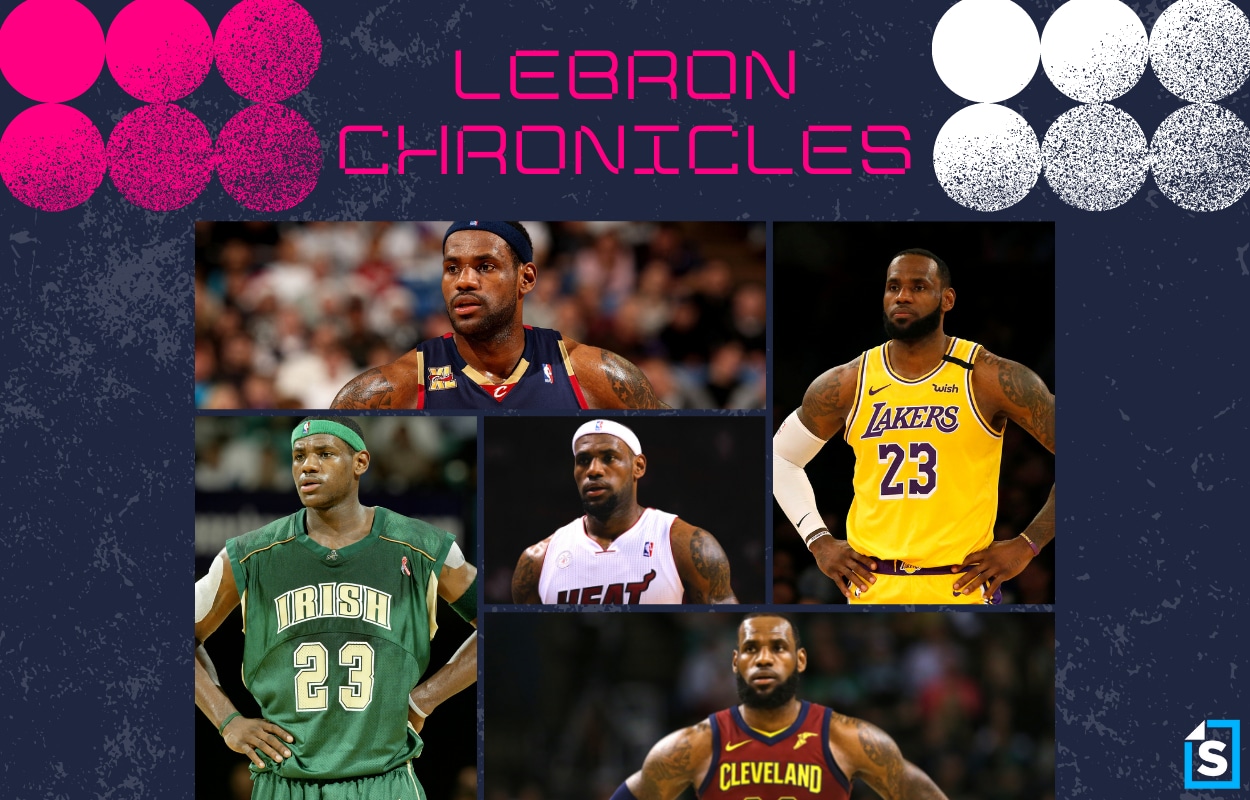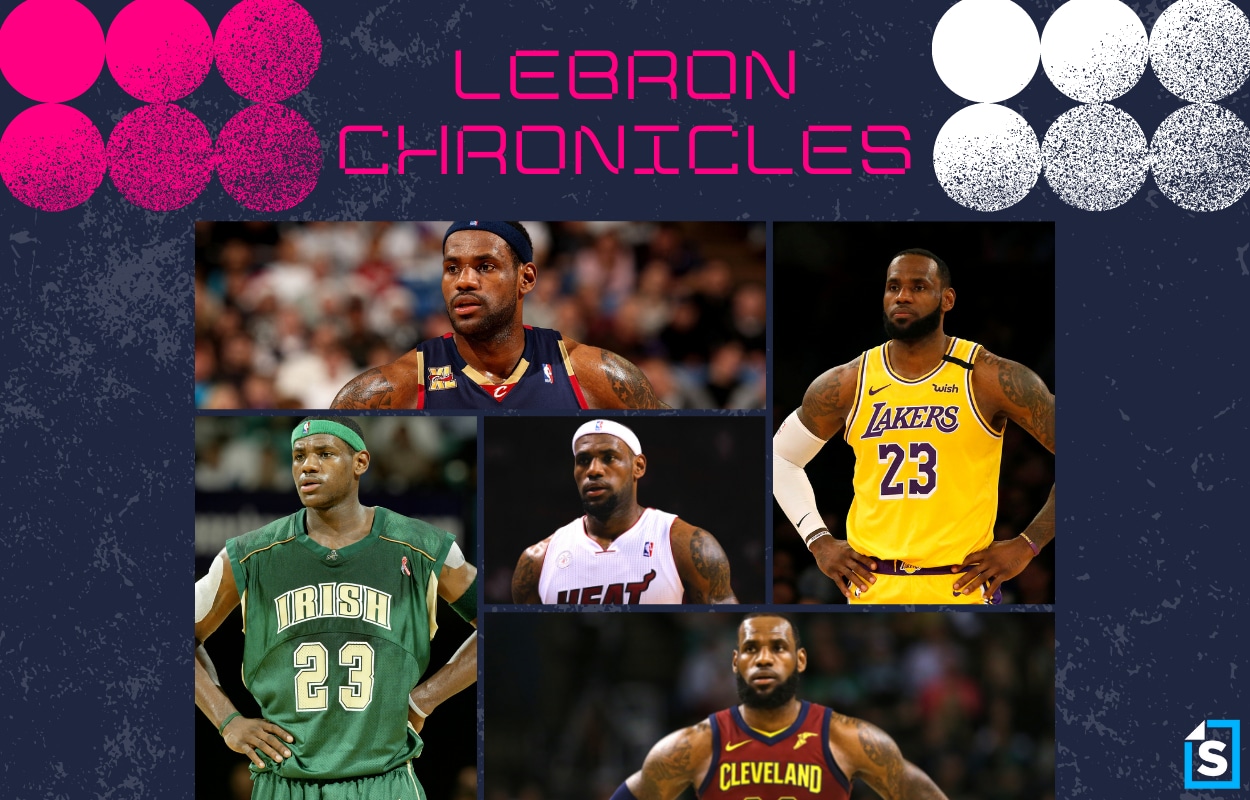 By the 2006-07 campaign, I was all-in on being a Cavs fan. I had multiple LeBron jerseys (such a good era for Cavaliers uniforms), and I tried to watch every game. I even won a contest in gym class and received tickets to my first game. 
The Cavaliers played Jason Kidd, Vince Carter, and the New Jersey Nets that night. I don't remember who won; I just knew that I was in love with basketball, especially after getting to shoot free throws on the court prior to the opening tip.
While watching one game with my parents on TV that year, an announcer said the Cavs "had no chance" to reach the NBA Finals. I thought, "Why not?" 
Oh, did they prove him wrong.
LeBron had already become one of the league's best players by the time his fourth season rolled around. He led Cleveland to its second straight 50-win season, and the team had a relatively easy time in the first two rounds of the playoffs. It played the Wizards in the first round again but swept them. It then played Kidd, Carter, and their Nets in the conference semifinals. James and company won in six games to advance to the Eastern Conference Finals.
Who did the Cavaliers face next? The Pistons. 
It was time for revenge.
Thanks to some nail-biting wins, Detroit claimed a 2-0 series lead again over Cleveland. In Game 1, James passed up the last-second shot to Donyell Marshall, who had a higher-percentage look, but Marshall missed, and the Cavs lost 79-76. The talking heads went on ESPN the next day and eviscerated LeBron, questioning if he had what it took to shoot game-winners.
They learned the answer later in that series.
Like the year before, the Cavaliers won the next two games before traveling to Detroit for a crucial Game 5.
The contest became the first signature performance of LeBron's career. It was his statement game, and he proved to the entire world that he could live up to the hype that had been following him since his teenage years.
I watched a man on a mission that night. The game was close the entire way, and it went into two overtimes solely because James didn't want to lose. He couldn't miss, scoring the Cavs' final 25 points and making 11 of 13 shots during that span. A LeBron dunk with 9.5 seconds left in regulation forced overtime. He then sunk a game-winning layup in the second OT with 2.2 seconds left. The Cavs won 109-107.
Detroit was stunned. I was stunned. No one knew what they had just watched. The game went late into the night, but my parents let me stay up for it. I'm glad they did. I witnessed history. And because I took over the TV, so did they.
James finished with 48 points on 18-of-33 shooting. He also had nine rebounds, seven assists, and two steals. The Cavs had all the momentum in the world, and it carried into Game 6.
They didn't let the Pistons come back and force a Game 7 that year. LeBron snatched Detroit's soul in Game 5, and his teammates finished the job in the next contest. Daniel "Booby" Gibson became a hero in Northeast Ohio that night, dropping 31 points, and the Cavs won easily, 98-82. They advanced to their first NBA Finals in franchise history.
Cleveland faced the San Antonio Spurs dynasty in the Finals. James was great, but Tim Duncan, Tony Parker, and Manu Ginobili were too much for a team with just one star. They beat the Cavs 4-0.
He came up short in the end, but LeBron made it clear that the NBA had become his league. And I was ready to watch the show.
The fun MVP years in Cleveland
The Cavs didn't make it back to the Finals in 2007-08. The Boston Celtics formed their Big Three with Paul Pierce, Kevin Garnett, and Ray Allen, and while James and Cleveland took them to seven games in the conference semifinals, their talent was difficult to match. The C's went on to win the title over Kobe Bryant and the Lakers.
In 2008-09, the Cavaliers were a different team.
They added Mo Williams, who became the Robin to LeBron's Batman, and they took flight with the best record in franchise history. The team went an incredible 66-16 and finished No. 1 in the entire league. 
I had moved from just outside of Columbus to Northern Ohio the season before, so I went to Cavs games more frequently. That squad was easy to love. The players seemed to genuinely like each other and had fun almost every game. They were also just simply better than everyone else and often took fourth quarters off by dancing away blowouts on the bench.
James won his first MVP that season and averaged 28.4 points, 7.6 rebounds, and 7.2 assists. I truly felt this team was supposed to reach the Finals that year and looked good enough to win its first championship. 
Heck, I attended a Lakers-Cavs game that season and thought I was watching a preview of the championship series. LeBron James versus Kobe Bryant. It was going to be one of the biggest matchups in NBA history.
Things just didn't work out that way.
Cleveland swept through the first two rounds of the playoffs and looked destined to reach the Finals. But Dwight Howard and the Orlando Magic surprised everyone in the Eastern Conference Finals. LeBron had his epic buzzer-beater in Game 2 of that series (my friend and I ran around his living room and his mom jumped on the floor the second that ball fell through the hoop), but the Magic outplayed the Cavaliers almost every night. Orlando won 4-2 and advanced to the Finals to play the Lakers. Instead of LeBron-Kobe, we got Dwight-Kobe. The Lakers won the title with ease, beating the Magic in five games.
It was a tough pill to swallow, but it was all OK. It was a disappointing end to an incredible season, but the Cavs would be back the next year. 
And they were.
Cleveland added Shaquille O'Neal and Antawn Jamison in 2009-10 and, again, became the hottest ticket in Ohio. The Cavaliers won more than 60 games for a second consecutive year, and James won his second MVP. He not only had Williams, but he also had one of the greatest big men ever in Shaq.
But as O'Neal told me in an interview last year, a hand injury changed everything. He missed the final 23 regular-season games and didn't retake the court until the playoffs. They beat the Chicago Bulls 4-1 in the first round but faced the Celtics and their Big Three (plus playoff Rajon Rondo) in the conference semifinals. James had to do everything in that series, averaging 26.8 points. No one else recorded over 13.5 per game. His lack of help resulted in Boston winning in six games.
I was in eighth grade at the time. I watched Game 6 while on a field trip to Washington D.C. with my classmates, and I remember feeling stunned and devastated as LeBron took off his Cavs jersey while walking toward the locker room after that series-ending loss. He had 27 points, 19 rebounds, and 10 assists in that game. How was that not enough?
Rumors of his departure began to swirl. 
Would I ever see LeBron James in a Cavaliers jersey again? He was an Ohio kid. He wanted to win a title for the state. Of course he was coming back.
That summer was heartbreaking.
The Decision
No matter what happened, we all knew the summer of 2010 would be one of the biggest in league history. Dwyane Wade, LeBron James, and Chris Bosh were all free agents.
I was watching ESPN when I first heard about Bosh and Wade signing in Miami. "The Heat are going to be a problem," I thought. I just didn't know how much of a problem.
LeBron would tell the world where he planned to play next on July 8, 2010. It would be a nationally televised event called The Decision.
I was at a three-day event at King Island that weekend (for non-Ohioans, it's an amusement park near Cincinnati. I moved near Southwest Ohio for high school). I couldn't find a TV anywhere, so I had my friend call me once James was announcing his decision. I snuck into a bathroom and huddled in the corner near a trash can to listen as he put his phone next to his television's speaker.
"In this fall, I'm gonna take my talents to South Beach and join the Miami Heat," James said.
Wait, what? 
My world was crushed. The best player in the NBA would no longer play for my favorite team. The Cavs were about to be … irrelevant.
I immediately hung up and stormed out of the bathroom. My mom tried talking to me, but LeBron had ruined the evening. The Cavs had become a team I truly loved. James' first stint in Cleveland represented an exciting time in my life. I was becoming independent and choosing my own favorite teams that had nothing to do with my family. It marked my transformation from a boy to a young man. Those were some great years, and the Cavs were at the center of them.
But that one sentence forced me to turn on my favorite player in the world.
As an adult, I think Cavaliers owner Dan Gilbert's letter to the city after James' announcement was ridiculous and immature. When I was a teenage kid, I loved it. Gilbert had me genuinely believing the Cavs could win without LeBron.
I was young and stupid. It's embarrassing to look back on now, but I remember writing "don't need the king to win the ring" on my Zoom LeBron 6s. I loved those sneakers, but I no longer wanted to support him. I had done a complete 180 and began hating LeBron, just like so many Cavs fans. You remember the burned jerseys and his emotional first game back in Cleveland. We were all angry.
Those next four years were the dark period of my LeBron and Cavs fandom. I rooted against him with everything I had. He took the Heat to the NBA Finals in his first year on the team, but they lost in six games to the Dallas Mavericks. What did I do? I celebrated their demise. James choked, and I loved it.
Of course, that hatred turned into disgust. 
The Heat reached four straight Finals and won two consecutive titles in 2012 and 2013. Seeing LeBron hoist his first Larry O'Brien Trophy and then his second, I thought, "This should be with the Cavs." Seeing him win on another team felt like he had intentionally punched all of Ohio in the gut.
It didn't help that the Cavaliers were trash. They went from winning 60-plus games to losing 60-plus in the first year without him. Cleveland drafted its next star, Kyrie Irving, in 2011 but continued to lose. Four years, four losing seasons. No one cared about the Cavaliers, and James and the Heat got everyone's attention.
However, in the 2014 NBA Finals, Miami lost to the Spurs, and James became a free agent that summer. A part of me wondered if he would even consider returning to the city that had completely turned on him. Did I even want him back? Who was I kidding? Of course I wanted him back. I was tired of watching the Cavs lose.
This time, my certainty paid off.
The Ohio kid returned home
The summer of 2014 was huge for me. I had just graduated high school and planned to attend the University of Cincinnati. But more importantly, as soon as free agency opened, I would go to various NBA rumor sites and refresh them every 10 minutes.
One day, I decided to take a break from my phone and went outside to read. That didn't last long. After just one chapter, I checked Twitter. I saw a friend post "The Return," and another said, "He's back."
I couldn't believe what I was reading. LeBron James was returning to the Cavs.
I ran inside and turned on the TV. LeBron James was returning to the Cavs.
I immediately started screaming and jumping around. I couldn't believe it and started calling everyone who cared to talk about it. LeBron chose Ohio. The Cavaliers were going to run the NBA again. Was this real life?
LeBron James was returning to the Cavs.
After taking it all in, I ran to my closet and pulled out my old jerseys. They were small, but I put one on and wore it to a grad party that night. You know that famous picture of Joe Burrow in a small LeBron jersey? It also has the words, "He's back." That was every fan in Ohio that day. I looked the exact same way.
Days later, many of us filled a football stadium in Akron to welcome him back. His bond with the state was and still is indescribable, and the pain of losing him had already been healed by his return.
After drafting Andrew Wiggins No. 1 overall that summer, the Cavs traded him for Kevin Love. They formed their own Big Three: LeBron, Kyrie Irving, and Love. Things weren't all that easy at first. The team started the year 19-20 in 2014-15 but finished 53-29.
The way the Cavaliers played at the end of the year, a trip to the Finals seemed almost inevitable. And it happened. James' four straight Finals trips in Miami practically made playoff runs too easy for him. The Cavs beat the Celtics, Bulls, and No. 1-seeded Atlanta Hawks to clinch a spot in the championship series.
There was only one issue. Kevin Love suffered a season-ending injury against the Celtics. So, Cleveland went into the Finals against the Golden State Warriors with only two of its Big Three members. In Game 1, Irving suffered an injury, and James had to do everything by himself the rest of the way.
He gave the Warriors a run for their money, averaging 35.8 points, 13.3 rebounds, and 8.8 assists and taking the series to six games. But Matthew Dellavedova and Timofey Mozgov weren't enough, and Golden State won the championship.
There's always next year. That was Cleveland's motto for decades, but it was true this time. I knew it was, especially if everyone was healthy.
The 2016 championship run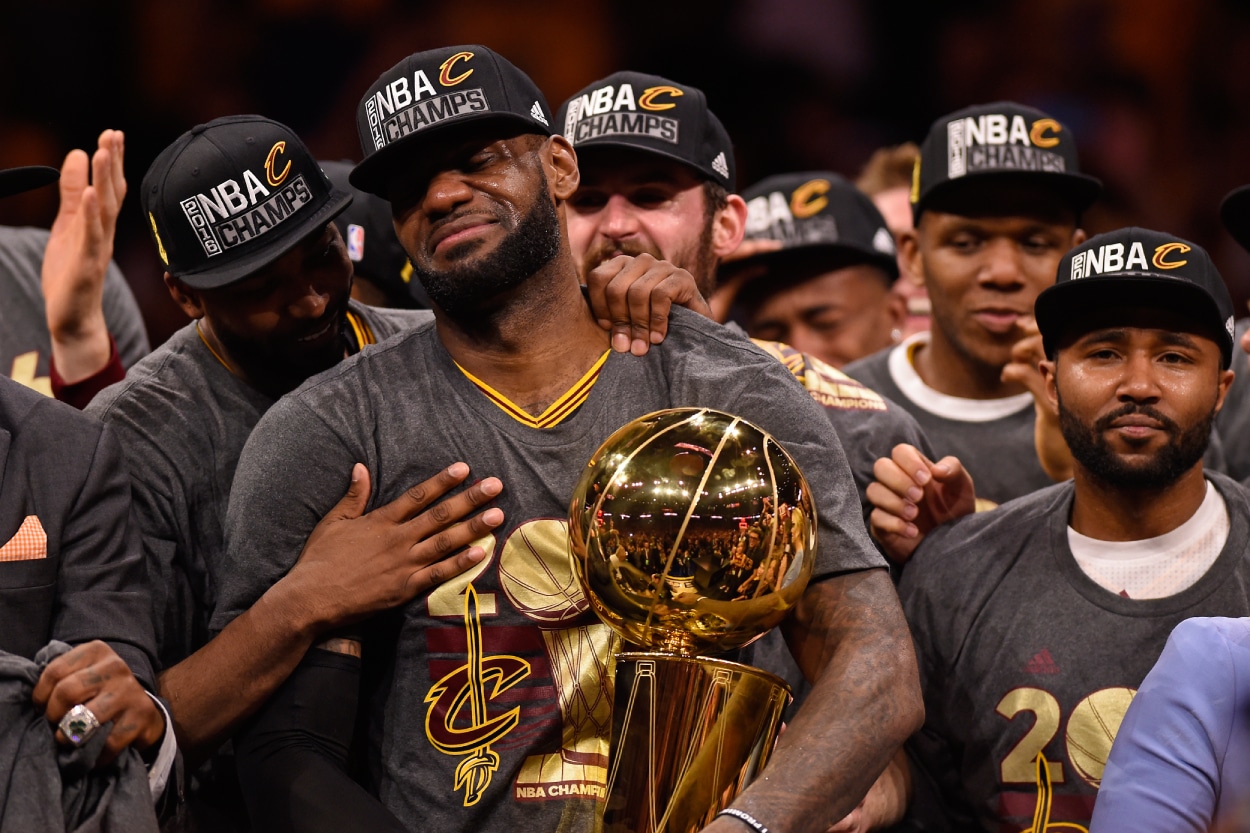 I had known I wanted to go into journalism since LeBron's first Cavs stint. I wanted to cover big sporting, news, and pop culture events. I knew I wouldn't be a superstar athlete or famous actor at a young age. But I could still work with them.
So, I went to UC for journalism, and by the time I was a sophomore in 2015, I had accepted a position as the sports editor for the student paper, The News Record. That same year, the Cavs played a preseason game at Cincinnati's rival school, Xavier. I didn't care that it was at Xavier and not UC; I was going to cover that game, and I did.
That was one of the most unforgettable nights of my life. After all those years of cheering, hating, and cheering for LeBron again, I shared a room with him. I was in the locker room with him and the Cavaliers.
Being a young journalist, I was nervous to ask a question during his time in the media scrum. But I told myself I wouldn't leave without saying at least one thing to the man who gave me so many great childhood memories. 
He was eating a salad, and I said something stupid: "Are you going to keep wearing that headband this year?" (He had gone away from his signature headband the previous season but wore one that night.) LeBron responded, "Maybe. I don't know." I then wished him luck for that upcoming season, he said thank you, and I left to write a story about that meaningless preseason game.
But that season was far from meaningless.
The Warriors were the team everyone talked about that entire year. After winning the 2015 championship, they won a record-breaking 73 games and looked ready to defend their title. 
Golden State, of course, reached the Finals again. 
So did the Cavs.
I got married that summer, and Game 6 of the Eastern Conference Finals happened to be on my wedding day. I had proposed at a Cavs game the year prior, so our colors were wine and gold, the team's colors, and my wife had a Cavs-themed garter for me. I didn't get to watch the game, but I kept checking the score with my uncle.
Cleveland beat the Toronto Raptors to clinch a spot in the Finals for the second consecutive season. I got married, and the Cavs won their way into the Finals on the same night — what a time.
Of course, the series with Golden State didn't start the way I hoped it would. I watched Game 1 on my honeymoon, sitting in our Naples condo, and the Warriors won easily. They had an even bigger win in Game 2, cruising to a 110-77 victory.
The Cavs won 120-90 in Game 3, but the Dubs took a 3-1 lead in Game 4. No one had ever rallied from that deficit in the Finals, and many thought the series was over. But this team was different and actually healthy. The Warriors were no longer playing against LeBron and a bunch of role players. He had Kyrie and Love alongside him.
And that talent proved to be the difference.
I watched Games 5 and 6 while on a family vacation in Outer Banks, North Carolina. James and Irving had historic performances in Game 5, scoring 41 each. And in Game 6, The King dropped 41 again and helped the Cavs force a Game 7. They were just one win from a championship, and I couldn't believe it. I probably woke up all my family members screaming that night.
For Game 7, my wife and I cheered on the Cavs from my college house. I was decked out in my wine-and-gold gear and ready to see my team win a title. It happened to be one of the most memorable nights in NBA history. Things went down to the wire. Every person in Ohio had sweaty palms. Then, a clutch Kyrie shot in crunch time and an unforgettable LeBron block led to their team coming out on top. The Cavs won 93-89.
I couldn't believe it. They were world champions, and Cleveland's 52-year title drought was over. I was emotional and stunned. My wife said she had never seen me that happy. (I was nervous on our wedding day, so I probably didn't have as massive a smile as I did then.)
After all those tough years of seeing my team come up short — or not even come close to winning a ring — they were finally the league's best. I'm pretty sure I wore Cavs gear that entire summer. Trip to King Island? Cavs shirt. Going to a concert? Cavs jersey. I couldn't get enough of the Cavaliers.
But all good things come to an end. On July 4, 2016, Kevin Durant ruined everything.
Kevin Durant ruined everything for LeBron James and the Cavaliers
The Warriors realized they couldn't beat the Cavs. Kyrie, LeBron, and Love were too much. So, they decided to sign one of the greatest scorers of this generation in Kevin Durant.
I was ticked. 
Why would Durant do that? Doesn't he want to win a championship on his own team, not someone else's?
I didn't let that ruin my fun that next season. I covered another Cavs preseason game and actually asked LeBron a question during his postgame media availability. I then cheered them on through a fantastic year in which they reached their third straight NBA Finals.
They just didn't have enough firepower to beat the Warriors. Durant led the Dubs to a 4-1 win and another NBA championship.
The loss ruined what could have been a dynasty. I planned to watch LeBron James and Kyrie Irving on the Cavs for years, maybe even a decade-plus. But Irving requested a trade. The Cavaliers sent him to the Boston Celtics, and it was essentially the beginning of the end.
Cleveland still made the NBA Finals that next year, thanks to a dominant playoff run by LeBron, but the talent disparity between a Kyrie-less Cavs team and the Durant-led Warriors was just too significant. Golden State swept the Cavaliers in 2018, and James entered the offseason as a free agent.
LeBron's second (less emotional) departure
It was clear the Cavs couldn't compete with the Warriors. And LeBron James, signing a deal with the Lakers, ended up saying goodbye to Northeast Ohio again that summer.
I was devastated when I got the news, but I wasn't as angry as when he left for the Heat. He won us a championship and gave me even more fantastic memories. I couldn't hate that man; he had become — and still is — my favorite athlete ever.
Believe it or not, 22-year-old me was much more mature than my 14-year-old self.
I still wasn't sure if I could root for the Lakers. I didn't necessarily have to worry about it during that first season. LA wasn't very good and missed the playoffs in 2018-19. But the Purple and Gold instantly became the title favorites in 2019-20 after trading for Anthony Davis and seeing KD leave the Warriors for the Brooklyn Nets.
Would I cheer for LeBron to win his fourth championship? The Cavs weren't good, and it was still hard to watch him on another team, so I had mixed feelings.
However, my perspective changed in January 2020 when Kobe Bryant died. Since I was so young, I didn't appreciate Kobe's career as much as I could have. I always rooted against the Lakers because I thought they would eventually play the Cavs in the Finals, so I was so worried about hating LA that I didn't appreciate greatness.
I wasn't going to let that happen with LeBron.
I rooted for James as he led the Lakers through the playoffs in the bubble. He looked as good as ever during that run despite being 35 years old. I was thrilled when he won his fourth title, beating his former team, the Heat, in the 2020 NBA Finals. No, it wasn't as magical as when he led the Cavs to a championship, but he had brought me so much happiness over the years. I wanted him to have as much success as possible.
Now, he's on a Lakers team with an uncertain future. While James has continued playing at a high level, Davis can't stay on the floor, and the team hasn't done a good job building around him. They lost in the first round in 2021 before missing the playoffs in 2022.
Do I know what's in store for LeBron James? No, but I'm excited to see how the rest of his career plays out.
What's next for the King?
There's a strong chance LeBron James will become a free agent again in 2023. I would be lying if I said I haven't thought about him coming back to Cleveland.
The Cavs have finally become good without him. They have young stars in Darius Garland, Jarrett Allen, and Evan Mobley, and in 2021-22, they recorded their first winning season without LeBron since 1997-98.
However, adding James, who averaged 30.3 points last year, to that roster would immediately make the Cavaliers title contenders again.
Will he go back to Cleveland? I'm not sure. He seems to like Hollywood, and the Lakers will be a force if they can reunite him with Kyrie Irving or add another star once Russell Westbrook becomes a free agent next offseason.
But no matter what he does, I will root for him to add to his already-incredible legacy. 
I have matured from a young 7-year-old to a 26-year-old adult during LeBron's career. I am now expecting a son this October; the same month James starts his 20th NBA season.
I'm not sure how much of James my child will get to watch. Heck, maybe he won't even like sports. But if watching LeBron's career has taught me anything, it's to appreciate greatness every step of the way. Live in the moment and enjoy the fun times, but don't let your anger or sadness keep you from watching history. I will tell my son as much if he gets to see LeBron play at all during these last few years of his career, and I will remind him whenever he finds his own favorite player to obsess over.
I remain a die-hard Cavs fan. I am loyal to the Wine and Gold over anything. But I love LeBron James and am thankful I have witnessed so much history over these last two decades.
Stats courtesy of Basketball Reference