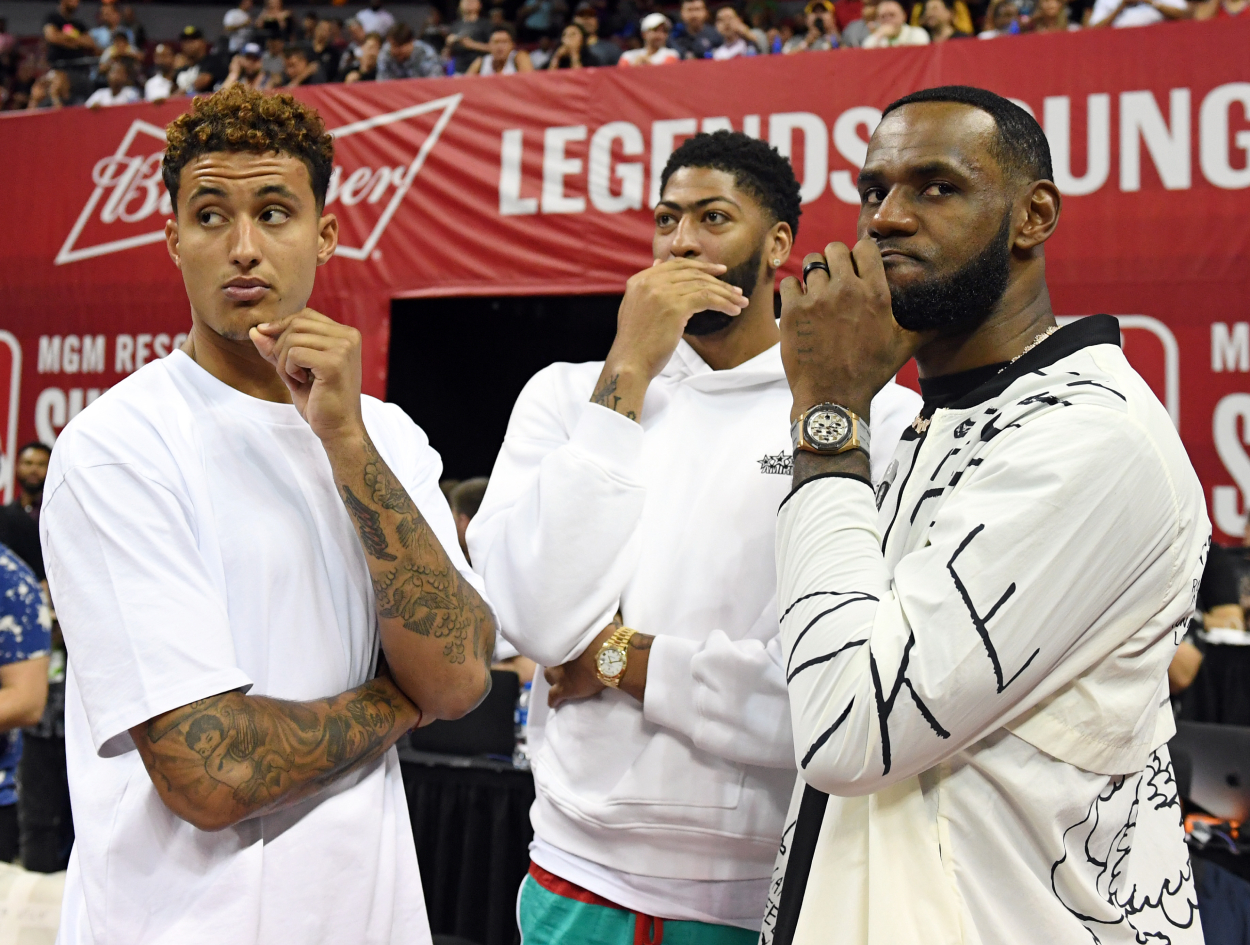 LeBron James' Comments Help Reveal How Tough Kyle Kuzma's Basketball Life Became Once Anthony Davis Joined the Lakers
LeBron James and Anthony Davis have made Lakers fans' lives great. However, Kyle Kuzma's life on the court instantly became more difficult.
Once he joined the team in 2018, NBA superstar LeBron James made life a lot better for LA Lakers fans. Then, once former Pelicans star Anthony Davis came to LA in 2019, the lives of Lakers fans improved even more. However, Davis' move to LA was not easy for everyone. In fact, James' recent comments helped reveal how tough Kyle Kuzma's life became on the court once Davis came to LA, as he instantly saw his stats take a pretty big hit.
Kyle Kuzma had some impressive stats in his first two seasons
After going to the LA Lakers in a draft night trade in 2017, Kyle Kuzma quickly proved to be an excellent scorer in his first two seasons. Kuzma earned 2017-18 All-Rookie honors after averaging 16.1 points per game and 6.3 rebounds on 45% shooting.
LeBron James then signed with the Lakers that next offseason and Kuzma continued to prove his ability as a scorer in 2018-19. He was second on the team in scoring behind James that year, as he averaged 18.7 points per game to go with 5.5 rebounds. He also shot an improved 45.6% from the field.
However, the Lakers were awful in Kuzma's first two seasons, even when James came to town. They went 35-47 in 2017-18, and then 37-45 in 2018-19.
Then, Anthony Davis joined the Lakers in 2019-20, and they immediately became the best team in the league. LA ultimately went 52-19 and then won the NBA Finals that year. Kyle Kuzma, though, saw his stats drop significantly. He only scored 12.8 points per game to go with 4.5 rebounds. He also shot a career-worst 43.6% from the field. His numbers were then even worse in the playoffs. Kuzma averaged 10 points per game and 3.1 rebounds. He also only shot 43% from the field in the postseason.
It appears that Kuzma really struggled in transitioning from team star to role player. LeBron James recently highlighted what Kuzma has had to sacrifice, too.
LeBron James revealed what Kyle Kuzma has had to sacrifice with the Lakers
LeBron James recently spoke about Kyle Kuzma's development with the Lakers, as well as his transition from star to role player. Kuzma has ultimately had to sacrifice a lot.
"It all depends what you want in this sport, to be honest," James said, according to the LA Times. "… Do you want to score a bunch of points but sometimes it doesn't really matter or doesn't make a difference in winning or losing? Or do you want to be a part of something special where you continue to get better, you continue to make an impact and you have a role on the team where you're playing for something more than the sum of your individuality?"
James even admitted that the transition is difficult.
"It's not an easy buy-in," James said, per the LA Times. "Because when you know you're capable of going out and scoring 20 or you're capable of putting up high-point games, it shouldn't be an easy buy-in. It should take some time."
While Kuzma may have improved as a scorer from year one to year two, he has since improve other areas of his game, and has become very valuable to the Lakers in those areas. Now, LA needs him to produce at a high level more than ever.
LeBron James and the Lakers need Kyle Kuzma now more than ever
Kyle Kuzma has proven this season that he has bought into his role. He has improved significantly as a rebounder, averaging 6.1 boards per game, his most since 2017-18. He also has six double-doubles so far this season after only having two all of last year.
This is in addition to his improved shooting, as he is making 45.2% of his shots from the field. He has also improved his 3-point shooting from 31.6% in 2019-20 to 35.9% this season.
"His value for our team has grown from even the end of last year to now," Anthony Davis said, per the LA Times.
The Lakers need him now more than ever, though. According to ESPN, Anthony Davis suffered a calf strain recently and is unlikely to return to the court for the Lakers before the All-Star break that takes place March 5-10. He also aggravated the tendinosis in his right Achilles.
The Lakers must be careful with an Achilles injury, as that is what kept Kevin Durant out of the 2019 NBA Finals with the Warriors. It also led to him missing the entire 2019-20 season. No one wants to see that happen to Davis.
Because of this, many people expect Davis to miss a significant amount of time so that he can be healthy for the playoffs. This means that Kuzma must step up big-time for LeBron James and the Lakers.
Can he do it? Just look at the work he has put in throughout the past two seasons, and you'll have your answer.
Stats courtesy of Basketball Reference