LeBron James' Controversial Comments Receive Strong Criticism From Multiple TV Personalities but Also Earn Surprise Support From a Politician
After staying quiet on the issue for several months, Los Angeles Lakers superstar LeBron James recently discussed the COVID-19 vaccine and revealed whether he is, indeed, vaccinated or not.
It's, of course, big to hear the most prominent star in sports discuss a topic with such importance. But James' recent comments didn't get a ton of praise, as several TV personalities took to their respective shows to criticize The King. He did, however, earn surprise support from U.S. Senator Ted Cruz.
LeBron James discussed the COVID-19 vaccine at Lakers media day
Despite previously saying he would keep his COVID-19 vaccination status private, James recently revealed that he has, in fact, received the vaccine.
"I know that I was very [skeptical] about it all, but after doing my research and things of that nature, I felt like it was best suited for not only me but for my family and my friends," James said, per ESPN. "That's why I decided to do it."
James won't, however, be the one encouraging others to get it.
"Anything that I talk about, I don't talk about other people and what they should do," James said, per ESPN. "I speak for me and for my family, and that's what it's about. … We're talking about individuals' bodies. We're not talking about something that's political or racism or police brutality and things of that nature. We're talking about people's bodies and well beings, so I don't feel like, for me personally, that I should get involved in what other people should do for their bodies and their livelihoods."
Stephen A. Smith and others criticized LeBron
While it's certainly significant that a celebrity of LeBron James' stature said he received the vaccine, some people wish the Lakers star would have taken it a step further and encouraged others to get it.
At one point during his media day press conference, James said, "as far as speaking for everybody and their individualities and things they wanna do — that's not my job."
The View's Whoopi Goldberg took exception to that.
"If it's not your job, that means that some of those folks that would be coming to see you play are not gonna come see you play because they can't get in," she said on the Sept. 30 episode of The View. "It's not your job to tell people what to do, but you can suggest that you figured out that nobody grew a second head or a tail when they got the shot. I don't know why that would be hard for folks."
Goldberg's co-star Sunny Hostin then even went as far as to say she was "deeply disappointed that he said" what he did since he has "such a large platform."
"I think, in America, we talk about personal freedoms so much because it is really the foundation of our country," she said. "But what we have to realize is that as citizens, we do prioritize individual freedom, but we don't have the right to harm our colleagues and our colleagues' families. With that individual freedom comes that great responsibility."
The View stars weren't the only ones who took issue with James. ESPN's Stephen A. Smith didn't necessarily have a problem with his message, but the commentator said he didn't like the timing of it.
"People were dying in our community, and I felt like anybody that had a voice should have done their research sooner than later and made sure they made a decision and move forward, and at least be open about what you choose to do, and then you back out of it," Smith said on the Sept. 29 episode of First Take. "I think he did that yesterday. … Vaccine's been out for [months] now, and we just heard from LeBron James yesterday. My issue is, and my only issue is, it should have been sooner that he said exactly what he said yesterday."
Ted Cruz supported LeBron James' comments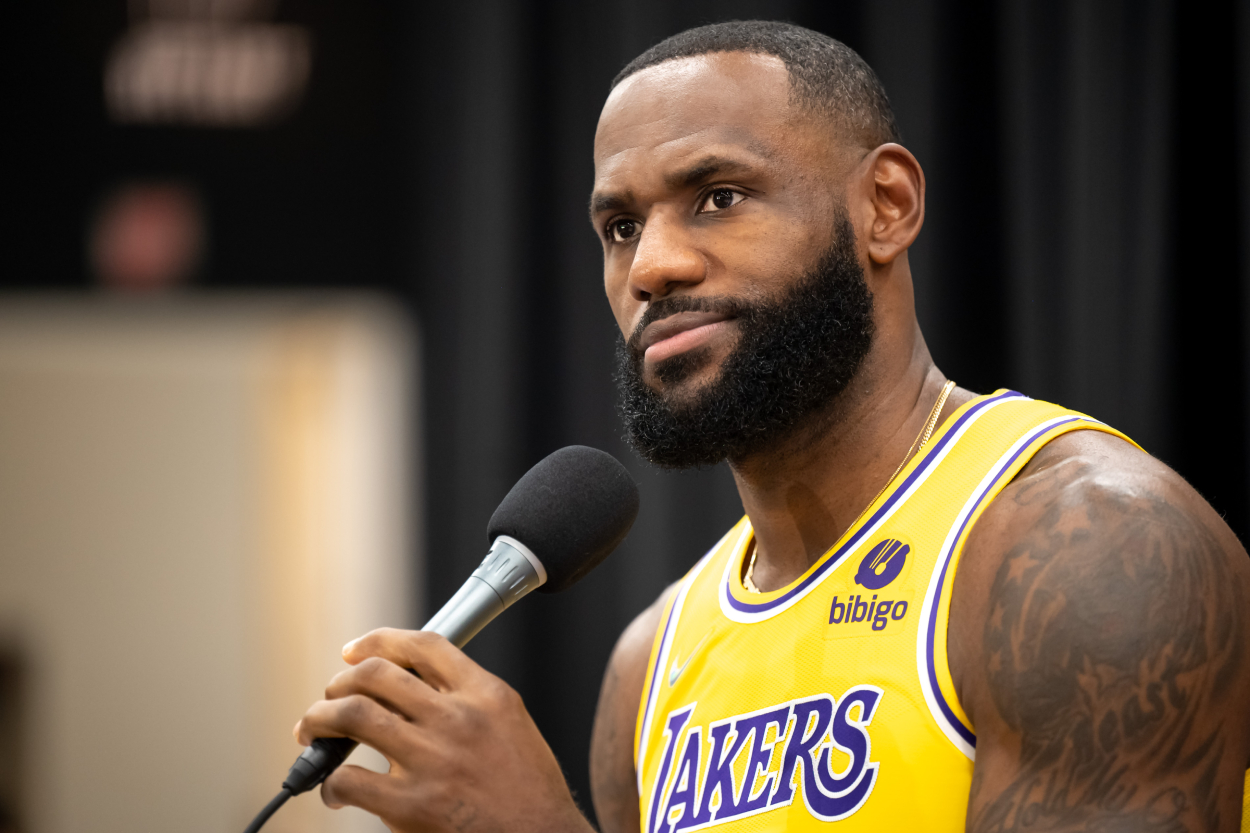 U.S. Senator Ted Cruz and LeBron James have been on opposite sides in the past. Cruz attacked James' More Than a Vote initiative in April, and James even fired back. James also wore a Beto O'Rourke hat in 2018 when O'Rourke was trying to unseat Cruz during the Texas Senate election.
Cruz, however, sent support James' way on Sept. 29.
"I've never said this before: I agree with [LeBron James]," Cruz tweeted. "…@KingJames is being courageous here. With his box-office power, he could be even more courageous—he could SOLVE the problem—by saying: 'I stand w/ my fellow players. And I won't play in any arena that bans another NBA player because they make a personal healthcare choice.'"
Cruz's tweet comes while multiple NBA players have refused to get vaccinated. Some like Golden State Warriors star Andrew Wiggins won't even be allowed to play at home games due to local vaccination laws.
Given James' platform, it's hard to imagine that this will be the last time he's asked to address the issue. It will likely fill up the headlines throughout the season.
RELATED: LeBron James' Emotional Offseason Tweets May Have Actually Stemmed From 'Pressure' Lakers Owner Jeanie Buss Reportedly Put on the Team's Front Office