LeBron James Doesn't Have the 'Type of Toughness' Needed to Play in the NFL, According to a Pro Football Hall of Famer
Throughout the past two decades, NBA superstar LeBron James has developed into one of the greatest athletes to ever live. Watching someone who is 6 feet, 9 inches and 250 pounds run down the court and fly through the air is a sight to behold. However, his unreal athleticism has begged one question to be asked: How successful would LeBron James have been as a football player?
James was a talented wide receiver in high school but made the right decision by choosing the NBA. In fact, Pro Football Hall of Famer Cris Carter agrees he made the right choice, as Carter believes that James doesn't have the "type of toughness" needed to play in the NFL.
LeBron James was a talented high school football player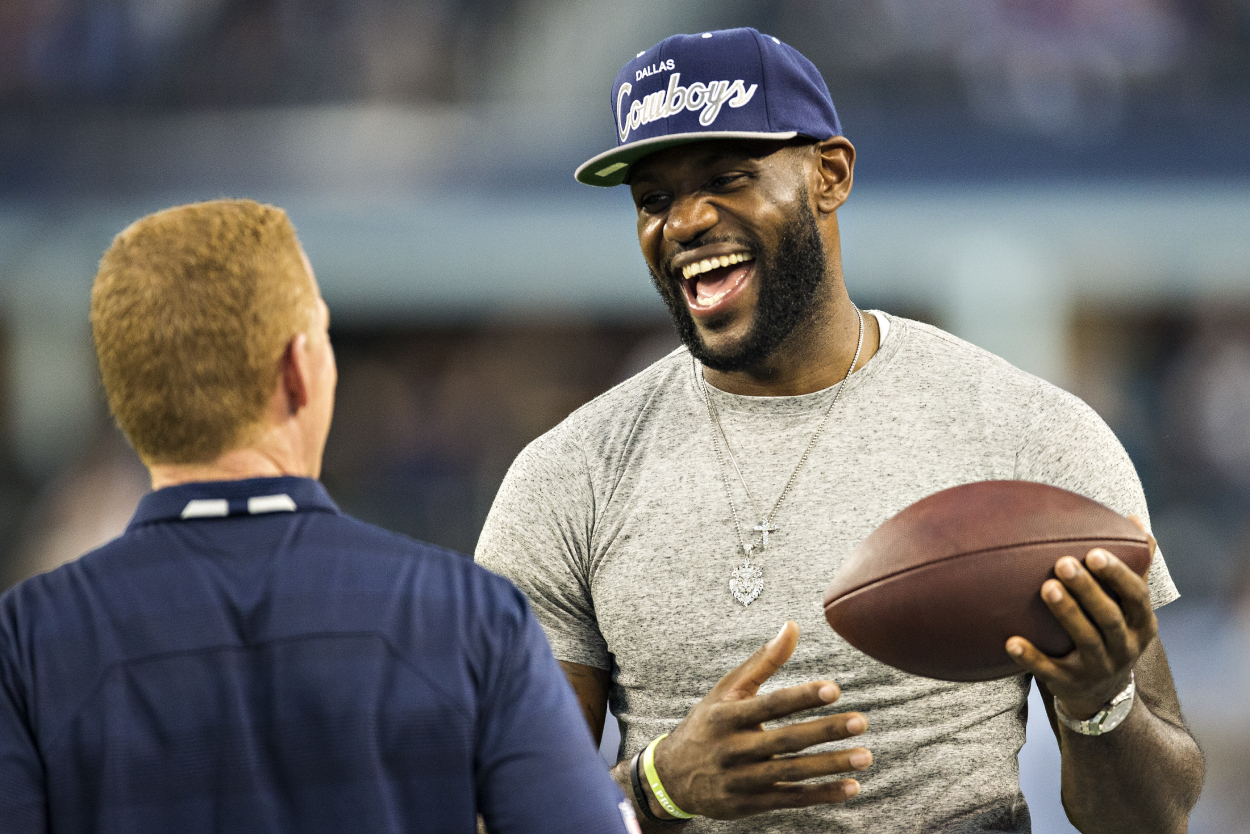 Before LeBron James became an NBA superstar, he was a student at St. Vincent-St. Mary High School and an excellent football player.
According to Bleacher Report, James caught 42 passes for 820 yards and seven touchdowns as a sophomore, which earned him first-team All-Ohio honors. He then caught 61 passes for 1,245 yards and 16 touchdowns as a junior. The future No. 1 overall pick in the NBA draft had schools like Notre Dame, Ohio State, and Alabama looking at him.
But James missed his senior season with a broken wrist and then focused on basketball.
That, however, didn't fully shut his football aspirations down. He revealed to Uninterrupted in 2020 that he trained to play football during the 2011 NBA lockout, and his friend Maverick Carter said that Dallas Cowboys owner Jerry Jones even sent him a contract.
So, would James have had success in the NFL had he not become a basketball legend? Cris Carter doesn't think so.
Cris Carter says The King doesn't have the 'type of toughness' needed to play in the NFL
Cris Carter is a sports legend from James' home state of Ohio. He went to high school in Middletown and played college ball at Ohio State. Carter then went on to become a Pro Football Hall of Famer, catching 1,101 passes in his career for 13,899 yards and 130 touchdowns.
The former star pass-catcher recently spoke to Dan Patrick, and he discussed whether he thought James could have been the next Randy Moss or Calvin Johnson.
"LeBron's a tough guy in the NBA; I don't know if he's a tough guy in the NFL," Carter said on the Aug. 24 episode. "If it was that easy, Usain Bolt would be playing somewhere. … I would say NBA toughness is a different type of toughness and grit than what you need to play in the NFL."
Carter may be right; basketball and football are two different sports. But either way, James made the right decision.
LeBron James made the right decision by turning down football for the NBA
By turning down football, LeBron James has since become one of the greatest basketball players of all time.
He is a 17-time All-Star, four-time NBA MVP, a four-time champion, and four-time Finals MVP. He is also third in NBA history in total points with 35,367 and eighth in total assists with 9,696.
His stellar play has, in turn, made him a wealthier man than he would have ever been playing football. James has made $387.3 million in the NBA and has earned even more than that off the court by becoming a basketball icon, as his net worth is an estimated $500 million, per Celebrity Net Worth.
Watching James play football would have been incredible. But focusing on basketball was the best decision he has ever made.
Stats courtesy of Basketball Reference and Pro Football Reference; Career earning courtesy of Spotrac