7 Mind-Blowing LeBron James Dunks From the 2016 NBA Finals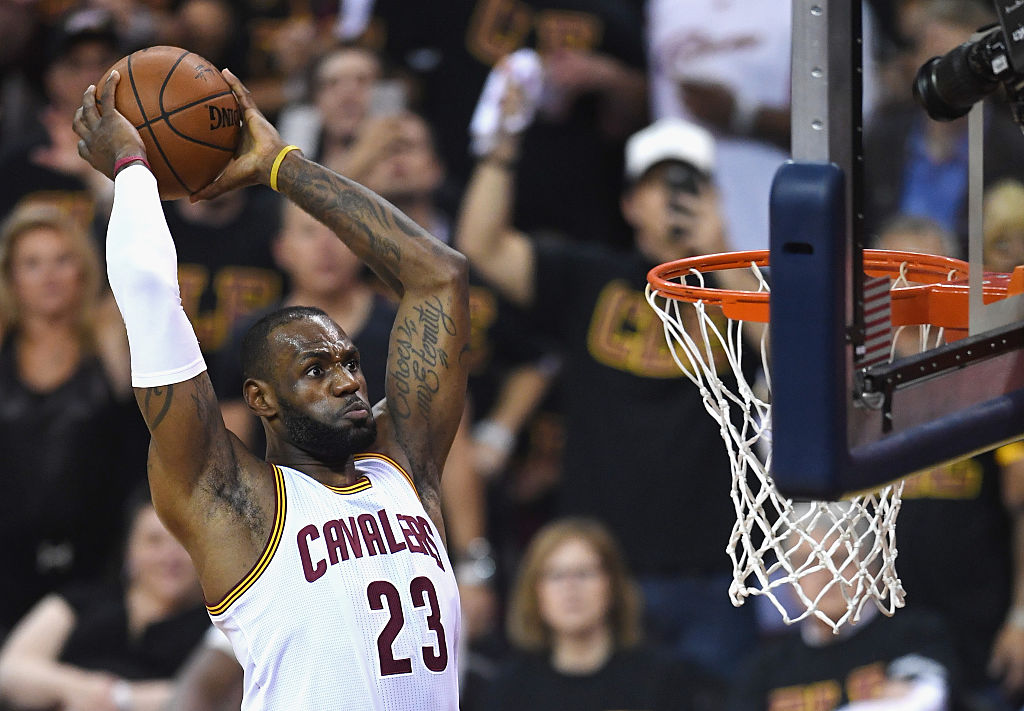 Whether you are a fan of LeBron James or not, you simply cannot deny that Cleveland Cavaliers forward LeBron James is an absolute freak of nature. Over the course of his NBA career, the 6-foot-8, 250-pound physical specimen has consistently done jaw-dropping things on the basketball court that defy the laws of physics. During the 2016 NBA Finals, James turned in a performance for the ages.
James' performance more or less ended any debate as to whether or not he was still the best basketball player in the world, as he went head-to-head with the likes of Steph Curry, the unanimously voted 2015–16 NBA MVP; Klay Thompson; Andre Iguodala; and Draymond Green — and absolutely dominated.
James led all players taking part in the Finals in practically every major statistical category — points, rebounds, assists, blocks, and steals to be exact — and led the Cavs back from a 3-1 deficit, bringing the city of Cleveland a world championship. However, all of that is a story for another day. In this article, we are going to look at seven instances during last year's NBA Finals where James flashed his otherworldly athletic ability in the form of a slam dunk.
You will see a handful of alley-oops, a couple of fast-break throw downs, and an overall extraordinary display of dunking ability. Without further adieu, here is a look at seven of James's mind-blowing dunks from the 2015–16 NBA Finals.
1. King James goes sky-high for a monster alley-oop in Game 3
After dropping the first two games of the series, the Cavs entered Game 3 in a must-win situation. Needless to say, James showed up in a big way, leading his team to a 120-90 win. His performance included this display of other-worldly athleticism.
2. Fast-break and alley-oop in Game 6
In a win-or-go home situation in Game 6, King James stole the show. Plays such as this adequately served as James' version of an exclamation point on his record-breaking performance.
3. LeBron finishes with authority in Game 6
We've already mentioned that James's performance in Game 6 was one for the ages. This dunk pretty much sums up the type of performance he led the Cavs to in their final home game of the season.
4. LeBron's back-cut and reverse throw down in Game 3
This dunk was vintage LeBron, and was a play that few players around the league are capable of pulling off. Seeing this makes us wish that we could see James in a Slam Dunk Contest some day.
5. LeBron with the "and one" in Game 5
This dunk was just another display of James' unmatched raw power and athletic ability. When the Akron, Ohio native is playing well, he is close to unguardable.
6. LeBron breaks Iguodala's ankles with a cross-over in Game 2
The Cavs may have lost this game, but there is no denying that James made Golden State forward Andre Iguodala look silly on this play.
7. LeBron's steal and two-hand flush in Game 6
Again, James was unreal in Game 6. He led the Cavs to a fast start that proved to be too much for the Warriors to overcome in the do-or-die game. This play adequately sums up the night for Cleveland and their loyal fans.