LeBron James and Dwyane Wade Gave Bradley Beal His Welcome to the NBA Moment: 'Gotta Long Way to Go'
Bradley Beal may be one of the most dominant scorers in the NBA, but he was at the bottom of the totem pole at one point in his career. He entered the league with the Washington Wizards in 2012 and had a nice first year, but LeBron James, Dwyane Wade, Chris Bosh, and the Miami Heat were in the middle of their dominant run together during that same season.
In fact, Beal recently revealed that the Big Three gave him his "welcome to the NBA" moment.
Bradley Beal entered the NBA in 2012
Beal came into the league as the No. 3 overall pick in the 2012 NBA draft out of Florida. He went to a struggling Washington Wizards team that had just gone 20-46 in 2011-12. The Miami Heat, on the other hand, had just won their first championship of the Big Three era that same season, and LeBron James won his third career MVP that year.
Washington then only went 29-53 during Beal's rookie season, but he still had a nice year, averaging 13.9 points and 3.8 rebounds. He also shot 41% from the field and 38.6% from 3-point range, which helped him earn All-Rookie honors.
The Heat, though, won their second consecutive championship that season. James also won his second straight MVP, averaging 26.8 points, 8.0 rebounds, and 7.3 assists.
However, before all of this, Beal played the Heat in the 2012-13 preseason, and they gave him his "welcome to the NBA" moment.
LeBron James and the Heat gave Beal his 'welcome to the NBA' moment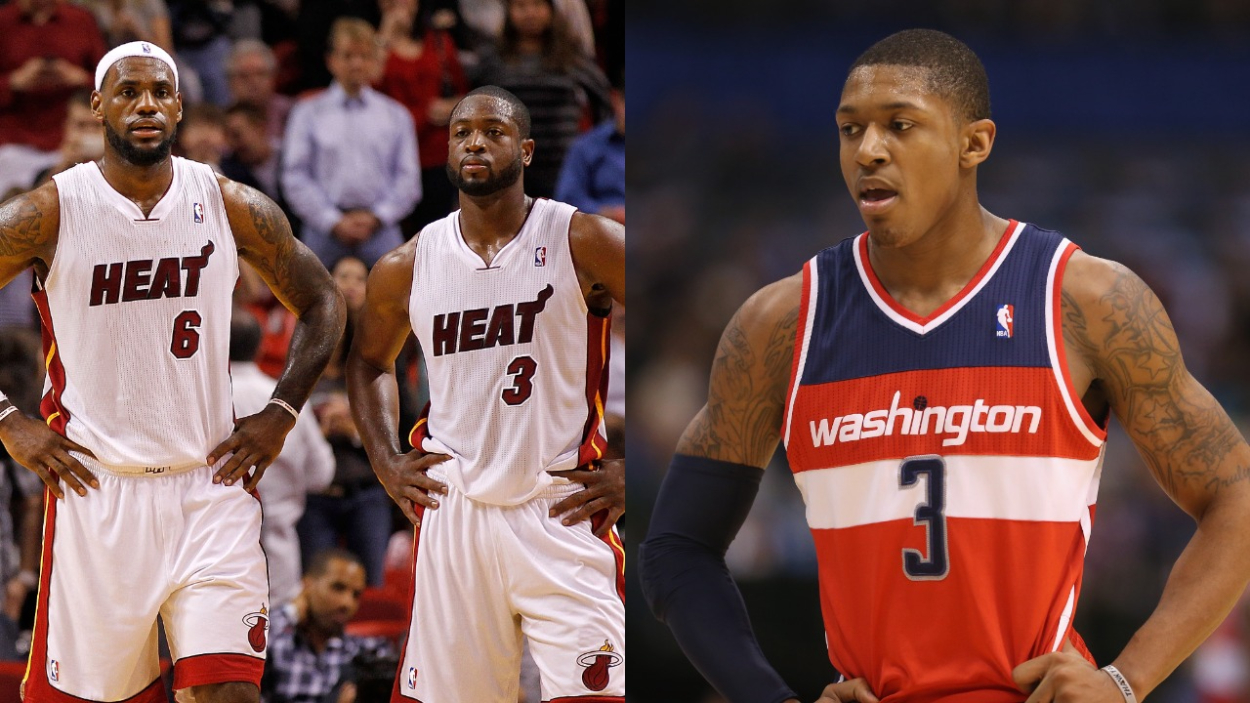 In October 2012, the Wizards played the Heat in a preseason game in Kansas City, Missouri, not far from Beal's hometown of St. Louis. So, while he ultimately invited his family to the game, he didn't give them much to see.
"I'm looking in the stands, I'm like, 'OK, we here; we in here,'" Beal said on the July 6 episode of the Knuckleheads with Quentin Richardson and Darius Miles podcast. "… I couldn't get nothing going. D-Wade — I'm reading the scouting report; the scouting report says, 'Stay down on pump fakes.' — First thing he do: spin, pump fake right into my ribs, and I said, 'Ah, OK. Yeah, you gotta lock-in. You gotta long way to go.' They were stealing the ball, throwing lobs left and right. I'm like, 'OK, yeah, this is real.'"
The Wizards actually won the game 101-94 after trailing by 14 points at halftime, according to ESPN. But James sat out the entire fourth quarter, so does that win really count?
It, however, has all worked out for Beal.
Bradley Beal has become a dominant NBA scorer
Beal may have had a rough go of it that night, but he has developed into one of the NBA's best players.
He helped lead the Wizards to the playoffs in four of his first six seasons, and they reached the Eastern Conference semifinals in three of those years.
After averaging 16.0 points per game through his first four NBA campaigns, Beal took a significant jump as a scorer in 2016-17, averaging 23.1 that year. He has ultimately averaged over 22.0 points per game since, and has scored over 30.0 each of the last two seasons. In 2020-21, Beal fell just short of winning the league scoring title, finishing second in the NBA in points per game with 31.3.
The former Florida Gator is also a three-time All-Star and earned All-NBA honors in 2020-21.
James, Wade, and the Heat may have shown Beal that he had a long way to go to become a star in the league. But he has since become that star.
Beal is absolutely box office.
Stats courtesy of Basketball Reference