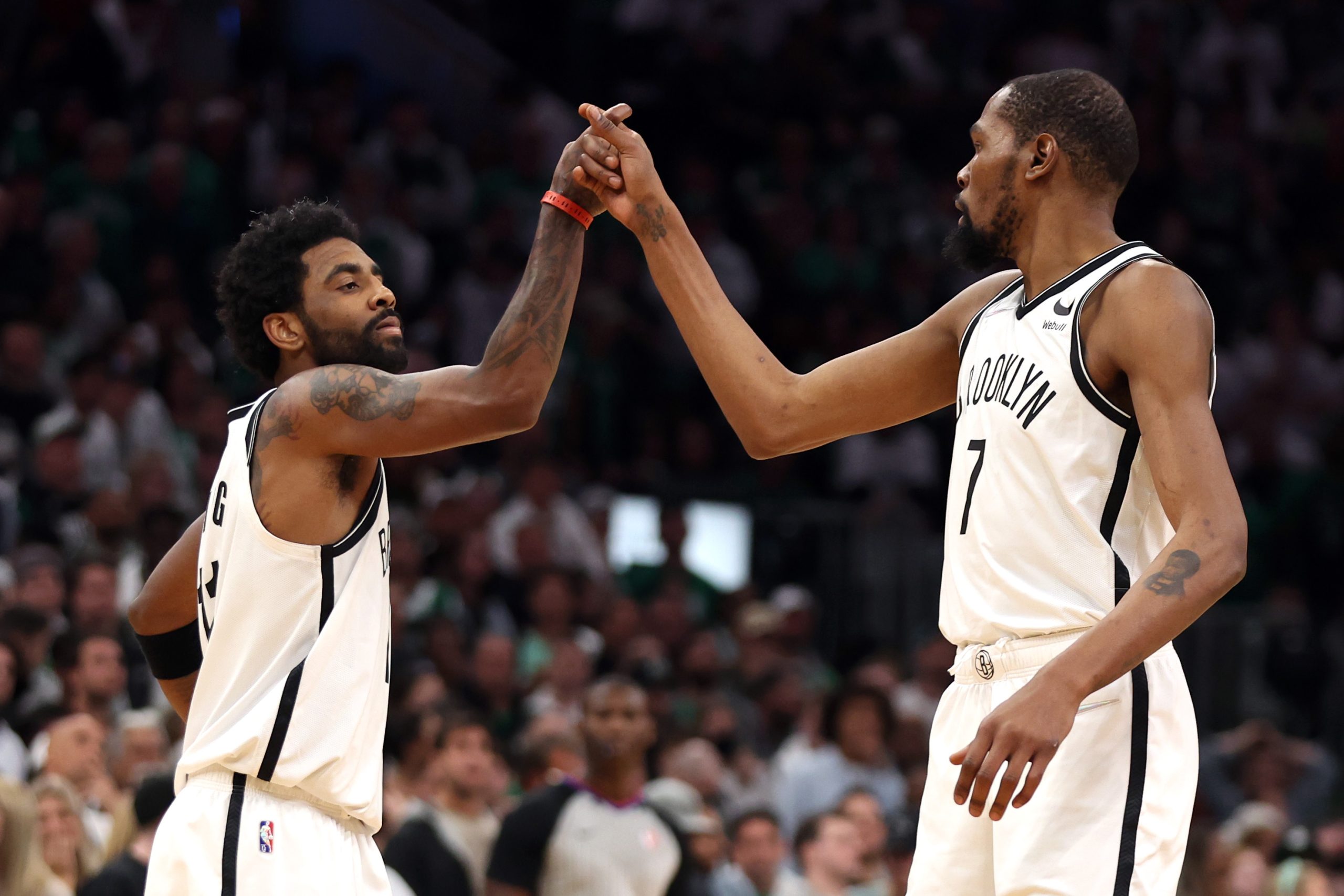 LeBron James, Dwyane Wade React to Tracy McGrady's Take on Kyrie Irving, Kevin Durant Being Most-Skilled Duo
Tracy McGrady said Kyrie Irving and Kevin Durant are the most-skilled tandem in the NBA ever.
Naismith Memorial Basketball Hall of Famer Tracy McGrady opened some eyes and drew the attention of NBA superstars when he appeared on Shannon Sharpe's Club Shay Shay podcast. McGrady spoke about Kevin Durant and Kyrie Irving as they prep for Game 2 of their Eastern Conference playoff game with the Boston Celtics.
McGrady said he believes Durant and Irving are the most-skilled NBA duo ever. Yes, more skilled than Michael Jordan and Scottie Pippen. He believes they have more skill than LeBron James and Dwyane Wade, too. After his comment, James and Wade weighed in.
Tracy McGrady doesn't have LeBron James or Michael Jordan as part of the NBA's all-time skilled duos
During a recent appearance on Club Shay Shay, Sharpe asked McGrady if Irving and KD are the most skilled pair of teammates we've ever seen. The seven-time NBA All-Star didn't hesitate when answering.
"Without a doubt," he said. "Without a shadow of a doubt.
"I haven't seen a pair, a duo, that skilled…um…Mike and Pip? There's no other dynamic duo that compares to KD and Kyrie. Even if you look at what LeBron and D-Wade was, skill-wise they're still not touching them two boys."
Irving and Durant certainly are as talented as they come. They just haven't had a whole lot of time to mesh. For much of the year, Irving couldn't play in home games because of his vaccination status. Durant missed significant time with a knee injury.
Irving averaged 27.4 points in his 29 regular-season games this year. Durant put up 29.9 in his 55 games. The two are healthy and are able to play together, making the Nets one of the most dangerous seven seeds in playoff history.
LeBron James, Dwyane Wade react to Tracy McGrady's comment
When you think of the NBA's all-time top duo, Jordan and Scottie Pippen probably jump to mind. The former Bulls tandem won six NBA titles together and were unstoppable in the 1990s.
James and Wade were also a deadly combo in Miami. Wade won three NBA titles, and James has four. When it comes to listing the NBA's best players ever, Jordan and James are usually one and two on the list.
McGrady was talking top duos from a pure skill level. It wasn't about winning. It was talent alone.
He didn't get any argument from Wade or James, as the two weighed in via Twitter.
"And that is not a dig," Wade wrote in response to McGrady's assessment posted on Club Shay Shay's verified account. "Them two are SKILLED af!"
James also chimed in.
"I see no lie told," James tweeted. "They are 2 of the most skilled players of ALL-TIME."
McGrady said beating Durant and Irving could launch Jayson Tatum and Jaylen Brown up the list
McGrady also appeared on the Celtics Talk podcast with Chris Forsberg, a reporter for NBC Sports Boston. Forsberg initially asked how high the ceiling was for Boston's Jaylen Brown. McGrady said the sky is the limit for both Brown and Tatum if they can get past Irving and Durant this round.
"Both of those guys are going to take their game even further if they beat Kd nd Kyrie," McGrady said. "That's a huge mountain to climb.
"You're talking about champions. The Boston Celtics, I don't know if they have any champions on that team. I know their main guys don't have a championship, but KD and Kyrie, to knock those guys off in a first-round playoff series when they're healthy, that'll elevate their game right there."
The Celtics, led by Brown and Tatum, have turned this up a notch in the last three months. Since late January, they've been the hottest team in the Eastern Conference. If they can get bast Irving and Durant, they'll likely have to get through the Milwaukee Bucks and either the Miami Heat or Philadelphia 76ers.
Should the Celtics pull that off, Tatum and Brown might be at the top of the list as the best duo in today's game.
All statistics courtesy of Basketball Reference.