LeBron James, Dwyane Wade Show Love to Their 'Brother' Chris Bosh As He Enters the Hall of Fame
Although he was drafted by the Toronto Raptors in 2003, Chris Bosh is best known for his time alongside LeBron James and Dwyane Wade as a member of the Miami Heat's Big Three. The Georgia Tech product was so instrumental to that team that he's entering the Naismith Memorial Basketball Hall of Fame as part of the Class of 2021, and James and Wade have both shown love to their "brother" via Instagram as Bosh is inducted.
Despite being considered the team's third wheel, CB4's ability to play as the Heat's stretch big was crucial to everything Miami did. He revolutionized the position, and James and Wade fully recognize his contributions to the team's two championships.
The Big Three would not have been complete without Chris Bosh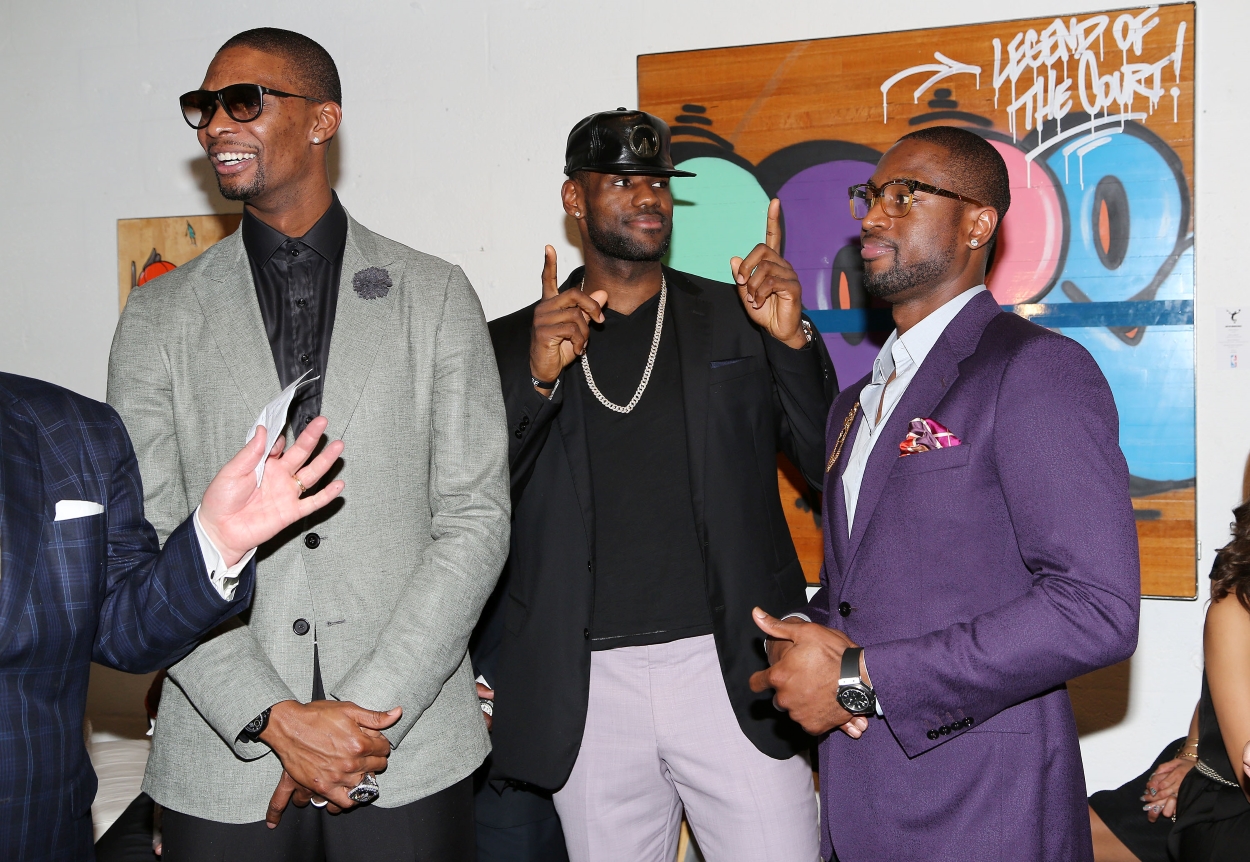 James, Bosh, and Wade were the 1st, 4th, and 5th overall picks in the 2003 draft. In one of the biggest sliding-door moments in NBA history, the three decided to team up in Miami prior to the 2010-11 season.
The Heatles led the franchise to the NBA finals all four seasons they were together, winning back-to-back titles in 2012 and 2013 before James left to return to Cleveland.
Bosh averaged 17.3 points and 8.2 rebounds per game during those four seasons, shooting better than 50% from the floor while contributing nearly a steal and a block per game.
But Bosh's impact went beyond his stats. Miami's offense would have stagnated without the 6-foot-11 big man's ability to play on the perimeter and unlock spacing for James and Wade to work near the basket. It wasn't a brand new concept for centers to play on the perimeter and develop a 3-point shot, but Bosh took it to an entirely new level.
His 3-point attempts increased every year over his six seasons with the Heat. By his final year in the NBA, the 11-time all-star was taking 4.2 shots from deep and connecting on 36.5% of them. Bosh has consistently repeated that he would have turned himself into a legitimate stretch-five in today's game if he weren't forced to retire due to health issues.
Bosh posted about his time alongside James and Wade on social media, and the two responded with nothing but love
Big shots. Big Blocks. Big wins. We hung banners and took home titles for the city of Miami.

In the process, I made brothers for life.

Chris Bosh's tweet after being named to the Hall of Fame
James and Wade responded, acknowledging their "brother." Bosh's most important contributions often go unnoticed, but both of his former teammates and members of the most famous Big Three in league history are fully aware of the part he played in the Heat's consecutive championships.
Bosh is now paving the way for the other two members to enter the Hall of Fame
It wasn't his choice as blood clots in his lungs forced the former No. 4 overall draft pick to retire. But now, Bosh is the first member of the Heat trio to be enshrined in the Hall of Fame.
Wade and James will surely follow, with the latter going down as one of the best players of all time. But without their brother and All-NBA center, neither Wade nor James would have two more titles on their resumes.
All statistics courtesy of Basketball-Reference.
RELATED: Ben Wallace Will Be the Lowest Point-per-Game Scorer in the Hall of Fame but Somehow Believes He's 'Tailor-Made' for Today's NBA