LeBron James' Emotional Offseason Tweets May Have Actually Stemmed From 'Pressure' Lakers Owner Jeanie Buss Reportedly Put on the Team's Front Office
It has been an eventful past few months for the Los Angeles Lakers, as the franchise added significant help for LeBron James this offseason. However, James hasn't been thrilled with every move the team has made; he even took to Twitter to voice how "hurt" he was about LA cutting ties with one player in particular: NBA journeyman Jared Dudley.
Despite James' admiration for him, the Lakers chose not to re-sign the vet. And apparently, pressure from Lakers governor Jeanie Buss may have actually played a role in the front office's decision.
LeBron James wasn't happy about the Lakers parting ways with Jared Dudley
In terms of on-court production, Jared Dudley wasn't that important for the Lakers the last two seasons. He only played in a combined 57 games over those two years and averaged 1.3 points.
LeBron James, however, took a liking to him.
"Duds is another one of those guys that whatever the team needs … he is ready for whatever, both on and off the floor," James said in January, per Spectrum SportsNet. "That is a diamond in the rough to have for a championship aspiring ball club. And Duds has been that for us the last two years."
Dudley, though, joined former Lakers assistant Jason Kidd on the Dallas Mavericks this offseason, but on his coaching staff rather than the team's roster. 
And it appears James didn't take the news well.
"Congrats to my guy if this true, which [it] probably is! But (facepalm emoji) man!! F*** (Shouting emojis)," he tweeted.
In a follow-up post, LeBron also said, "Excuse my language but [this] one hurt!! For many reasons that you wouldn't understand (facepalm emojis)."
The reaction was certainly an emotional one, but it appears the Lakers had their reasons for making the decision.
Pressure from Jeanie Buss may have played a role in the Lakers parting ways with Jared Dudley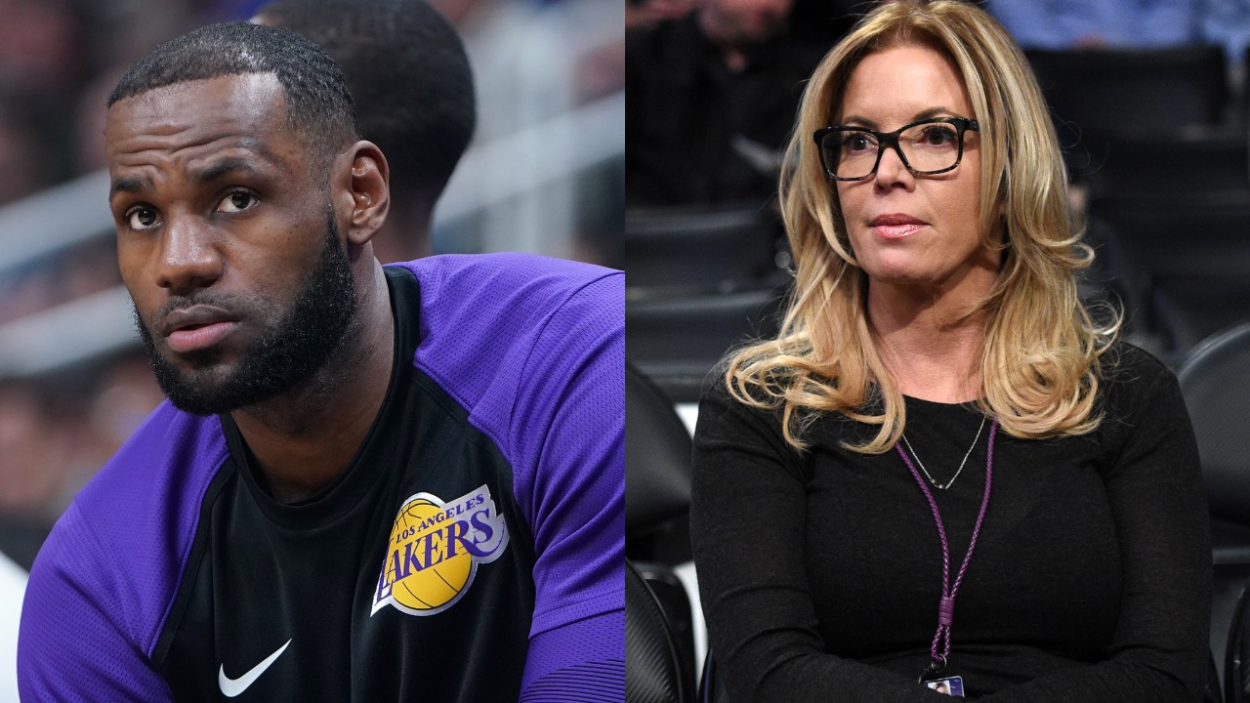 Dudley's departure from LA was in small part because his contract was up. But pressure from Lakers governor Jeanie Buss may have also played a role in the decision.
"He was not offered a contract to be a part of the team and the move had everything to do with the pressure applied to the front office by Buss. Each and every roster spot needed to be filled by players who could help on the floor, especially during another season impacted by the coronavirus pandemic," Shams Charania, Bill Oram, and Sam Amick reported in The Athletic. "Every personnel choice, it seemed, would be made with the shared goal of surrounding James, [Anthony] Davis, and [Russell] Westbrook with talent that could truly help with the latest title contention."
It's unclear if Buss specifically said herself that every player on the roster needed to be able to help on the court. But it appears the pressure she put on the front office at least played somewhat of a role in Dudley's departure.
The Athletic also reported that the team discussed Dudley potentially taking on another role within the organization. The possibility of him coming back as a player, though, seemed off the table. And that makes complete sense.
If their goal is, indeed, to have a roster filled with capable players, there was no way Dudley, who is 36 years old, would have been back in that capacity. He only played in 7.8 minutes per game across those 57 contests the last two years. His contribution on the floor was minimal, especially with him missing time last year due to injury.
So, all in all, no matter whose decision it was to part ways with Dudley, they made the right one — for both the Lakers and James.
The Lakers made the right choice for the franchise and LeBron James
LeBron James and the Lakers are attempting to win another championship. And like other franchises around the league, LA is also trying to save some cash given the effect the COVID-19 pandemic has had on the NBA.
Parting ways with someone like Dudley, who only averaged 0.5 points in 12 games last season, was the right call. His spot on the roster was replaced by someone worth LA's money and a player whose on-court production can help the Lakers' Big Three of James, Anthony Davis, and Russell Westbrook win a championship.
Dudley earned the veteran's minimum last season. This year, Carmelo Anthony, Wayne Ellington, Rajon Rondo, Dwight Howard, Trevor Ariza, DeAndre Jordan, Kent Bazemore, and Malik Monk are all making that; each of them are players who can contribute more than Dudley would have been able to.
So, sure, James may have been upset about losing Dudley, but he will be pretty happy if the decision leads to him winning his fifth NBA title. Given the amount of talent on the Lakers' roster this year, the chances of that happening are pretty high, too.
Stats courtesy of Basketball Reference; Contract numbers courtesy of Spotrac
RELATED: LeBron James and the Lakers Might Be Old, but They Have the 'Best Team in Basketball,' According to a Retired Hoops Star: 'Rob Pelinka Running Laps Around the Rest of the League'