LeBron James Exploited Lakers' Desperation and Is Now Holding Them Hostage
If it's not already evident, the Los Angeles Lakers are tumbling toward another campaign falling well short of NBA title contention. General manager Rob Pelinka's efforts to construct an almost entirely new roster around LeBron James and Anthony Davis have blown up in the franchise's face.
The organization is almost but certain heading toward a summer headlined by significant change across the board. The Lakers' desperation for star power led them down this path with LeBron James in firm control of their future.
Lakers are falling to a disastrous fate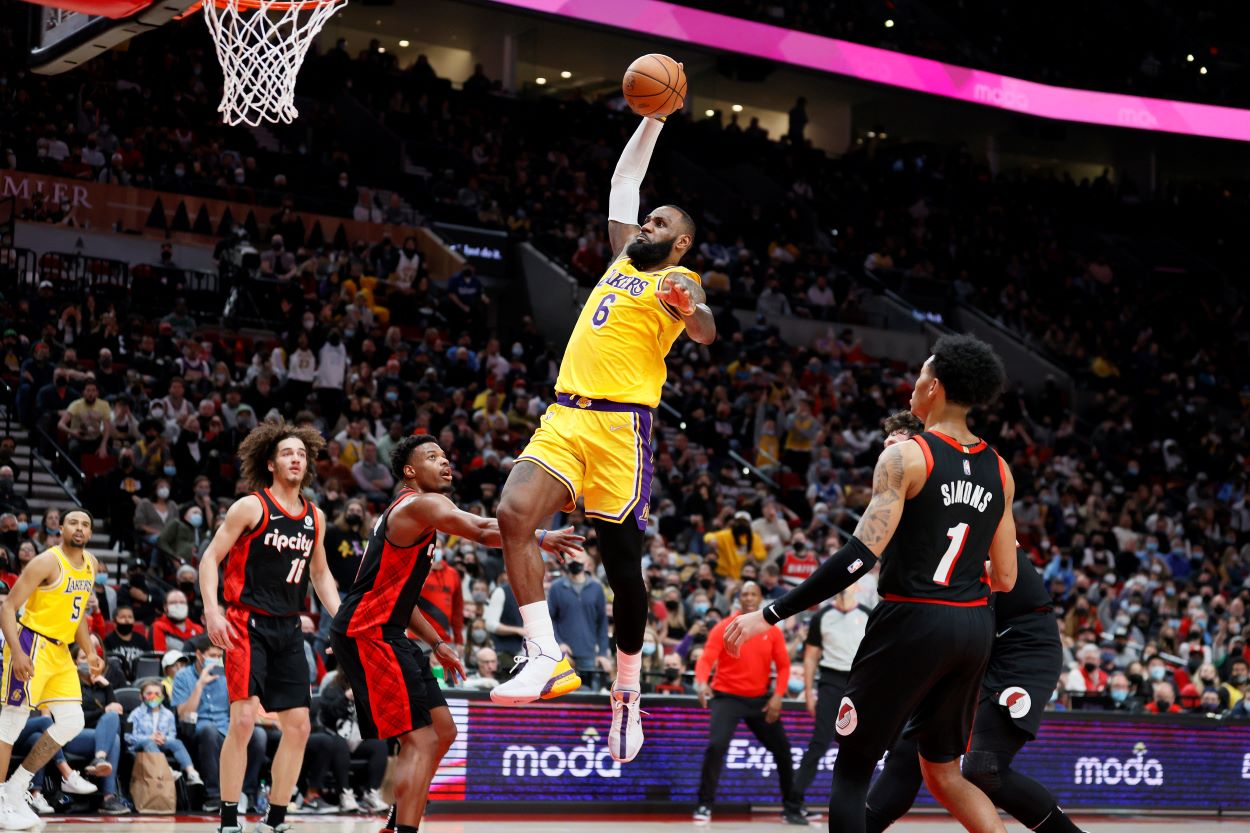 The Lakers hoped that their busy offseason would translate to a highly successful campaign, but it's been anything but that.
Injuries combined with lackluster supporting cast play have the franchise sitting in the ninth spot in the Western Conference behind a 27-31 record. Los Angeles is sputtering toward potentially missing out on the playoffs altogether despite LeBron James' ageless performance.
As the organization embarks on the second half of the season, a dangerous reality lies ahead due to their desperation for star power.
LeBron James holds more control over the Lakers than Kobe Bryant ever had
The Lakers' steady tumble south has stripped away positive dialogue around the franchise.
Instead, internal friction between general manager Rob Pelinka's relationship with LeBron James and Klutch Sports is brewing. The quiet trade deadline for the Lakers combined with the team's struggles has led to reported frustration from James and Klutch Sports.
Matters could worsen as the franchise holds a strong backing for Pelinka remaining in his position. On top of that, the Athletic's Bill Oram reports that James possesses a firm grip hold over the franchise that surpasses even what Hall of Famer Kobe Bryant had during his tenure.
"But for as important as Bryant was to the Lakers, sources inside the organization have long said that not even the legendary Black Mamba wielded as much power within the organization as James now has," Oram wrote. "Bryant was never able to strong-arm the Lakers to make a move like the one James helped orchestrate for Westbrook, which has proven to be an outright disaster."
The Lakers are a prideful organization, but their desperation to land a superstar led them to willingly hand over significant roster influence to the four-time league MVP. That decision came after years of whiffing on landing All-Star talent in free agency.
Los Angeles has experienced winning an NBA title in only James' second campaign, but things have progressively worsened since then. The franchise fell to a disappointing first-round playoff exit last year and is likely headed toward a similar or more crushing fate this season.
The Lakers find themselves stuck in a difficult position, especially after the Westbrook trade quickly became a mistake. All that combined with James' contract only extending through next season leaves the organization having to bend to his will.
Los Angeles have no choice but to bend to LeBron James' will
The Lakers have 24 regular-season games left to make a serious push to the playoffs and potentially more.
However, the franchise appears destined to fall well short of NBA title contention again. That pathway will lead to an offseason headlined by media attention fixated on James' future.
These parameters will force the Lakers to make roster decisions focused solely on constructing a championship contender. Their efforts will serve to convince James to extend his tenure past his 20th campaign.
Los Angeles will first need to find a way to move Westbrook to garner financial flexibility to build a formidable roster. Meanwhile, the organization must assess whether head coach Frank Vogel is the long-term answer, as he's under contract through next season.
The Lakers may not want to face reality, but James has the franchise's future in his hands. The upcoming offseason will be a make-or-break situation that will significantly impact the foreseeable future.
Like Sportscasting on Facebook. Follow us on Twitter @sportscasting19.
RELATED: LeBron James and the Lakers Preparing for a Hollywood Blockbuster Divorce Drama This Summer