LeBron James' Fans Conclude a Yearlong Chase for His Triple Logoman Card, Which Just Sold at Auction for $2.4 Million
Since LeBron James entered the 2003 NBA Draft, he's proved himself despite immense pressure. After 18 seasons, he is still setting and breaking records. James is an 18-time NBA All-Star, a four-time NBA champion, and a two-time Olympic gold medalist. One way fans recognized his greatness involves spending big money on his cards.
The highest-selling LeBron James cards of all time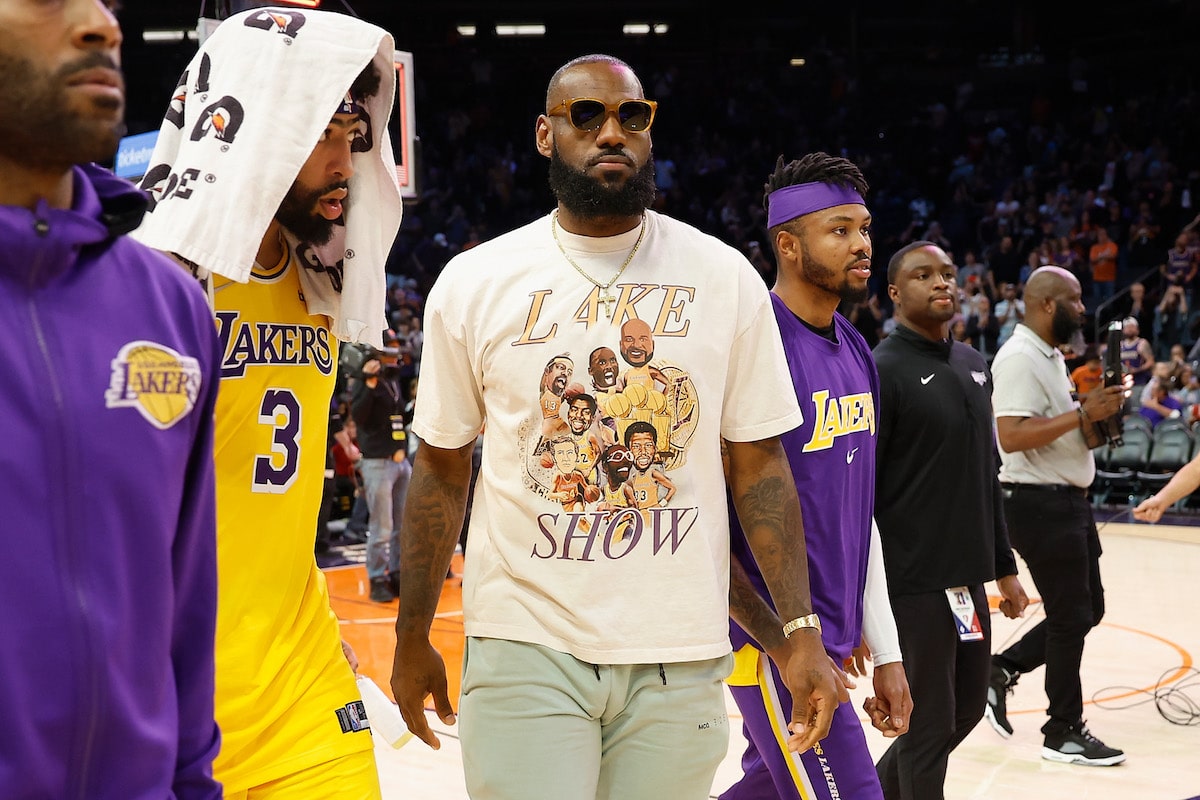 It's no surprise that James' cards fetch top dollar in auctions. Here are some of the highest-selling LeBron Cards:
A signed 2003 James Exquisite Collection patch Card sold for a record-breaking $5.2 million, as PWCC Marketplace reports. The BGS 10 graded card is a BGS GEM-MINT 9.5 with only 23 copies. Another rookie card, one of 99, was sold in July 2020 at Goldin Auctions to Leore Avidar for $1.8 million. 
A 2004-05 LeBron James Upper Deck Ultimate Signatures Logos sold in March 2021 for $1,291,500 by Goldin Auctions. It is a one-of-one card, and a limited edition Card graded a PSA/DNA 10.
A James 2003-04 Upper Deck Exquisite rookie Card drew a lot of interest when it reached the auction block in June 2020 with a $960,000 bid.
 A 2003-04 Upper Deck Exquisite Collection, LeBron James and Michael Jordan Logoman Card, the only of its kind, was sold by Goldin Auctions for $900,000.
The chase to find LeBron James' triple Logoman card
Rare cards are hard to find, and the 2020-2021 Panini Flawless Triple Logoman patch Card is one of a kind. The media has heavily covered this card, with the chase to find it enticing celebrities and wealthy collectors.
Iconic rapper Drake spent more than $200,000 to find the card. He purchased 10 cases in hopes of discovering the coveted Triple Logoman. In the end, three card collectors from Backyard Breaks pulled it on a livestream in May 2022.
According to USA Today, four other Triple Logoman Cards feature a trio of NBA players: Stephen Curry, Klay Thompson, and Draymond Green; Jayson Tatum, Luka Doncic, and Zion Williamson; Giannis Antetokounmpo, Steph Curry, and Kevin Durant; and 2020 draftees Anthony Edwards, LaMelo Ball, and Tyrese Haliburton.
Triple Logoman special features of the LeBron James card
Despite being one of a kind, the Triple Logoman LeBron James Card features NBA logo patches from each of James' teams: the Cleveland Cavaliers, Miami Heat, and Los Angeles Lakers.
As the most important Panini LeBron involving James, it's a unique celebration of King James' career. It is also one of five triple Logoman Cards and the only one to feature a single-player with three patches of teams he's played for.
It was sold for $2.4 million by Goldin Auctions — the highest sale price for a card to be pulled and sold in the same year.  Apart from the Logoman Card, on the same day, a 2003-04 Upper Deck Exquisite Rookie Patch Autograph graded BGS nine was sold at $2.1 million per sports collectors daily.
RELATED: LeBron James Just Set a $1.8 Million Record Without Trying