LeBron James Fans Receive More Ammunition for the Never-Ending GOAT Debate After Kyle Korver Reveals the King's Greatest Attribute: 'Michael Jordan Had to Take a Break in the Middle'
As he plays in his 19th season, LeBron James has cemented his status as one of the game's all-time best players. But is the Los Angeles Lakers superstar the best? That's an argument for another day.
That being said, James has done things in his first 18 years unlike anything we have previously seen. And who better to highlight one of those things than longtime sharpshooter and former teammate Kyle Korver.
LeBron James is the king of longevity
Many superstars have windows of greatness sandwiched between years of growing pains and aging problems. But LeBron's career is one massive 18-year peak.
By his second season, James was already averaging 27.2 points, 7.4 rebounds, and 7.2 assists. Since then, he has averaged no fewer than 25 points, pulled down no fewer than 6.0 boards, or dished out fewer than 6.0 assists. His consistency has translated across two separate stints with the Cleveland Cavaliers, a four-year run on the Miami Heat, and his current time in Los Angeles.
To be able to put up the same numbers year after year is an incredible testament to LeBron's consistency. Especially when you look at the number of games the 17-time All-Star has suited up for.
Between 2003-04 and 2013-14, James didn't miss more than seven games in any season. At age 33, he played all 82 games while leading the league in average minutes. Including his handful of appearances in 2021-22, James' 1,316 games rank 19th all time, with a spot in the top 10 all but guaranteed. However, no player in league history has appeared in more playoff games than the King's 266.
Kyle Korver discusses LeBron's most impressive attribute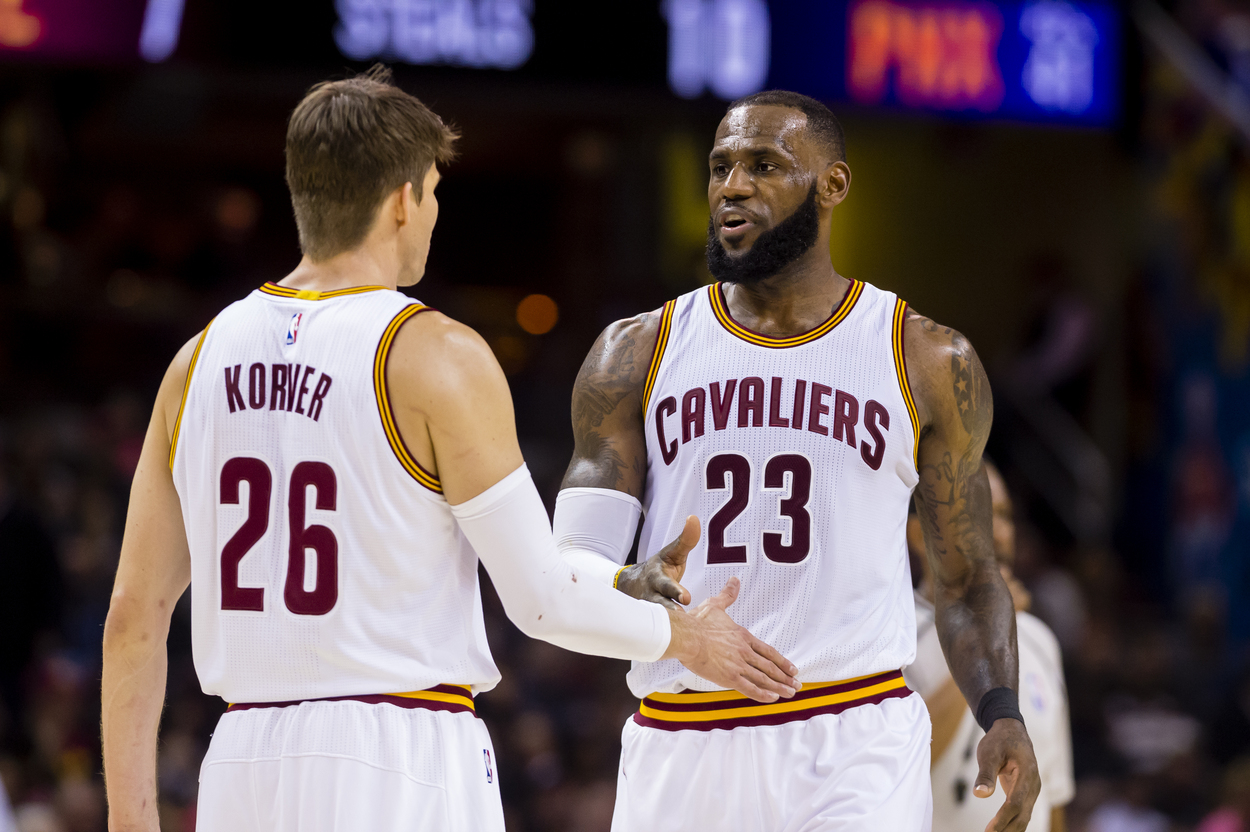 On a recent episode of The Old Man and the Three, former NBA veteran Kyle Korver was asked about LeBron going to eight straight NBA Finals between 2011 and 2018. Korver, who is fifth on the all-time 3-point list, played with James in Cleveland and competed for two of those Finals before #23 left for LA in 2018.
"I think until you've spent time around him, [you won't know] how serious he takes his craft and how much work he puts into it every single day," Korver told host JJ Redick. "It's one thing to get to the top. It's another thing to stay there."
James' consistency throughout his career is no stroke of luck, however. Korver explained how LeBron's greatness is earned through hard work.
"His greatest attribute is his ability to do it again tomorrow. Like, his ability to recover in mind, body, and spirit on a day-to-day basis is out of this world. It's unbelieveable."

"Michael Jordan had to take a break in the middle. After three [championships]. And I'm not here to debate Michael and LeBron. But it's a lot to not just be putting in the time, but to take the scrutiny that he does. … To me, that is his greatest achievement. Just showing his ability to keep going, to mentally stay focused, and to do the work that he has to do to be who he is."

Kyle Korver
When it comes to work ethic, it's hard to say LeBron has a firm advantage over Jordan and vice versa. But when it comes to being scrutinized, the King takes the cake by a long shot.
LeBron James is chasing his fifth ring
James could have retired three or four years ago and waltzed into Springfield, Massachusetts as a Basketball Hall of Famer. Heck, he had an argument even before winning his first title in South Beach. But even at 36 years old, King James isn't done yet.
LeBron is under contract for this season and next, giving him at least two more opportunities to win a fifth NBA championship. Doing so would place him within a group headlined by Kobe Bryant, Tim Duncan, and Magic Johnson.
In addition to chasing titles, LBJ can set records before his career ends. Currently third, LeBron is likely to pass Karl Malone on the all-time points list and has an outside shot at catching Kareem Abdul-Jabbar. He also sits eighth in assists with more opportunities to advance up the leaderboard.
It will be fascinating to see where LeBron ranks in NBA history when his career officially comes to a close. But until then, expect nothing but total focus and commitment on and off the basketball court.
All statistics courtesy of Basketball Reference.
RELATED: Jerry West Claimed LeBron James Was a Better Player Than Kobe Bryant Before LeBron Won His First Ring: 'To Me, It's a No-Brainer'