LeBron James' Favorite Christmas Gift as a Child Gave Him the Ultimate Glimpse Into His Future
For over a decade, NBA fans have essentially gone into each season fully expecting LeBron James to star on their televisions during Christmas Day. He has made playing on Christmas an annual tradition.
However, before entering the NBA and becoming more of a holiday staple than Santa Claus himself, James received presents just like all of us. And his favorite one gave him a glimpse into his future.
LeBron James has become a mainstay on Christmas for NBA fans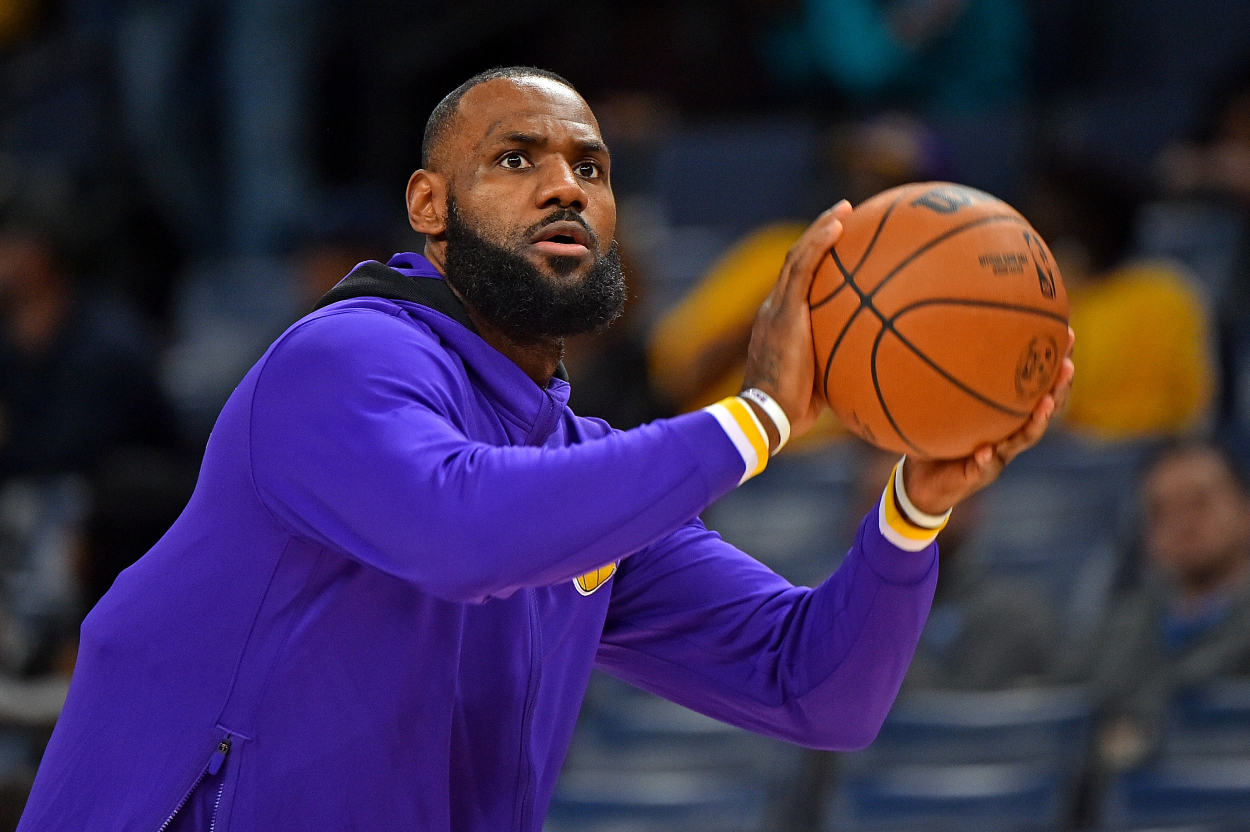 LeBron James entered the NBA in 2003, and he has played on Christmas almost every year since.
After playing on the holiday as a rookie with the Cleveland Cavaliers, James took a bit of a Dec. 25 hiatus. He didn't join in on the festivities again until 2007, the season after he led the Cavs to their first-ever NBA Finals appearance.
That game, though, began a run of what will soon be 15 straight Christmas Day appearances for The King. Ahead of his and the Los Angeles Lakers' 2021 matchup with the Brooklyn Nets, James holds a 10-5 record in such games, which is tied for the most wins on the big day in NBA history. He is also second in league history in total Christmas Day points.
Before giving fans a tremendous amount of holiday cheer over the years, though, James received a Christmas gift himself that would foreshadow his future.
LeBron's favorite Christmas gift foreshadowed his future
Despite seemingly coming into this world with a basketball in his hand, LeBron James once admitted that he didn't watch the NBA Christmas Day games much while growing up.
"I have always seen so many NBA games on Christmas," James said to the Akron Beacon Journal in 2014. "Growing up, I didn't pay too much attention to them because I was caring too much about my toys and games and things of that nature."
So, what was his favorite toy that he received?
According to the Beacon Journal, James said his best Christmas gift was a Little Tikes basketball hoop. He also loved a football game he received during a different year.
So, not only did James become a basketball superstar once he grew up but playing on that little hoop during Christmas only foreshadowed how he would spend the holiday for a good portion of his adult life. He hasn't only been playing basketball on Christmas during his NBA career, but he did so as a kid as well.
And maybe just maybe, that led to his domination and affinity for dropping much more than presents on the day.
LeBron James has had several dominant Christmas Day performances
LeBron James traveled to Orlando for his first Christmas Day game, as he and the Cavaliers took on Tracy McGrady and the Magic.
"Being in Orlando and having my first [Christmas Day] game versus Tracy McGrady, a guy I looked up to as a high school guy [at St. Vincent-St. Mary]," James said to the Akron Beacon Journal. "It was fun."
While the Cavs lost by 12, James dominated, scoring 34 points and dishing out six assists.
He has since had multiple big-time performances on the day.
James had a 27-point triple-double in a win for the Miami Heat over the Los Angeles Lakers in 2010, and he followed that up by dropping 37 points, 10 rebounds, and six assists against the Dallas Mavericks in 2011. LeBron also had 31 points and 13 rebounds in a victory for the Cavs over the Warriors in 2016.
All in all, LeBron James has almost always given fans a show on Christmas Day, scoring 383 points through his first 15 games. But before the world knew his name, he was draining shots on his Little Tikes hoop.
Stats courtesy of Basketball Reference and NBA.com