LeBron James' Former Cavs Teammate Just Called Cleveland out for Being 'Scared' During LeBron's First Cavs Stint
LeBron James' first stint on the Cavs was pretty monumental. He led that franchise to heights it had never reached before. However, while it took him and the Cavs a couple of years to reach the playoffs, Cleveland may have had a little bit more success sooner had they not been "scared," according to LeBron James' former Cavs teammate. That former teammate is Darius Miles.
LeBron James and Darius Miles played on the Cavs together
RELATED: LeBron James Initially Declined the Invitation to Star in 'Space Jam 2' but Changed His Mind Thanks to a Famous Actor's Bold Idea
Darius Miles had one thing in common with LeBron James — he was also a high school phenom. Miles went straight to the NBA out of high school as the LA Clippers selected him with the No. 3 overall pick in the 2000 NBA draft. 
Miles then played well in his first couple of seasons but just couldn't take that next big step. He earned All-Rookie honors in 2000-01 with 9.4 points per game to go with 5.9 rebounds. He then averaged 9.5 points and 5.5 rebounds in 2001-02. However, in 2002, the Clippers traded Miles and Harold Jamison to the Cavaliers for Bryant Stith and Andre Miller.
Miles then played on the Cavs in 2002-03, and he ultimately averaged 9.2 points and 5.4 rebounds. However, Cleveland wasn't very good that year, as the team ultimately went 17-65.
The Cavs then selected LeBron James with the No. 1 overall pick in the 2003 NBA draft. James helped them improve significantly that next year, too, as Cleveland went 35-47 in 2003-04. Miles, though, only played in 37 games for Cleveland that year before the Cavs traded him to the Portland Trail Blazers. Between Miles' time with the Cavs and Blazers that season, he ultimately averaged 10.9 points and 4.5 rebounds.
Miles only played in the NBA for three more seasons after that, not including the two years he missed due to a knee injury. James, on the other hand, has since become one of the greatest basketball players of all time.
Darius Miles said the Cavs were 'scared' during the King's rookie season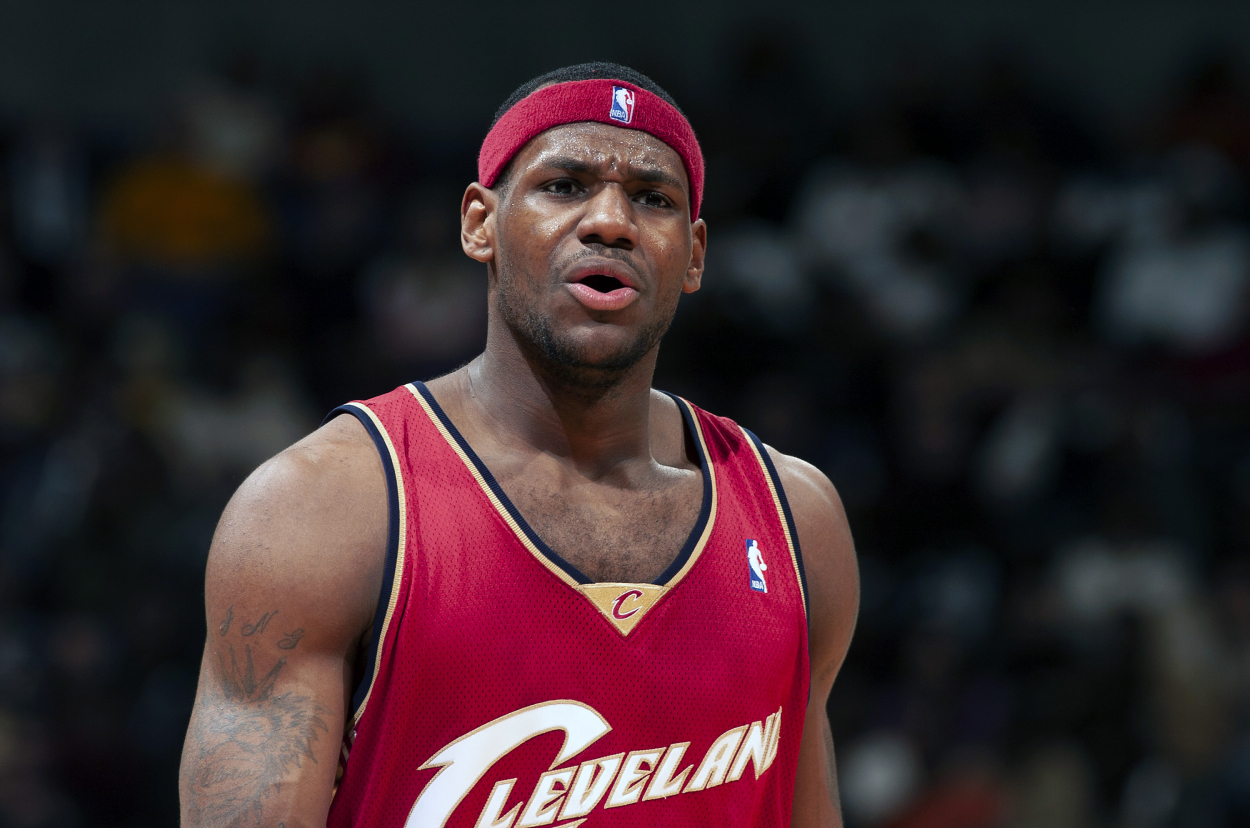 RELATED: LeBron James Carried 2 Cavs Teammates to the NBA Finals Before They Both Later Became Reality TV Stars
In addition to Darius Miles and LeBron James, the 2003-04 Cavs had players like Ricky Davis, Carlos Boozer, and Zydrunas Ilgauskas. Miles thinks that the Cavs had enough talent to be pretty good that year, too.
"When you get LeBron James, you got talent around him," Miles said on the April 15 episode of the Real Ones podcast. "It's LeBron, me, Ricky, Boozer, big Zydrunas. We got Dajuan Wagner coming off the bench. Add a few more pieces — we was good. "
However, he added: "They didn't know what to do with it."
Miles then said that he was a big fan of their coach, Paul Silas, but he also thinks that, systematically, the team wasn't put in a position to succeed.
"I started off at point," he said. "… [Latrell] Sprewell stripped me at half court because I'm doing the point guard s***, spinning. … I'm like, why the f*** am I the point guard? Why we ain't letting LeBron be the point guard? They was scared to put it in his hands that early."
Miles later added: "We was running Utah Offense. … That slowed me down so much. It slowed all us down because it's me, LeBron, and Ricky. You can't get out and run; I can't kick ahead, I gotta stop and set it up, I gotta wait for the big man to run all the way down and then come back to the free-throw line — y'all about to get me ripped out here. I can dribble, but damn. They didn't know."
That's interesting. We all now know that LeBron James is pretty effective from the point guard position. So, that team probably could have had more success had he played point guard. However, James still averaged 5.9 assists that year, so it looks like he still did at least a little facilitating.
Darius Miles cleared up a misconception about him and LeBron James
RELATED: LeBron James' 'Space Jam 2' Trailer Just Got Him Brutally Roasted by a Former Teammate in a Savage Online Comment
While recently discussing LeBron James' rookie season, Miles cleared up the misconception that he wasn't too happy about James coming to the Cavs.
A video went viral years after Miles played in Cleveland that captured him saying, "I don't think you can just bring a high school player in and really just think your team is gonna turn around like that. If he comes, he can just hop on our bandwagon, and hopefully we can do something big."
Miles, though, said that he and LeBron James were cool well before James even joined the Cavs.
"I went to damn near every LeBron James game his senior year," Miles said. "… I went to his house for Thanksgiving and had dinner. … If anybody want him to come here, it's me."
Darius Miles and LeBron James did not play on the Cavs together for very long, but it appears that Miles believes that the team could have done something special had the Cavs known how to set them up for success. We will never truly know, though.
Stats courtesy of Basketball Reference