LeBron James' Former Foe Opens up About Their Intense Rivalry: 'It Wasn't Gonna Be No Love Fest'
Every NBA legend has had opposing players try to get under their skin. In fact, LeBron James knows that story too well. From DeShawn Stevenson to Lance Stephenson to even Jae Crowder, James has had no shortage of rivalries throughout his career.
However, the four-time NBA champ had one of his fiercest on-court beefs with former Chicago Bulls big man Joakim Noah, as Noah didn't care that James was the best player in the league. The 2013-14 Defensive Player of the Year went at LBJ every time they played, and his competitive fire resulted in some intense matchups.
Recently, though, Noah opened up about his battles with James, and he revealed why he never backed down from The King.
LeBron James and Joakim Noah had an intense NBA rivalry
Joakim Noah entered the NBA a few years after LeBron James, as he went to the Bulls with the ninth overall pick in the 2007 draft after James went to the Cleveland Cavaliers with the No. 1 pick in 2003.
In his third season, though, Noah became well-acquainted with James and vice versa, as the Bulls faced the Cavs in the 2010 playoffs.
The Cavaliers won the first-round series pretty easily, clinching it in five games, but after Game 1, Noah unleashed on the city of Cleveland, saying it "sucks." He then doubled down by making one of the most notorious comments in NBA history.
"You like it? You think Cleveland's cool? I never heard anybody say, 'I'm going to Cleveland on vacation,'" he said during a press conference, per ESPN. "What's so good about Cleveland?"
Noah and James' rivalry then followed LBJ to the Miami Heat. It even continued once he returned to the destination city of Cleveland in 2014.
In fact, during the 2014-15 playoffs, James dunked on Noah, and he later said the big man allegedly made inappropriate remarks, which led to him retaliating with the slam.
"I love his emotion as a competitor. I love his emotion, but I think the words that he used to me was a little bit too far," James said, per Cleveland.com. "I'm a father with three kids. It got very disrespectful. I'm OK with competing against Jo. I love the competitive nature in him, but we should leave it there. The disrespectful words that he said to me were uncalled for so the best way to retaliate is by making a play."
Noah, though, played it off.
"Disrespectful?" he said, per Cleveland.com. "I got mad respect for LeBron. We're just two players trying to win a game. That's all. I don't know what he's talking about. I'm just trying to win games for my team."
The former Bulls star opened up about his rivalry with LeBron James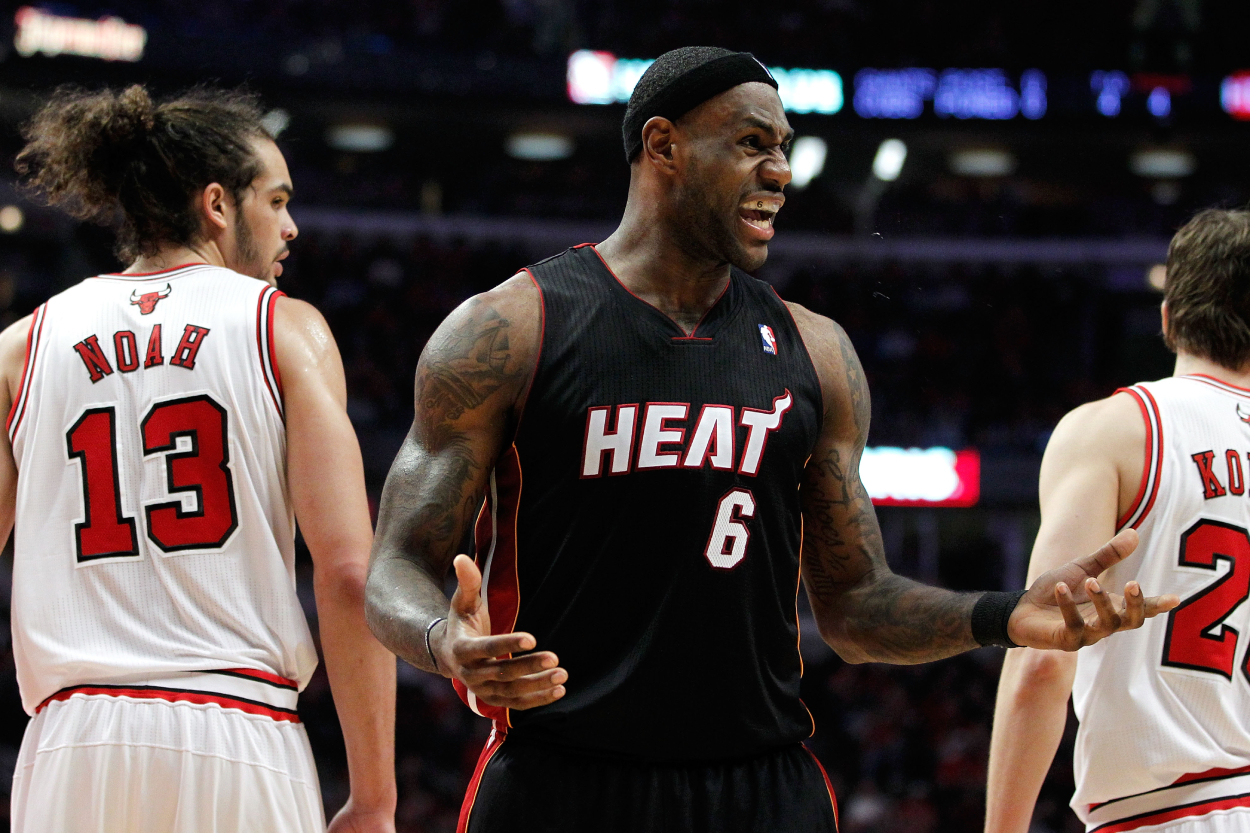 Joakim Noah retired from the NBA in March 2021, but he recently appeared on the Knuckleheads with Quentin Richardson and Darius Miles podcast and opened up about his rivalry with LeBron James.
"Every time we played the Miami Heat or we played Cleveland, every team that LeBron was on, it was always a war," he said on the Sept. 7 episode. "Those were the games that you penciled on the schedule; you put that circle."
Noah admitted he still gets hate from Cleveland fans at times, but he just wanted people to know that he wasn't going to back down.
"LeBron is, he's a great player, and I just wanted everybody to know when we played against him that we was going to go at him," he said. "It wasn't gonna be no love fest. I hated that love fest s***. That s*** drove me nuts. And competition's not always pretty, and I think that's what people like about it. It doesn't always bring out the best of you. It's ugly sometimes. … People alway say, 'You a hater,' and all that. No, I just wanted to win."
Noah's mindset made him one of the fiercest competitors on the court. But he and James likely won't get into it again anytime soon.
Joakim Noah says he's different in retirement
Despite his reputation, Noah is no longer antagonizing his opponents. He's trying to do the opposite in retirement.
"Now, I'm about trying to do things with [bringing] people together," he said on Knuckleheads. "Competition, it's gone. It's not the same. I can't be competitive with people around my house. I don't want to be competitive with my friends."
Noah and James used to go at each other on the court, but those battles are just a part of NBA lore now. Maybe, they can put their differences aside and hang out in Cleveland sometime soon.