LeBron James' Former Hall of Fame Teammate Just Got a TV Gig Ahead of The King's Postseason Run
LeBron James is looking to defend his championship crown with the LA Lakers, but the road to do so will be difficult. He and the Lakers fell into the NBA Play-In Tournament thanks to James and Anthony Davis' injuries, so they'll have to go from being a No. 7 or No. 8 seed to becoming NBA champions. Whatever happens during this playoff run, though, James' former teammate will be on TV covering it. That former teammate is Chris Bosh.
LeBron James and Chris Bosh played together on the Miami Heat
James left the Cleveland Cavaliers in 2010-11 to form a big three on the Miami Heat with Bosh and Dwyane Wade. They, of course, had a ton of success, too.
In their first season together in Miami, they took the Heat to the NBA Finals before losing to the Dallas Mavericks. That was ultimately the first four straight trips to the NBA Finals from 2010-11 through 2013-14, and they won back-to-back titles in 2011-12 and 2012-13.
James — who went back to the Cavs in 2014-15 — won two MVP awards during those four years and averaged 26.9 points, 6.7 assists, and 7.6 rebounds. Bosh ultimately scored 17.3 points per game during those seasons and pulled down 7.4 rebounds.
James has since gone on to play in the NBA Finals five other times — not including his first trip before joining the Heat — and has won two more championships. Bosh, on the other hand, only played for two more seasons, as he had to call it quits earlier than expected due to his battle with blood clots.
However, it appears Bosh is taking on a new career path.
Chris Bosh is joining ESPN for the NBA playoffs
As James looks to play in the NBA Finals for the 11th time in his career and the 10th time in 11 seasons, Bosh is joining ESPN to cover it. According to Barry Jackson of the Miami Herald, ESPN has hired Bosh — who recently learned he will be a 2021 Naismith Memorial Basketball Hall of Fame inductee — to make "at least a dozen studio appearances" on several shows during the NBA playoffs.
On May 18, Bosh already appeared on two of them: The Jump and First Take.
While on The Jump, Bosh compared his big three on the Heat to the Brooklyn Nets' current big three consisting of Kevin Durant, Kyrie Irving, and James Harden.
"I could get out the way and let those ball-dominant guys be themselves," Bosh said. "One of the things they're gonna have to figure out is how to distribute the ball equally, how to move it around. And it's great having Kyrie; it's great having James Harden and KD be able to get you a bucket at any point in time. But the other aspects of the game, the defensive continuity, moving the ball on the offensive end … when you have to get in those third and fourth and fifth situations to be able to score against a good defense, I think that's where they're gonna have their challenges."
It'll be interesting to get Bosh's takes on topics like the Nets and, of course, his former teammate, James, as there will probably be a lot to talk about when it comes to James and the Lakers.
LeBron James and the Lakers will have a tough road to the NBA Finals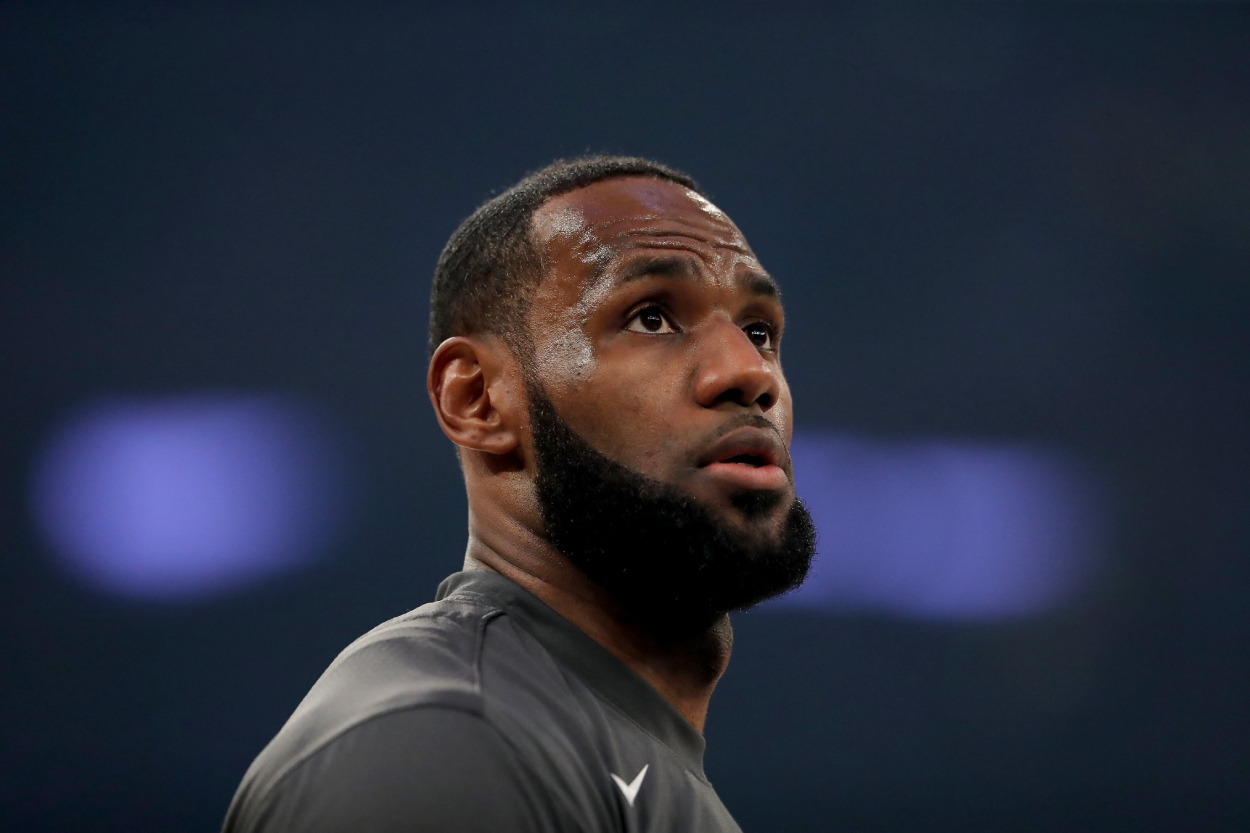 James missed six weeks this season with a high ankle sprain, which led to the Lakers having to play in the NBA Play-In Tournament. Now, they must try to win the NBA championship as a No. 7 or No. 8 seed.
If James is healthy, though, it's possible. He and Davis are two of the best players in the world and proved last season that they can run through the playoffs and win an NBA title. The team around them is even deeper this season, too, with guys like Dennis Schroder, Montrezl Harrell, and Andre Drummond. So, as long as the Lakers' two stars remain healthy, they have a great chance to win their second consecutive title.
The whole postseason will be a battle, though, and being able to hear what Bosh, someone who has won titles with James, has to say is a huge win for NBA and LeBron James fans.
Stats courtesy of Basketball Reference