LeBron James' Former Nemesis Reveals Just How Much The King Eventually Helped Him: 'I Learned a Lot From Him'
Lakers superstar LeBron James has had many people try to get under his skin throughout his NBA career. In fact, he used to have a heated rivalry with a specific player, but they eventually set their differences aside and The King helped him. That player recently revealed just how much James actually helped him.
If you're in the NBA long enough, you'll certainly have your fair share of rivalries, and that has been the case for Los Angeles Lakers superstar LeBron James. From Paul Pierce to the entire Golden State Warriors team, James has had plenty of enemies during his time as an NBA player.
One of his biggest feuds, though, came when he played with the Miami Heat, as James had intense battles against a player he later teamed up with: Lance Stephenson.
LeBron James and Lance Stephenson had an intense NBA rivalry
James and Stephenson have met in the playoffs numerous times, and Stephenson — who hasn't played since 2018-19 — is someone always willing to do whatever his teams asked of him. So, during all their great battles, he often tried to get into James' head.
Among the more memorable incidents came in 2014 when James and the Heat had a 3-1 lead over Stephenson's Indiana Pacers in the Eastern Conference finals. The Pacers, though, won Game 5, 93-90, and James only scored seven points on 2-of-10 shooting. During that game, Stephenson infamously blew in James' ear, which has since become one of the greatest memes of all time.
James and the Heat ultimately won in the series 4-2, and Stephenson never made it past James in any of their playoff meetings. But his battles with The King were always great to watch.
Lance Stephenson revealed just how much LeBron James helped him on the Lakers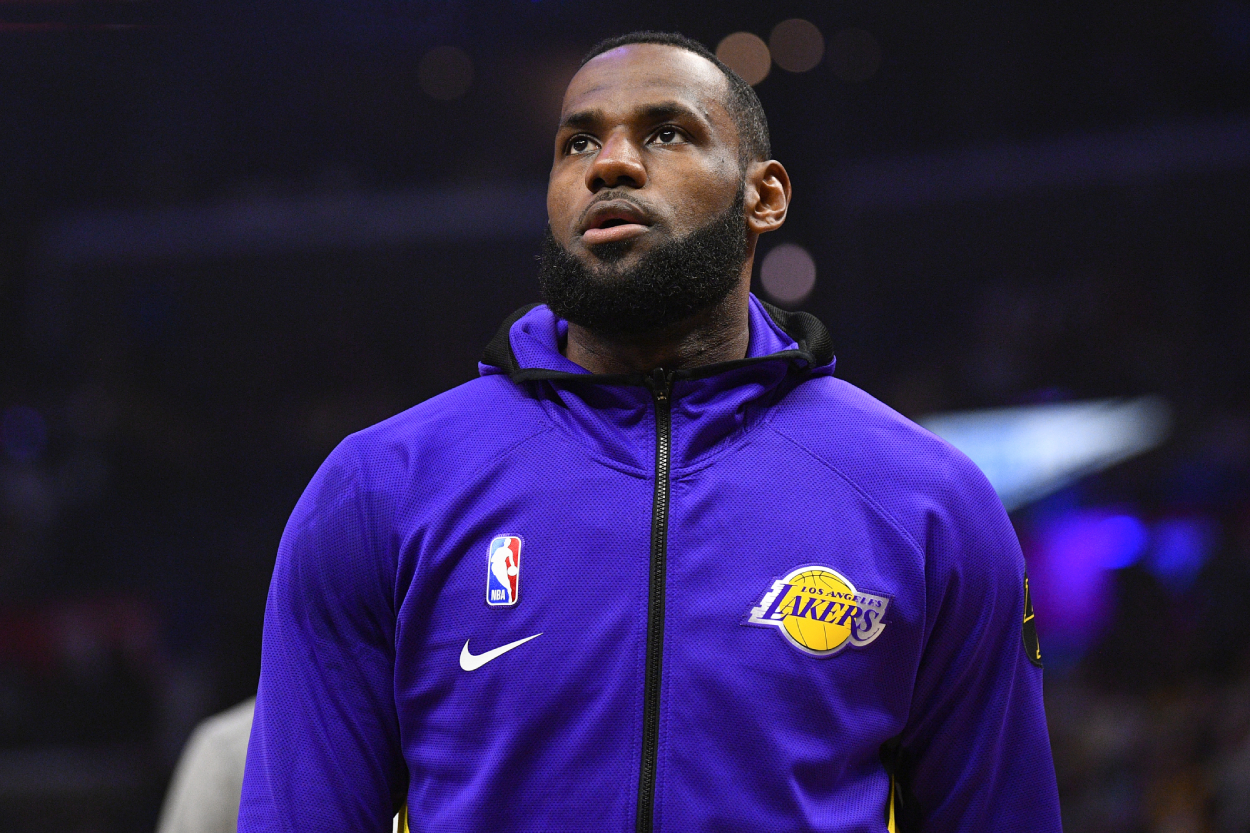 Although they had their differences on the court, James and Stephenson set their issues aside and teamed up on the Lakers in 2018-19.
No, the Lakers weren't very good that year, but Stephenson played well with his former rival, scoring 7.2 points per game and shooting 37.1% from 3-point range, essentially the best 3-point shooting season of his career. Stephenson technically shot better from long range in 2015-16 (38.5%), but he only put up 1.1 shots from deep that year. With James on the Lakers, he averaged 2.9 attempts from 3-point range.
Stephenson recently appeared on Posted Up With Chris Haynes, and he discussed his time with James.
"LeBron, he just wanted to win; he wanted a team that could help him win," he said on the July 19 episode. "…We never really talked about those battles. That was like old news, and we moved forward from that."
Stephenson then revealed just how much James helped him during his time in LA.
"LeBron is like, he's just super, super focused," Stephenson said. "He's the first one in the gym; he's like a coach on the floor, he makes sure everybody on his team got their head right, on straight. The way that I see how he approached the game helped my game a lot. I feel like I learned a lot from him."
What's next for Lance Stephenson?
We know what's in store for LeBron James; he will be on the Lakers for the foreseeable future. However, Stephenson hasn't played since 2018-19, so what does he plan to do next?
"My goal is always to stay ready," he said on Posted Up With Chris Haynes. "Stay ready, stay fit. And always put myself in a position where I can be that vocal leader to help the younger guys during the season and help them throughout the playoffs. So, my goal is to always just be ready and stay focused."
Stephenson's NBA future is unclear, but it would, of course, be fun to see him and James relaunch their rivalry at some point. Their battles were box office.
Stats courtesy of Basketball Reference