LeBron James' Former Teammate Is Hyped About Carmelo Anthony Joining the Lakers: 'We're Watching 'Space Jam' in Real Life'
LeBron James has proven just how dangerous he can be whenever he gets to play on the same team as his friends, and now he's finally playing with banana boat pal Carmelo Anthony, who recently agreed to a deal with the Los Angeles Lakers.
James and Anthony may be older, but they're still extremely talented and can have a ton of success together.
James' former Cleveland Cavaliers teammate knows it, too.
That former teammate is Kendrick Perkins.
LeBron James is teaming up with banana boat pal Carmelo Anthony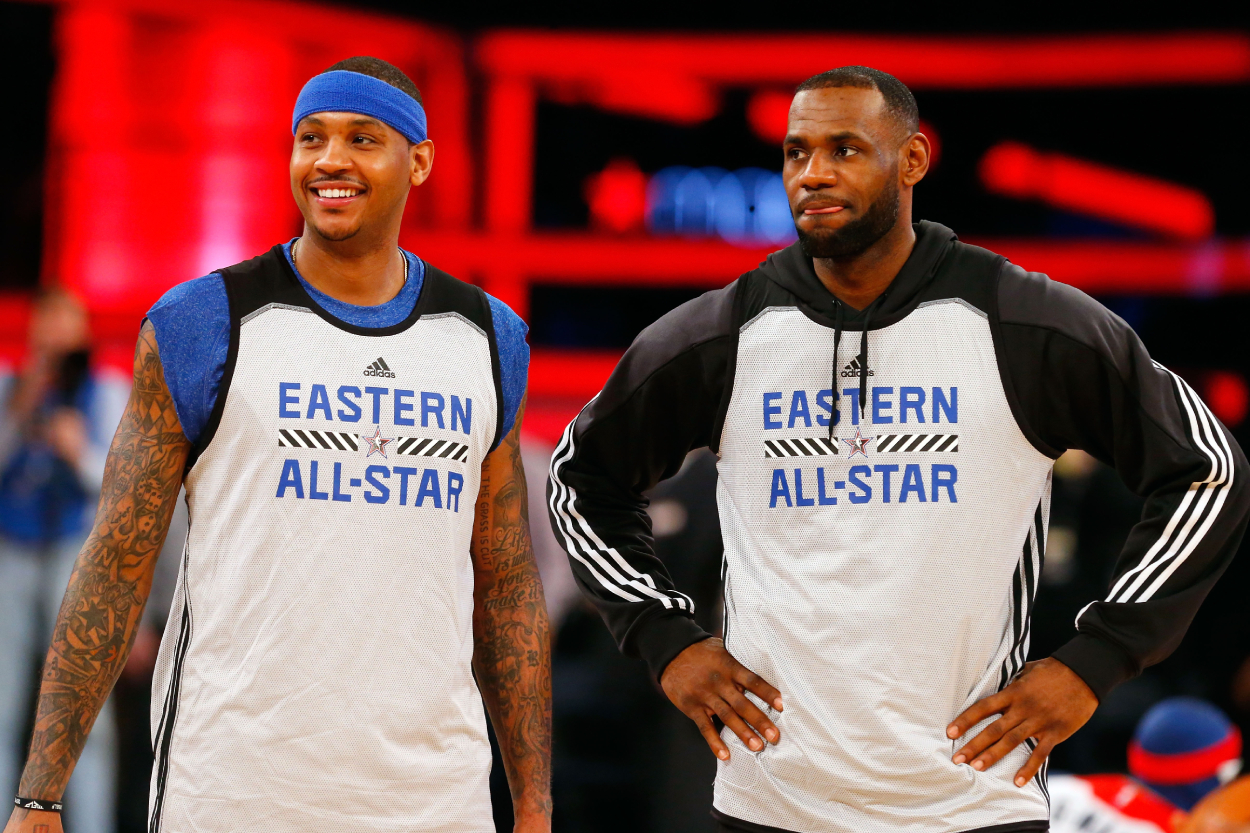 LeBron James' banana boat crew is one of the most iconic in sports. No, Carmelo Anthony wasn't actually in the photo where James, Dwyane Wade, and Chris Paul posed on a banana boat while vacationing together, but he still went on that trip with them, so he's a major part of the crew.
Now, after already playing with Wade on the Miami Heat and Cavaliers, James gets to play with another one of his vacation buds as Anthony is joining the Lakers.
It has been a busy offseason for the Lakers, who traded for Russell Westbrook to make a Big Three with him, James, and Anthony Davis. They then signed Dwight Howard, Wayne Ellington, Trevor Ariza, Kent Bazemore, Malik Monk, Kendrick Nunn, and, of course, Anthony.
Anthony — whose deal is for one season — is 37 years old but averaged 15.4 points and 6.3 rebounds just two seasons ago for the Portland Trail Blazers before averaging 13.4 this past season off the bench. He also shot a career-high 40.9% from 3-point range.
No, Anthony is no longer in his prime, but he's still a solid role player who can help the Lakers greatly, especially from deep. And James' former teammate seems excited.
Kendrick Perkins is excited about Carmelo Anthony joining the Lakers
Kendrick Perkins played with James on the Cleveland Cavaliers in 2014-15 and 2017-18 and is now an analyst on ESPN. In a recent appearance on the network, the former role player seemed pretty excited about Anthony's move to the Lakers.
"What (Lakers general manager) Rob Pelinka did yesterday, all he did was set the temperature," Perkins said on the Aug. 3 episode of The Jump. "He set the temperature. He set the temperature by going and signing Trevor Ariza, Kent Bazemore, Wayne Ellington, and all of those guys. And now, all of a sudden, he had the cake ready to bake, and he went and put it in the oven by sealing the deal and going and getting Carmelo Anthony; the mission is complete, along with Dwight Howard. Book it. The Lakers are back on track."
Perkins also thinks the Lakers are built for the playoffs.
"When you have a veteran group like this, this group is built for a seven-game series because you have a veteran group that's gonna buckle down; they know what it takes," he added.
Many experts have also wondered whether the Lakers will struggle given that the majority of their roster from last season is gone, other than James, Davis, Talen Horton-Tucker, and Marc Gasol. But Perkins shut that notion down quickly.
"I would be concerned if it was a young group, but we're talking about a group of veterans," he said on a later segment of The Jump. "… But when you look at Carmelo Anthony, and you look at Russell Westbrook, these guys are starving to win a championship. That's the only thing left for them to complete their legacy is to win a ring, so sacrificing is not going to be difficult when it comes down to the Los Angeles Lakers. Look, we're watching Space Jam in real life right now. The Lakers have five Hall of Famers on their team."
What can we expect to see from LeBron James and the Lakers?
LA has certainly made headlines with its recent offseason moves, but it has also improved its team drastically.
It not only added one of the greatest playmakers the game has ever seen in Westbrook, but it brought in solid shooters in Anthony, Ellington, Ariza, Nunn, and Monk. The Lakers then also brought back a tremendous defensive presence in Howard and will combine all these guys with a still dominant LeBron James and an all-time great in Anthony Davis. Those two, and Westbrook, surrounded by shooters can be a defense's worst nightmare.
Sure, the Lakers are an older team, and there will be some growing pains. But LA has the talent it needs to go on another run to the NBA Finals.
The Lake Show have a chance be the most entertaining spectacle on television. Get your popcorn ready.
Stats courtesy of Basketball Reference