LeBron James' Former Teammate Shares His Compelling Thoughts on The King's Underrated Skill: 'It's Just on Another Level'
LeBron James often receives praise for his athleticism; he stands at 6 feet, 9 inches, and is 250 pounds of pure muscle, but The King can still run as fast as and jump higher than anyone in the NBA. James also passes the ball at an elite level, as he's up there with some of the all-time greats in that department like John Stockton, Magic Johnson, Chris Paul, and others.
However, LeBron also has an underrated skill that maybe doesn't receive quite as much attention: his basketball IQ.
While he's certainly great in those other areas mentioned above, the four-time MVP is also one of the smartest basketball players in the league. In fact, his former Cleveland Cavaliers teammate Deron Williams recently gave a compelling breakdown of James' mental approach to the game.
Deron Williams played with LeBron James on the Cavs in 2017
Deron Williams was a star himself at one point in his career. He earned three consecutive All-Star selections with the Utah Jazz and New Jersey Nets from 2009-10 through 2011-12, averaging 19.8 points and 9.9 assists during those seasons.
His success even led to him playing on Team USA with James during the 2008 and 2012 Olympics. But he also teamed up with the 17-time All-Star in 2016-17, the final season of Williams' career.
The point guard was more of a role player on the Cavs, as he played behind Kyrie Irving. He signed with the team in February 2017 and only appeared in 24 regular-season games, averaging 7.5 points and 3.6 assists in 20.3 minutes. Cleveland, however, reached its third straight NBA Finals that season, and Williams played in all 18 postseason games with the team. But he averaged just 4.3 points and 2.1 assists in 14.6 minutes during that run, and James and company lost 4-1 to the Golden State Warriors in the Finals.
Obviously, the former Illinois star didn't work with him for very long, but Williams recently opened up about what it was like to play with James.
Deron Williams praised The King's mental approach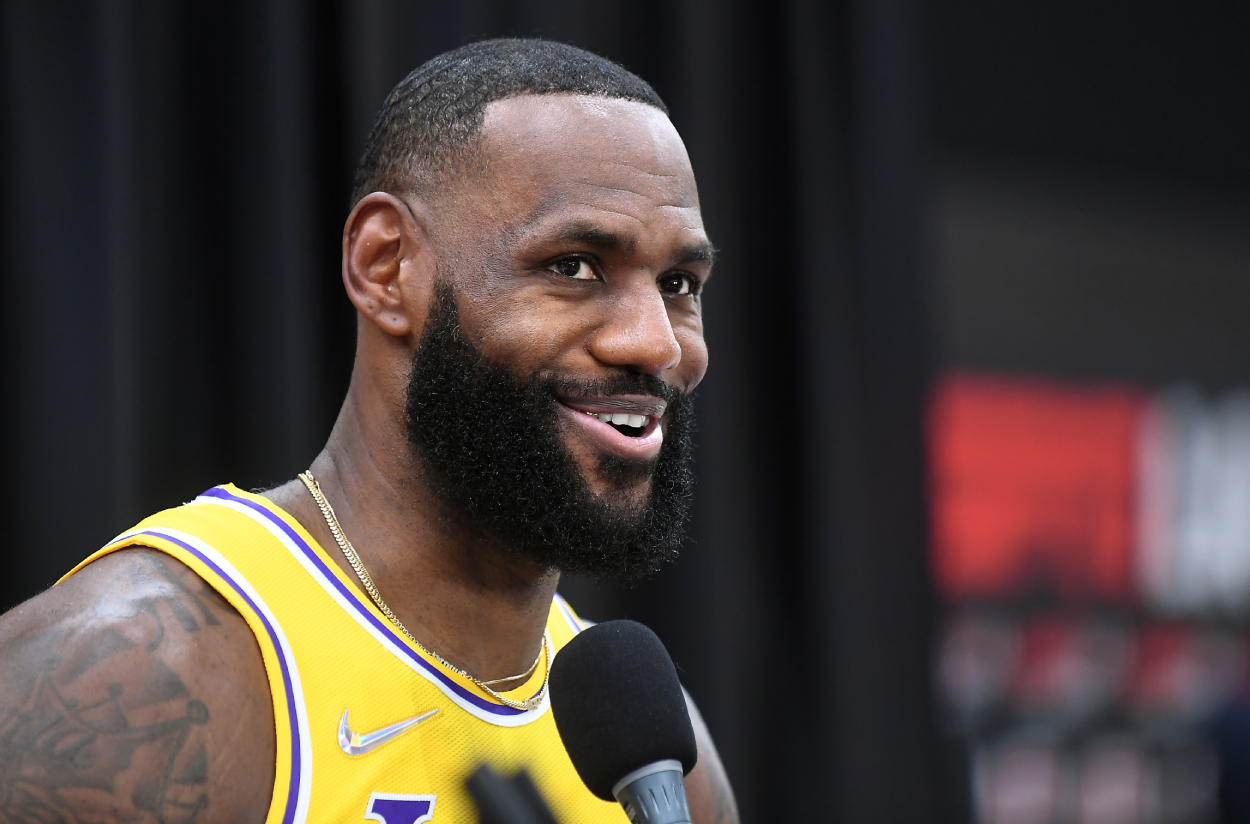 Williams recently appeared on All the Smoke with Matt Barnes and Stephen Jackson. And during his appearance, he shared some interesting insight into what it was like to play with LeBron James on the Cavs.
"Of course I knew him and knew what he brought to the table, and it was great, man," Williams said on the Oct. 14 episode. "When I talk about work ethics, besides Kobe, being around him in the Olympics, LeBron has the best work ethic that I've ever been around. And his basketball mind is unbelievable. I consider myself a pretty smart human when it comes to the game of basketball and seeing things and understanding things, but his mind works differently."
Williams then added that he had heard others discuss James' basketball IQ on TV in the past, but there was nothing like being around it in person.
"Until you're actually there with him day in and day out, going over game plans, seeing him call out all the teams' plays — it's just on another level the way he's prepared, how he prepares himself," Williams said. "And that's what makes him so good, not only the physical gifts he has, but his mental approach to the game as well."
LeBron James has opened up about his basketball IQ in the past
So, what is it about James' mind that makes him so much smarter than his opponents?
He says he has a photographic memory.
"I've always had it," James said to Sports Illustrated in 2020. "A lot of my friends when I was younger playing the game, they were like, 'Man, how did you remember that play? Or how did you remember that? It was so long ago.' I never thought about it. I didn't even know what photographic memory meant when I was younger until I got older. It's something that I was born with or blessed with."
So, when he was born, not only did James receive unreal athleticism, but he also obtained a photographic memory? That seems unfair.
But all in all, NBA head coach Doc Rivers summed up James' skillset perfectly.
"There's a lot of people in the league with LeBron's body," he said, per Sports Illustrated. "There's no one in the league with his brain."
Stats courtesy of Basketball Reference
RELATED: LeBron James Once Attempted to Bring a Former All-Star to the Cavs but Received a Strong Rejection Instead: 'I Didn't Wanna Play With LeBron'