LeBron James' Former Teammate Firmly Strikes Down the Russell Westbrook Hate: 'Buddy Hield Doesn't Impact Winning'
Whenever an NBA superteam struggles, one player typically receives more blame than the others. For the Los Angeles Lakers, neither LeBron James nor Anthony Davis seems to be that guy.
But Russell Westbrook? He has been the unlucky scapegoat.
Westbrook hasn't played his best basketball so far this year, and with LA deciding to trade for him instead of Sacramento Kings guard Buddy Hield this offseason, there has been plenty of hate sent his way. But LeBron's former teammate, Richard Jefferson, recently tried to strike all that down. He did so by reminding everyone about one thing: Unlike Hield, Russ knows how to win.
Russell Westbrook has struggled so far this season
The Lakers have had an up-and-down season so far, as they are 12-11 through 23 games. And while Russell Westbrook has still stuffed the stat sheet, he has also struggled pretty significantly.
Westbrook is averaging 20.7 points, 8.2 rebounds, and 8.6 assists. But he's also second in the NBA in turnovers with 4.7 per game, and his free-throw shooting has been horrendous, as it sits at 68.4%. The 2016-17 NBA MVP has also been noticeably worse near the rim. He's shooting 59.8% within 0-3 feet, compared to 65% from that range last season.
The Lakers added Russ to help LeBron James and Anthony Davis, and while he's doing that at times, he isn't helping them at a high level on a consistent basis quite yet.
But just because he has struggled doesn't mean LA made the wrong choice in terms of essentially choosing him over Buddy Hield. Westbrook is still the right man for the job.
LeBron James' former teammate struck down the Russ hate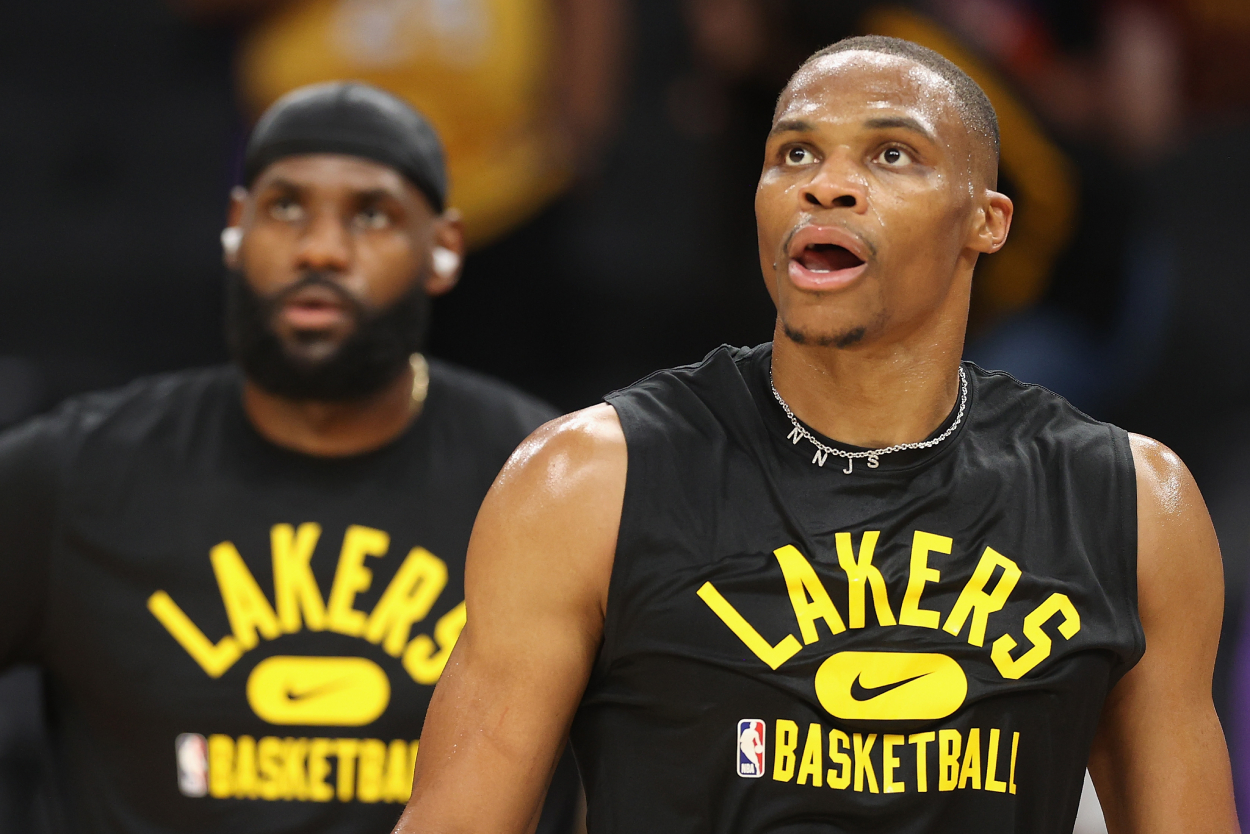 Richard Jefferson has seen first-hand how a superteam can find success with LeBron James. He played on the Cleveland Cavaliers with James in 2015-16 and 2016-17, going to two NBA Finals and winning a title during those seasons.
Jefferson recently discussed Westbrook's fit with LeBron's Lakers squad, and it seems that he doesn't agree with all the hate that Brodie has been receiving, especially when comparing him to Buddy Hield.
"The Lakers needed somebody that was going to impact winning," Jefferson said on the Nov. 30 episode of NBA Today. "Now, Buddy Hield has been there in Sacramento for a while; the organization is pretty much in a little bit of disarray for the last 15 years; that's why they haven't made a postseason. Buddy Hield does not affect winning that way. They needed somebody that could help them win games when LeBron was out, when AD was out, and they brought in Russell Westbrook. Now, Russell Westbrook has struggled, but ultimately I'm gonna say this, that Buddy Hield doesn't impact winning, or else he would have impacted winning for the Sacramento Kings."
Jefferson made a solid point. Hield is averaging 16.7 points and 4.3 rebounds this season, and he's shooting a career-low 39.2% from the field. He has also been on the Kings since 2016-17, and they have won fewer than 33 games in four of those five seasons, not making the playoffs since 2006.
Westbrook, on the other hand, has played in the playoffs in all but two seasons of his career and even helped lead the Oklahoma City Thunder to the 2012 NBA Finals. He simply knows how to win and has the experience that can help James claim his fifth NBA title.
Hield can't say any of that.
Russell Westbrook also got support from Kendrick Perkins
Another one of LeBron James' former Cavaliers teammates, who also played with Russell Westbrook on the Thunder, stood up for the Lakers guard as well: Kendrick Perkins.
"If we was to start it all over again, I would trade for Russ over Buddy Hield 100 out of 100 times," he said on NBA Today. "Here's the thing, they're just not playing well. We know that the Lakers gotta figure things out. … But with all that said, they're only a game out of the fourth spot (in the West)."
Westbrook has struggled tremendously, but things could be worse for the Lakers. James is now going to miss more games due to health and safety protocol, so they need Russ to step up and keep them afloat by playing winning basketball. That's not something they would have been able to ask of Hield.
The Lakers gave LeBron the correct running mate. Russell Westbrook is a player that can help The King reach the top again.
Stats courtesy of Basketball Reference