LeBron James and Frank Vogel Issue a Brutally Stern Message to Russell Westbrook and the Desperate Lakers
LeBron James returned to the Los Angeles Lakers with a vengeance on Saturday night against the New York Knicks. That included the harsh truths he offered teammates during his postgame comments.
Lakers general manager Rob Pelinka could well face ample pressure to make a move to rectify the wrongs of this offseason. But the reality is that LA has limited options ahead of the Feb. 10 NBA trade deadline. If the Lakers hope to contend, they'll likely have to right the ship themselves.
Indeed, James and head coach Frank Vogel appeared to demand a more reflective approach following an overtime win over the Knicks.
LeBron James posted a triple-double in his heroic return to the Lakers rotation
The Lakers found themselves in a pickle when LeBron James' knee began to swell up. Out of an abundance of caution, James retreated to the sideline, and LA said it would not let him return until the swelling went down.
Luckily for the Lakers, LBJ had a reasonably short-lived absence.
The four-time NBA MVP received clearance to play for Saturday night's primetime matchup against the Knicks. He rose to the occasion.
After a five-game hiatus, James posted a big triple-double. He scored 29 points on 13-of-24 shooting, grabbing 13 rebounds and dishing out 10 assists against just three turnovers. The Lakers fumbled a late lead after outscoring New York 31-13 in the third quarter, though they still hung on for the win.
LeBron said after the game that he expected everyone on LA's roster to do some soul searching as the Lakers try to ramp up for the playoff push.
James and Frank Vogel ask for accountability
At one point during Saturday's contest, Lakers fans literally screamed at Russell Westbrook not to take an open three-pointer from the left corner. LeBron James doesn't want to see that kind of hesitance from his co-star, even after a 1-of-10 shooting night.
During his postgame press conference, James revealed that he asked Westbrook to text him, per Harrison Faigen of SB Nation. LeBron said Westbrook should "never second-guess himself," adding that he has the "utmost confidence" in Brodie's abilities despite the former league MVP's struggles this season.
The message is similar to what James told ESPN's Malika Andrews immediately after the game.
The 37-year-old explained that, if the Lakers hope to make adjustments, they all have to acknowledge where they can improve. In turn, James indicated such a mindset benefits the team.
"It's all about taking accountability for your own actions every game … If you want change you have to look yourself in the mirror and demand more out of yourself and it'll trick down to the rest of the ball club."

–LeBron James to Malika Andrews after the game
Lakers head coach Frank Vogel sort of echoed some of James' words. But his response came with respect to a specific question regarding his benching of Westbrook for much of the fourth quarter and all of overtime.
Vogel said, per Ryan Ward of Lakers Nation, he hopes Westbrook responds to the late-game benching by raising his level of play.
These statements aren't new. Vogel already showed he wasn't afraid to bench Westbrook and assert his influence as head coach. Similarly, James has tried to spark a run by telling fans the team would be "better."
However, LeBron and Vogel undoubtedly understand LA needs greater urgency.
Can a healthy Lakers squad make a push?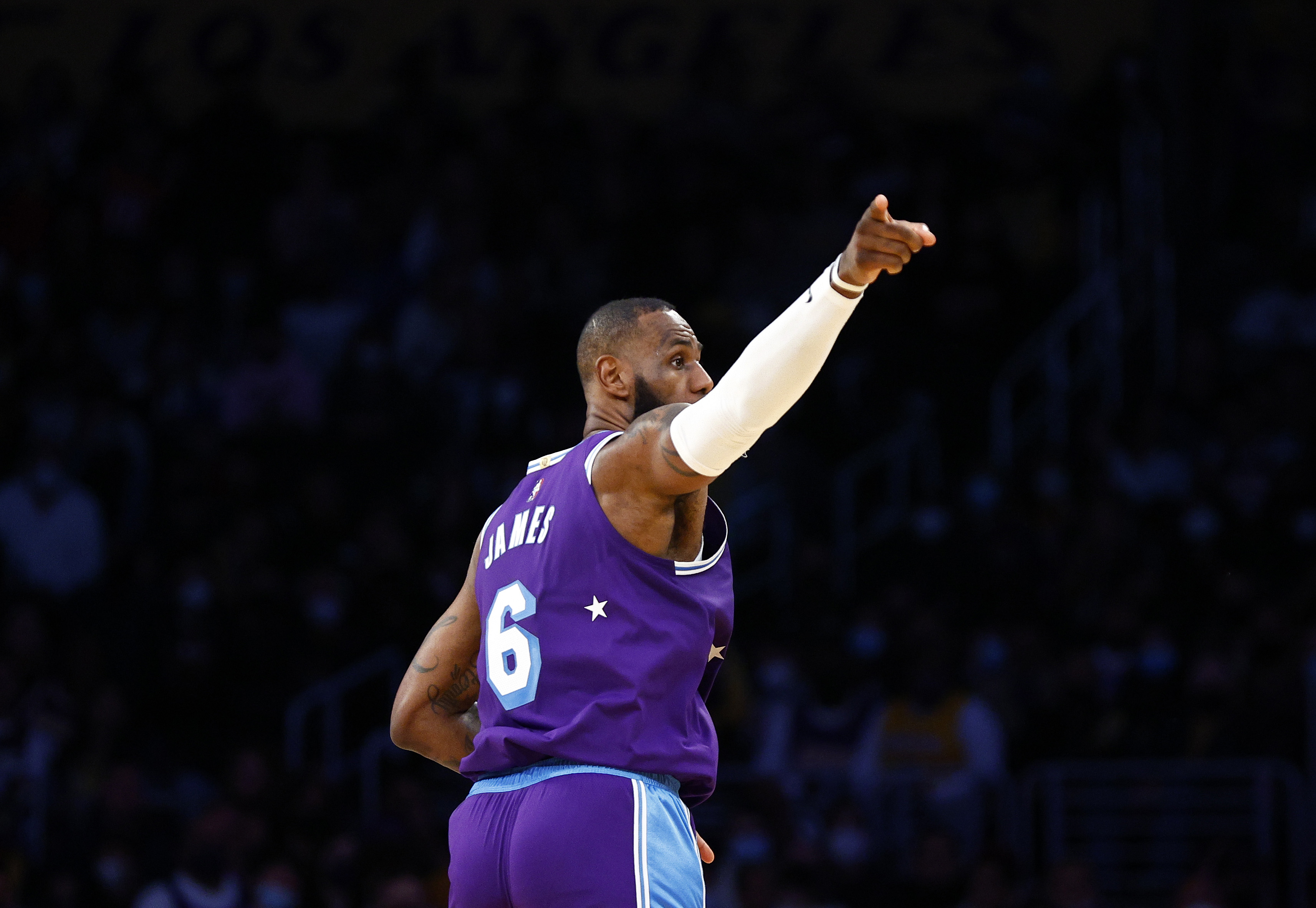 At 26-28, James and the Lakers find themselves three games back of the No. 6 seed in the Western Conference, which is the final guaranteed playoff spot. Can a healthier Purple and Gold squad climb the standings?
Anthony Davis has been superb since returning from injury. Malik Monk gives the Lakers a massively important scoring presence and floor-spacer at the 2-guard. He's capable of playing significant minutes, especially when Westbrook struggles.
The bench isn't exactly deep, but all of Trevor Ariza, Austin Reaves, and Stanley Johnson make contributions, and LA stands to gain a lot from Talen Horton-Tucker settling into a role. The Lakers will also hope Carmelo Anthony can return fully healthy or add some bench scoring.
James' return is most important for the Lakers.
Through 37 games, LeBron is averaging 29.1 points, 7.8 rebounds, and 6.4 assists. His 61.8% true shooting mark is his best clip in four seasons with the Lakers. He drives LA's success.
The Lakers could use added wing depth and a two-way, 3-and-D type. But, as James and Vogel seem to realize, they cannot rely on deadline upgrades to alter the trajectory of the season. Those changes will have to come from within.
Now that James and Davis are both back and healthy, LA might have the assets to make a run. Still, everyone on the roster must follow their lead and think unselfishly.
Stats courtesy of Basketball Reference.
RELATED: LeBron James May Be an Unofficial General Manager, But He's Powerless to Solve the Lakers' $19 Million Trade Deadline Problem