LeBron James Is Fuming About the Lack of Respect He Still Gets as a Scorer
Throughout LeBron James' illustrious career, he's received praise for many things, but his scoring prowess often gets overlooked. The Los Angeles Lakers star is amid a remarkable 19th campaign that may see him become the oldest player to win a single-season scoring title.
Despite that, James still isn't receiving the recognition even as he inches closer to the top spot on the all-time scoring list. All those factors have led the four-time league MVP to air his frustration.
LeBron James is proving why he remains an ageless wonder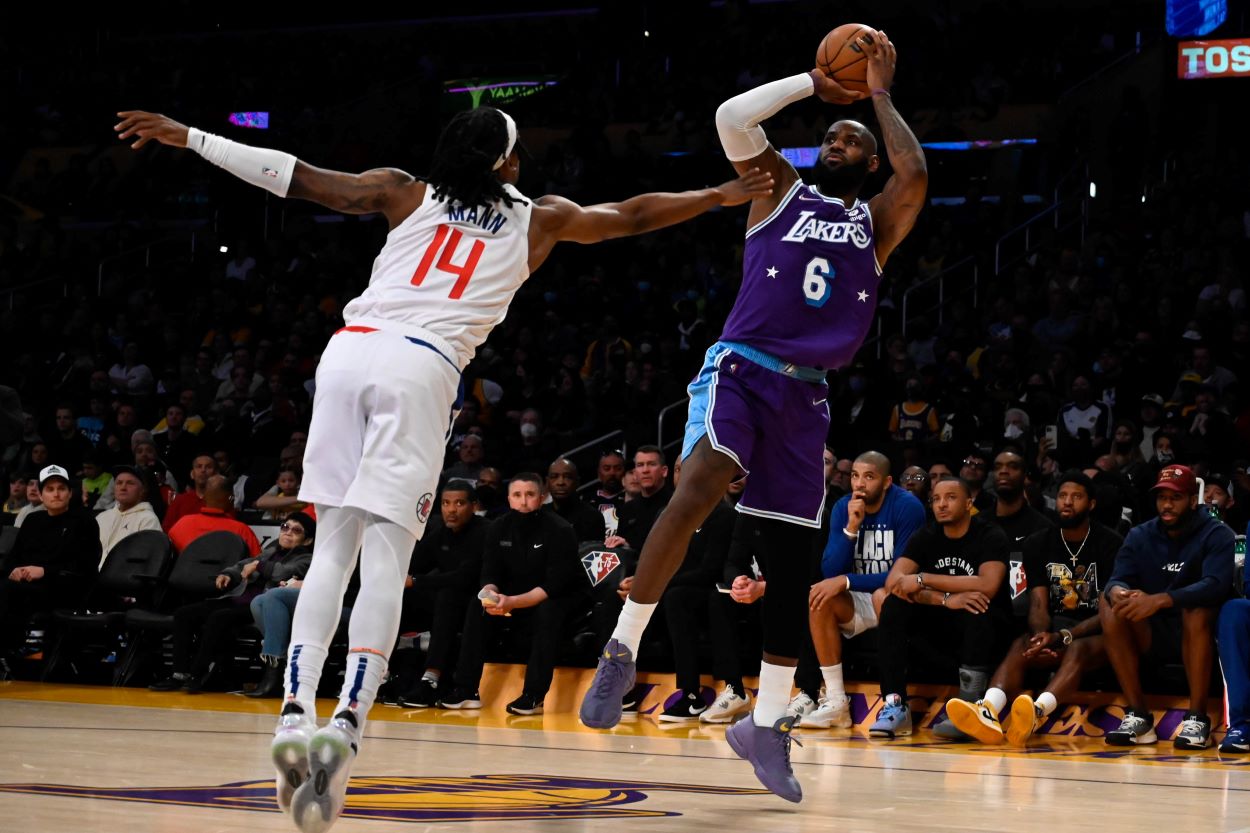 James entered his 19th campaign with lingering concerns about whether it would be the year to see some notable decline.
However, the future first-ballot Hall of Famer quickly proved that wasn't going to be the case. Instead, he's putting together one of the best scoring campaigns in his career. James has reached numerous impressive marks that further underline the ageless wonder he's become.
The four-time league MVP became the oldest player to tally seven straight 30-point performances while being the first to reach that feat in a decade with the Lakers since Kobe Bryant. James also set the league mark for the oldest player to record at least 25 points in 23 consecutive games while tying Hall of Famer Elgin Baylor for the franchise record.
His remarkable scoring prowess in his 19th season, averaging 29.4 points, has him in the running to secure his second scoring title sitting just a fraction behind Joel Embiid for the top spot (29.5). All that has only further pushed James to vent concerning the lack of recognition as an all-time great scorer.
LeBron James is fuming about the lack of respect he still gets as a scorer
As James continues to climb the ladder toward becoming the league's all-time leading scorer, he garners more self-recognition.
The 37-year-old's ageless play has shined a greater light on his scoring ability as he nears two decades into his career. In the latest episode of Uninterrupted's The Shop, James voiced disgruntlement with the lack of acknowledgment concerning his place among the games' greatest scorers.
"When they talk about the best scorers of all time, they never mention my name. It pisses me off," said James, who ranks fifth all-time with 27.08 points per game. "I'm not like a natural scorer. I love getting my guys involved, I've always been that way."
James knows that he doesn't possess the "natural" scoring ability due to his court vision and passing, but he's maintained his offensive prowess at an elite level throughout his career. He's on pace to extend his NBA record to 18 consecutive campaigns averaging at least 25.0 points per contest.
The 18-time All-Star recently became the league's all-time leading scorer in the regular season and playoffs combined. James may not score in the manner that Michael Jordan, Kobe Bryant, Kevin Durant, or Kareem Abdul-Jabbar have done, but he's become a well-round offensive factor.
He's become an effective 3-point shooter, hitting 34.5% from distance, including above 35% eight times. James has also added a highly reliable mid-range shot while still being a factor at the rim off the dribble.
Beyond that, the longer he continues to play at his historic pace, the more puzzling it becomes that he doesn't receive the scoring recognition his body of work deserves.
LeBron will become the all-time leading scorer
If LeBron James' 56-point outing against the Warriors didn't demonstrate it, the star forward has plenty of high-level basketball left.
The 37-year-old is only 208 points away from passing Karl Malone for second all-time. He may reach that before the end of the 2021-22 regular season with 19 games left. He will need to average a mere 11.0 points per contest to move past the former Utah Jazz great.
If James creeps toward 37,000 career regular-season points before next year, he would only need to stay healthy to surpass Kareem Abdul-Jabbar in his 20th campaign. With him barrelling toward extending his playing days beyond next season, it's a matter of time before he adds that impressive all-time mark to his resume.
James knows that feat is the feather in his cap to become undeniably recognized as one of the greatest scorers.
Like Sportscasting on Facebook. Follow us on Twitter @sportscasting19.
RELATED: Shaquille O'Neal Sends Stern Warning to Lakers About Trading LeBron James: 'You'll Never Win Again'