Bronny James Received a Simple but Strong Message From LeBron After Dominating His Dad's Alma Mater at Staples Center
Like father like son, that was the story in Staples Center this weekend when LeBron James opened things by posting 23 points, 11 rebounds, and six assists in a game between the Los Angeles Lakers and LA Clippers on Friday. The next night, James' son Bronny and his high school squad Sierra Canyon played against LeBron's alma mater, St. Vincent-St. Mary, at Staples, and they gave fans quite the show. 
After Bronny's game, the young hooper then revealed what his dad had to say about his performance.
LeBron James' son Bronny played at Staples Center the night after the Lakers did
On Friday, LeBron James returned to the court for the Lakers and took on their LA rival, the Clippers.
But despite 27 points and 10 rebounds from Anthony Davis, the Lake Show couldn't get the win, as LBJ shot 39.1% from the field and 25% from 3-point range. Russell Westbrook also only scored 10 points.
The James family, however, still got a win in Staples Center this weekend.
Bronny and Sierra Canyon took on St. Vincent-St. Mary on Saturday, and they left with a 71-53 win despite one of their best players, five-star 2022 prospect Amari Bailey, not playing due to an ankle injury.
The younger James stepped up in his absence with 19 points on 7-of-11 shooting.
Bronny revealed what LeBron said to him after the big game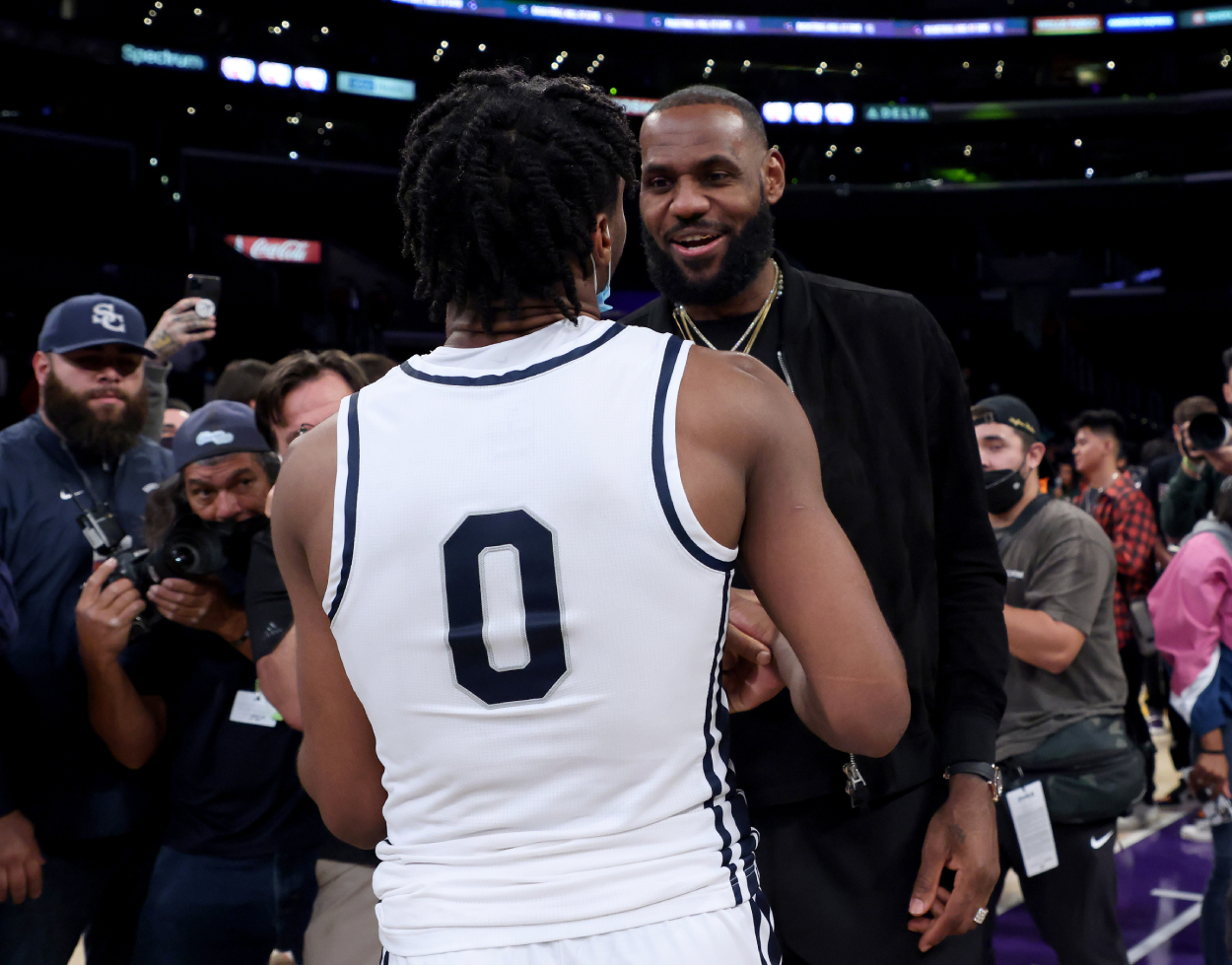 Obviously, getting the opportunity to play in Staples Center would be special for any high school athlete, but that's especially the case for Bronny since it's where his father plays all his home games.
"It felt special playing on the same court as he's played," Bronny said, per Yahoo Sports. "I'm getting a lot of confidence from that, and it was a really special game for me."
So, what did his dad think about his big performance?
"Afterwards, he just said he liked everything I was doing, with my poise and my pace for the game," he added, per Yahoo Sports.
It sounds like LeBron is pretty proud. And why wouldn't he be? His son has a chance to become a special hooper, just like him.
What is Bronny James' recruiting status?
Bronny is currently a junior at Sierra Canyon, so he still has some time to figure out his next steps, whether that be playing college ball, going to the G League, or choosing another option.
But while his recruiting status is unknown, it appears the hype is heating up.
Bronny is currently a four-star, according to 247Sports, and a top-40 recruit for the class of 2023. He is sixth among all 2023 combo guards and fifth among California recruits in his class.
"Bronny has, over the last couple of weeks, taken great strides and for him to show his ability, his confidence, his poise in a game like this was amazing," his coach, Andre Chevalier, said, per Yahoo Sports. "With someone like Amari [Bailey] being out, Bronny has stepped up and showed his leadership on the court."
Yahoo reports that Duke, Ohio State, UCLA, Tennessee, and Michigan are interested in the young James, while 247Sports also lists Kansas, Kentucky, and North Carolina as interested schools. However, as alluded to earlier, his preferred path is unknown.
LeBron James is already one of the greatest players to ever play, as he's a 17-time All-Star, four-time NBA MVP, four-time champion, and four-time Finals MVP. That could put a lot of pressure on Bronny, but it appears he has a lot of people wanting him to succeed, which could pay off greatly.
He has a chance to be one of the next big stars.
Stats courtesy of Basketball Reference and the Los Angeles Times