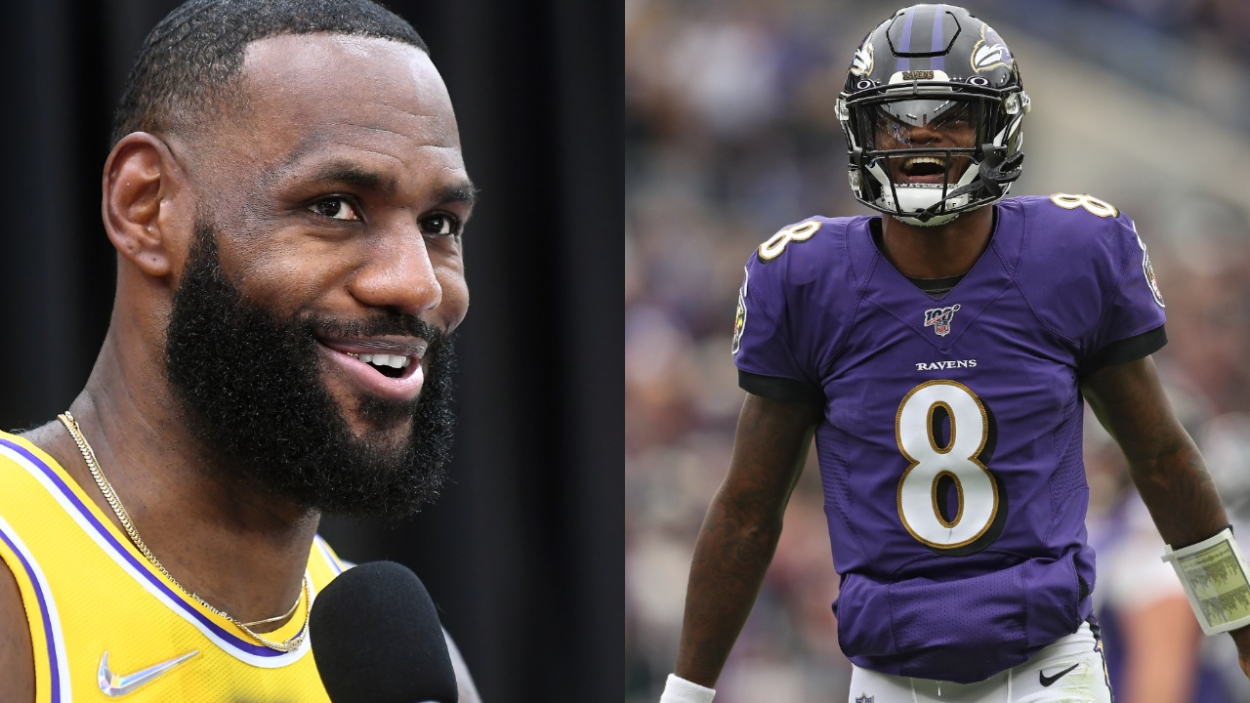 LeBron James Gives Brutally Honest, Profanity-Laced Advice to Lamar Jackson
LeBron James figured out how to dominate his competition at a young age. So, his recent advice to Lamar Jackson could be crucial to the quarterback's success.
LeBron James is the most polarizing athlete in the world; you either love him or hate him.
No matter how you feel, though, you can admit one thing: The King's maturity was well beyond his years when he entered the NBA, and it resulted in him having significant success at a young age.
It has been over 12 years since James was in a similar situation to the one Lamar Jackson is in now. The latter is trying to prove himself and likely hopes to have a bounce-back season at 25 years old this fall.
But Jackson recently received advice from James, and he would be wise to listen to it. LeBron knows what he's talking about, and the results prove it.
LeBron James gave brutally honest, profanity-laced advice to Lamar Jackson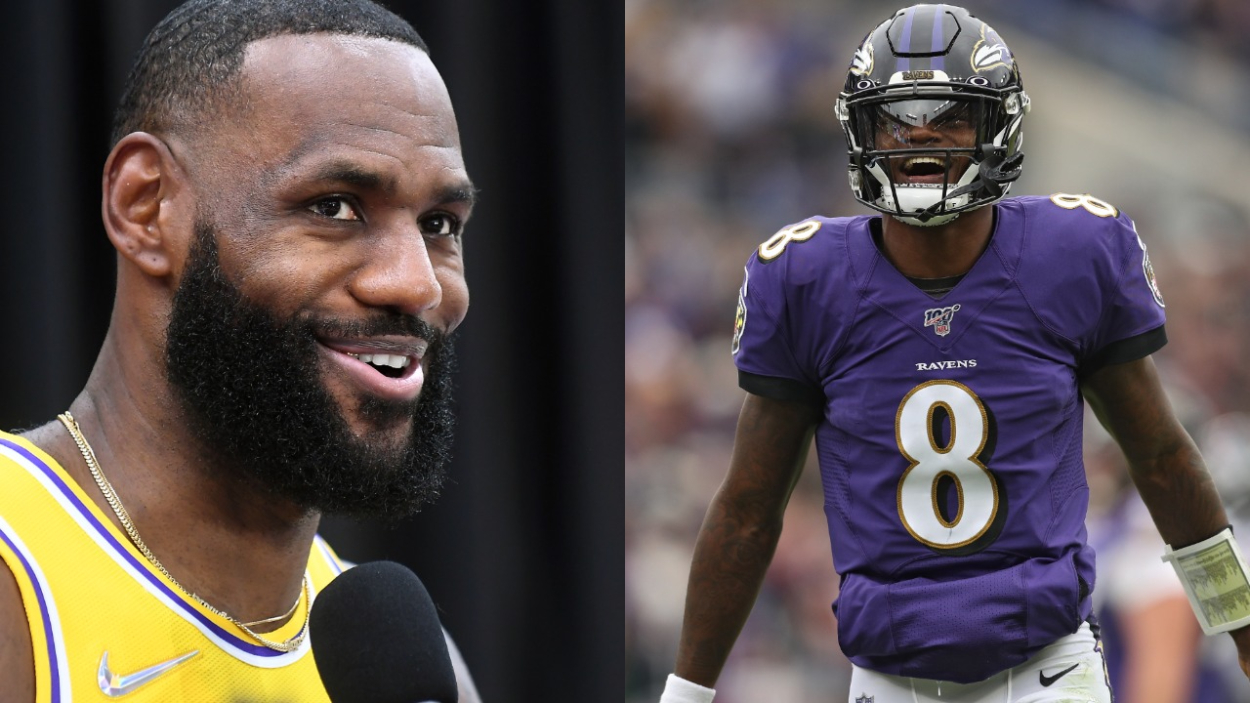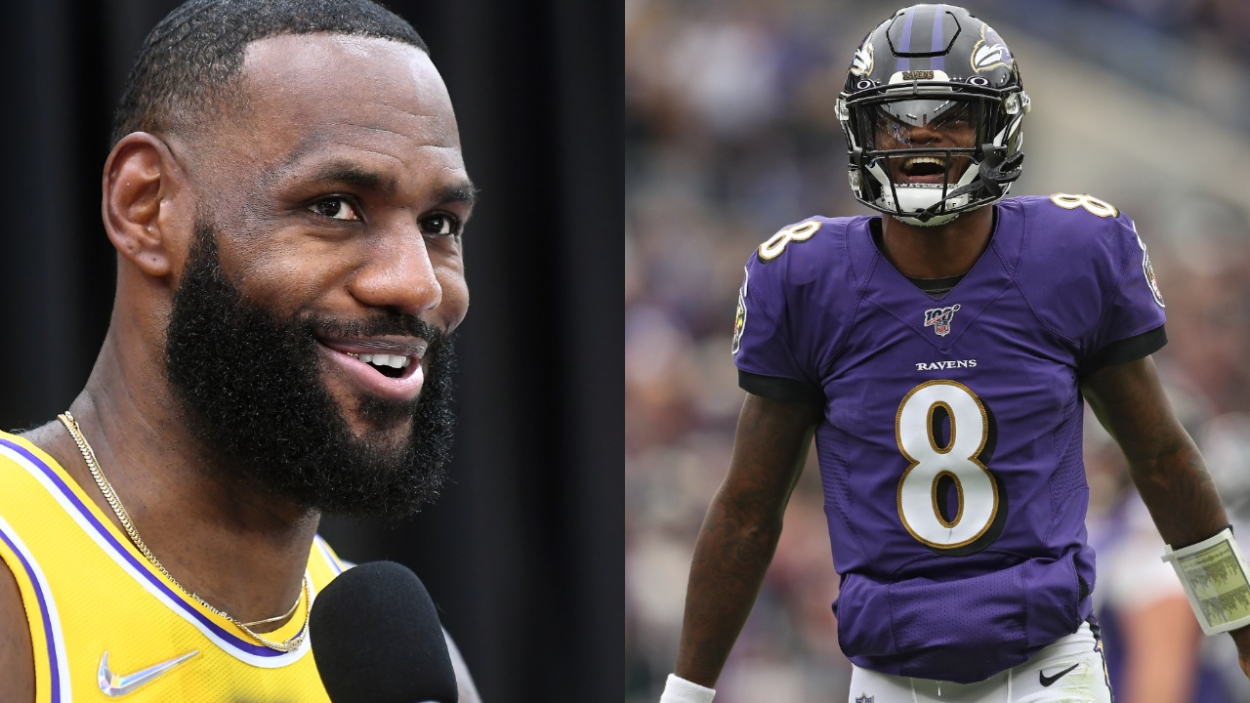 Lamar Jackson recently appeared on LeBron James' show, The Shop, and The King gave some brutally honest advice to the Baltimore Ravens quarterback.
"He's right there, at 25 [years old]; 25 was my first year in Miami," James said on the March 4 episode. "…I think one of the first ones that I started to learn [was] that you can't really give a f*** about what people say no more. Because everybody gonna f***ing critique everything that you do no matter what you do. That s*** will creep into your mind, no matter if you believe it or not. It's wasted energy."
James went on to discuss how he let everyone else's opinions affect his play in the 2011 NBA Finals against the Dallas Mavericks. And his experiences could be good for Jackson to learn from and use going forward. James went from being the punchline in every ringless joke to a four-time NBA champion.
LeBron failed to win it all through his first eight NBA seasons
Lamar Jackson is learning how difficult it is to win championships. He's 1-3 in four career playoff starts, and his Ravens fell short of expectations during his MVP-winning 2019 campaign. They went 14-2 and earned the No. 1 seed in the AFC but lost to the Tennessee Titans in the Divisional Round.
LeBron James also struggled to reach the mountaintop when he was Jackson's age. James took the Cleveland Cavaliers to the NBA Finals in 2007, but the San Antonio Spurs won in four games. He then helped the Cavs claim the NBA's best record in 2008-09 and 2009-10, but they lost before reaching the Finals in both years.
The shortcomings resulted in James jumping ship and joining the Miami Heat in 2010-11, but his Big Three Miami team choked in the 2011 NBA Finals. The Dallas Mavericks beat them in six games.
By the sounds of James' comments, though, it seems he then decided to no longer care what everyone else was thinking.
That flip of the switch resulted in one of the greatest runs in NBA history.
Lamar Jackson would be wise to follow LeBron James' advice
The NBA world quickly learned it was in trouble once LeBron James began blocking out the noise. The King won his third and fourth MVP awards the next two seasons, and he led Miami to three more NBA Finals appearances, winning two championships in 2012 and 2013.
James then led the Cavs to four consecutive Finals (eight straight for him overall) and won a title in 2016 before leading the Los Angeles Lakers to a championship in 2020.
LeBron hasn't choked in the Finals since that 2011 series, either. After recording just 17.8 points per game during the 2011 Finals, James hasn't averaged fewer than 25.0 in the championship round since. He has won four Finals MVP awards and is No. 2 in NBA history in most career points in the series.
Football is, obviously, a much different sport than basketball. Lamar Jackson has to rely on his teammates more than James does. But blocking out the noise could be crucial for the Louisville product to succeed in 2022.
Jackson saw the Ravens miss the playoffs this past season, as injuries limited him to only 12 games. When he was on the field, though, the electrifying playmaker struggled with efficiency. He threw a career-high 13 interceptions. Jackson also had an 87.0 quarterback rating and a 50.7 QBR, both of which were his lowest since his rookie season.
LeBron James has learned to ignore the haters or, at the very least, use them for motivation. If the 2019 NFL MVP learns to do the same, the AFC could be in trouble.
Stats courtesy of Basketball Reference and Pro Football Reference