LeBron James Gives Cavs Fans Unrealistic Hope With Eyebrow-Raising Comments
After seeing him leave and return once, some Cleveland Cavaliers fans still have slight hope that LeBron James will come back to the Cavs once again before ending his legendary NBA career. Their team has only had success throughout the past two decades when he has been on it, so having him back in The Land would be franchise-altering and give the fan base a much-needed spark.
However, with the Los Angeles Lakers currently having a stacked team that's looking to win a title, it seems pretty unlikely that The King will return to Northeast Ohio anytime soon. But Cavs fans now have some unrealistic hope thanks to his recent comments and tweet.
LeBron James praised two current Cavs stars
LeBron James rarely comments on the current state of the Cavs. They have been rebuilding ever since he left for the second time in 2018, but Cleveland now has a strong roster filled with young stars like Collin Sexton and rookie Evan Mobley.
This season, the Cavs got off to a nice 3-2 start with three straight impressive wins over the Atlanta Hawks, Denver Nuggets, and Los Angeles Clippers. And during their Oct. 27 win over the Clippers, Sexton, the fourth-year guard, scored 26 points, which included an internet-shattering dunk over Nicholas Batum.
Earlier that night, the Lakers suffered an embarrassing loss to the Oklahoma City Thunder in a game where James didn't play, but The King still took time to post about Sexton on Twitter after his team's L.
"My goodness Young Bull!" James tweeted, referencing Sexton's nickname. "With the left too."
The Lakers then played the Cavs a couple of nights later, and Cleveland outplayed LA for most of the game until James and company took over in the fourth quarter and won 113-101. After the game, James then had some comments about Mobley, the Cavaliers' rookie big man, following the youngster's 23-point, six-rebound performance.
"He's going to be a damn good basketball player in this league," James said, per Cleveland.com. "It's so crazy because he was just playing against my son a couple years ago. It's weird. It's getting more weird by the day. He was playing against my son in the playoffs two years ago and obviously we saw what he did in the tournament — just electrifying. They got a good one. Cleveland has a good one. They've done a great job over the years in the draft, I'll say."
LeBron's comments have given Cavs fans hope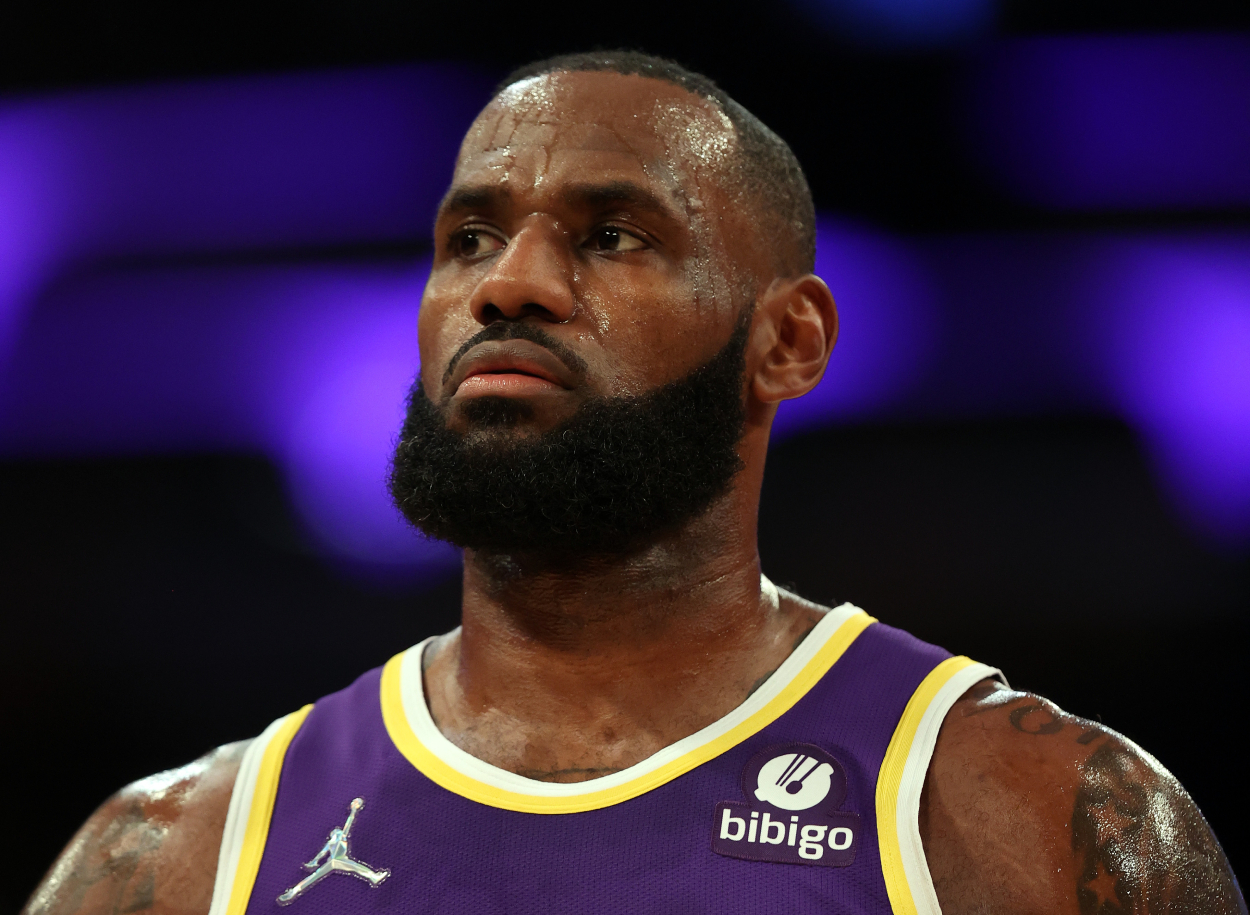 As mentioned earlier, LeBron James rarely speaks on the current state of the Cavs, so his comments were certainly interesting, especially since he will be a free agent in the summer of 2023.
And Cavaliers fans have since expressed their hope for The Return Part Two.
Following James' tweet about Sexton and a tweet from the Cavs' official team account about the 18th anniversary of LeBron's NBA debut, Ben Axelrod, a Cleveland-based reporter, posted, "The amount of social media flirting between LeBron and the Cavs has not been lost on me."
Axelrod then tweeted a poll where he asked fans if they wanted "LeBron to return to the Cavs," and 81.4% voted yes, while 18.6% voted no.
Following James' remarks about Mobley, another fan on Reddit posted "I hope so" in reference to a user saying they think the Cavs need to continue tanking so they can then trade for a couple of superstars when James returns to the franchise again in a couple of years. A second fan also said, "I'm in," when someone commented, "I kinda want LeBron to go back. The re-return."
All in all, James' comments have given Cavs fans a glimmer of hope for him possibly having a third stint with the team.
But the likelihood of that happening doesn't seem great.
Another LeBron James-Cavs reunion is unrealistic
At this point, any hope the Cavs have in bringing LeBron James back to Cleveland seems pretty unrealistic. James just won a title with the Lakers a couple of seasons ago, and he's on a star-studded roster this year that has a chance to win another championship.
The four-time NBA MVP also said, "I truly hope that I can finish my career with the Lakers," on a podcast this past summer, per Yahoo Sports.
But then again, not many NBA fans thought James would return to Cleveland in 2014 after going to four consecutive NBA Finals with the Miami Heat. He also said he didn't "have the energy" to leave the Cavs again when he returned to the team (per USA Today) but then went to the Lakers four years later.
So, with that said, anything is possible. As of right now, though, it appears the Space Jam 2 star is pretty comfortable in Hollywood.
Stats courtesy of Basketball Reference
RELATED: LeBron James Once Attempted to Bring a Former All-Star to the Cavs but Received a Strong Rejection Instead: 'I Didn't Wanna Play With LeBron'