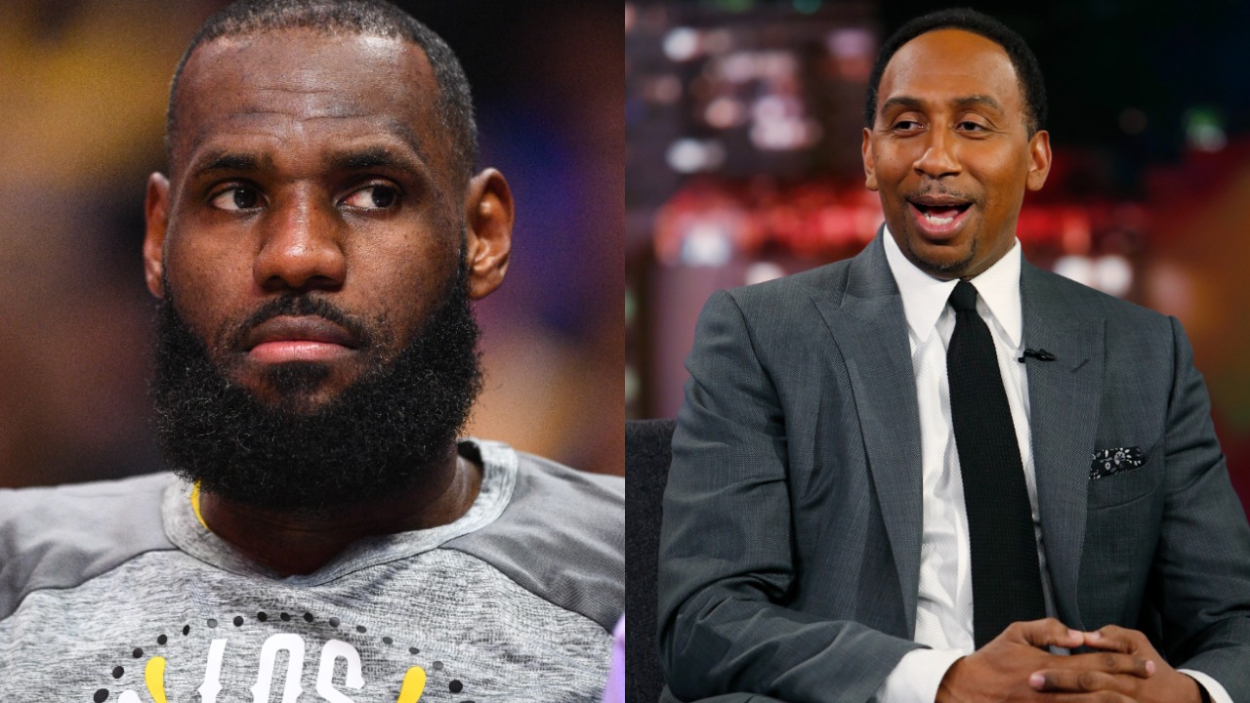 LeBron James' GOAT Status Called Into Question by Stephen A. Smith
LeBron James had an on-court blunder during a recent Lakers loss, and Stephen A. Smith is holding it against LeBron in the NBA GOAT debate between himself and Michael Jordan.
The Los Angeles Lakers stink this season, but LeBron James has helped his case in the NBA GOAT debate.
James is averaging 29.3 points on 51.7% shooting at 37 years old. We simply haven't seen someone at his age perform at such a high level before, especially with his efficiency. He has just further proved that he has maybe had the longest prime of anyone in sports history.
However, LeBron's recent on-court blunder made Stephen A. Smith argue against his GOAT case. But Smith didn't actually prove anything with his comments. He just showed everyone that he never plans to give James that title over Michael Jordan – no matter what The King does.
LeBron James passed up the final shot in a loss to the Rockets
The Lakers should have beaten the Houston Rockets on March 9. Houston is one of the NBA's worst squads, and LA should have had a chip on its shoulder due to everyone doubting its playoff potential.
But the game went down to the wire, and the score was knotted at 120-120 in the final seconds of regulation. However, LeBron James, who dropped 56 points in his previous performance, had an opportunity to make a game-winning layup as time expired, but he instead passed it to his pal Carmelo Anthony, who missed a 22-foot jumper.
"I was a little bit off-balance and I could have forced a reverse layup, but I wasn't in the position to feel like I could have got a great look," James said after the game, per the New York Post. "I could have got a decent look and I feel like Melo's look was a lot better than mine."
The game then went into overtime, and the Rockets pulled away, winning 139-130.
The loss was yet another embarrassing moment for the Lakers, but some were more concerned about James' pass.
Stephen A. Smith criticized LeBron for passing up the last shot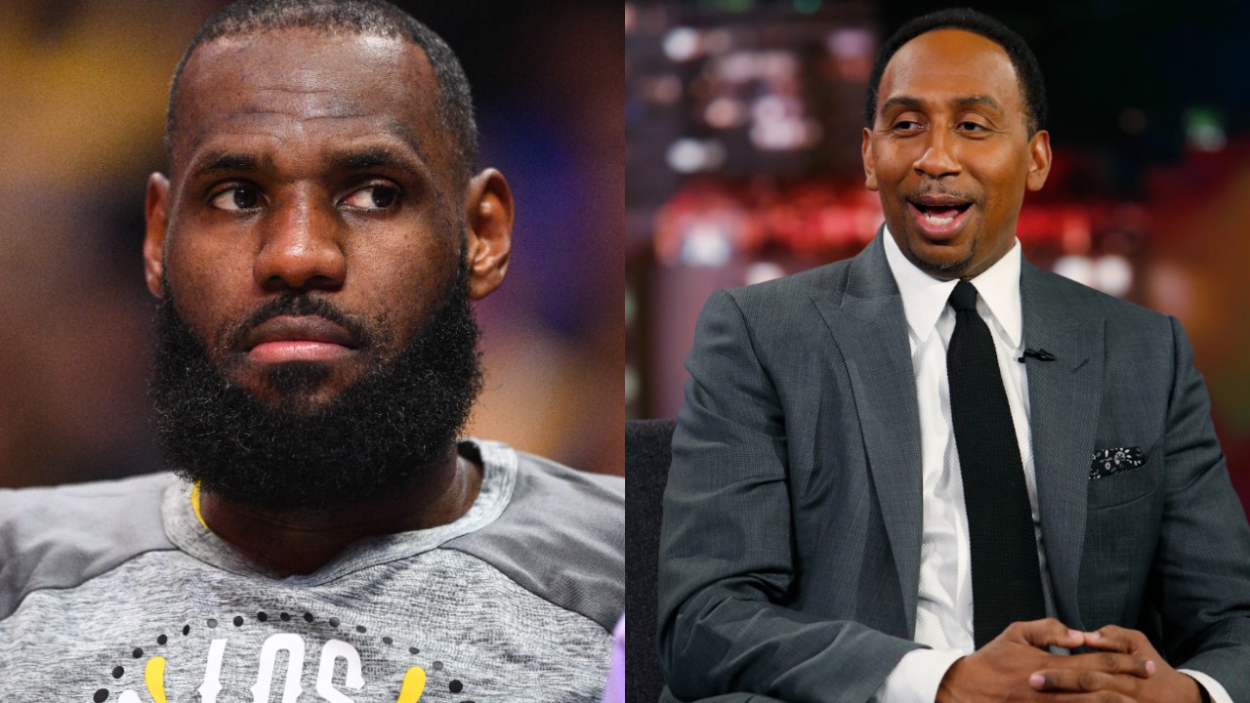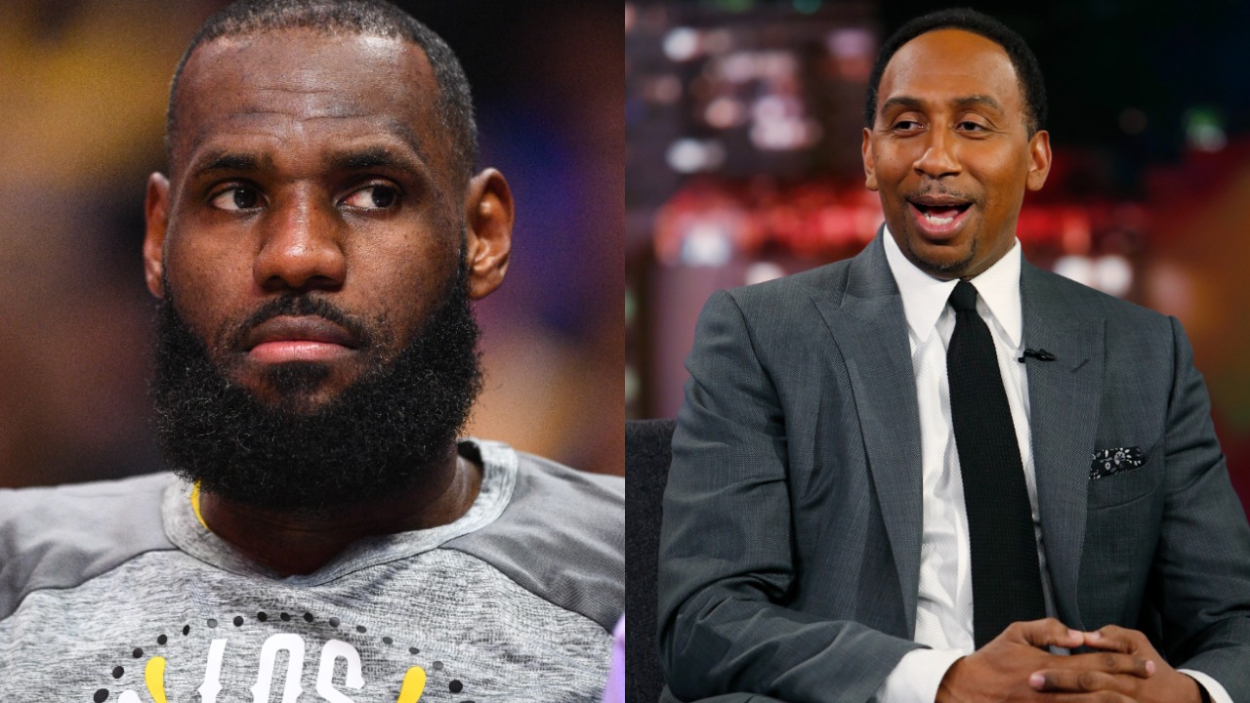 In the grand scheme of LeBron James' career, the game against the Rockets was as small as it gets. Yes, the Lakers are struggling, and he could have possibly won the game with a reverse layup, but would that have really changed their season? He has made much bigger shots in more significant moments over the years, and everyone should use those to debate his legacy — not some random play on March 9.
However, those who don't believe he's the GOAT will just use it as ammo to make their point, and that's what Stephen A. Smith did on First Take.
"That is absolutely, positively profound evidence as to why he should not be the GOAT," Smith said on the March 10 episode. "He's No. 2 all-time. No shade, no disrespect. … He will never be No. 1 in my eyes, and last night was the perfect reason why."
Smith admitted that James has made big shots in his career. He doesn't panic in meaningful moments. But he essentially said LeBron had to develop that characteristic. That's while Michael Jordan – Smith's GOAT – entered the league with it (he even showed he had it in college at North Carolina).
"That LeBron James last night is the LeBron James you saw for the first eight, nine years of his career," Smith said. "… He knows good and damn well, 'I should have finished it. I should have closed the deal.' But that hesitancy is what people look at only when they're talking about the GOAT. … When it comes to the GOAT conversation, you're talking about those moments, where you say to other people, 'Move the hell out the way. Let me close this for you so we can go the hell home.' That's not what he did last night."
You may agree with Smith's comments. But he just further proved that he never plans to give James the GOAT title.
LeBron James has come up big time and time again
It's OK to think Michael Jordan is the GOAT. It's also fine to think LeBron James is the GOAT. The issue with Stephen A. Smith's comments is that he used an overall meaningless moment to argue against James.
Who will remember a March meeting with the Rockets in 20 years? No one. Yes, Jordan had more regular-season game-winning buzzer-beaters in his career (nine compared to LeBron's seven), but James has made more big shots in the postseason.
According to a 2020 article from The Ringer, James has sunk the most playoff buzzer-beaters in NBA history, making five compared to Jordan's three. We have watched him come up big in the playoffs for years, and his clutch performances helped him make a whopping eight straight NBA Finals and nine in 10 seasons.
Again, it's OK to think Jordan is the GOAT. The argument is too close to give a definitive answer. But we don't hold a random regular-season game in 1990 in which Jordan passed the ball to John Paxson for the game-winning shot over the Dallas Mavericks against him. So, why are we holding this random game against LeBron?
Stats courtesy of Basketball Reference