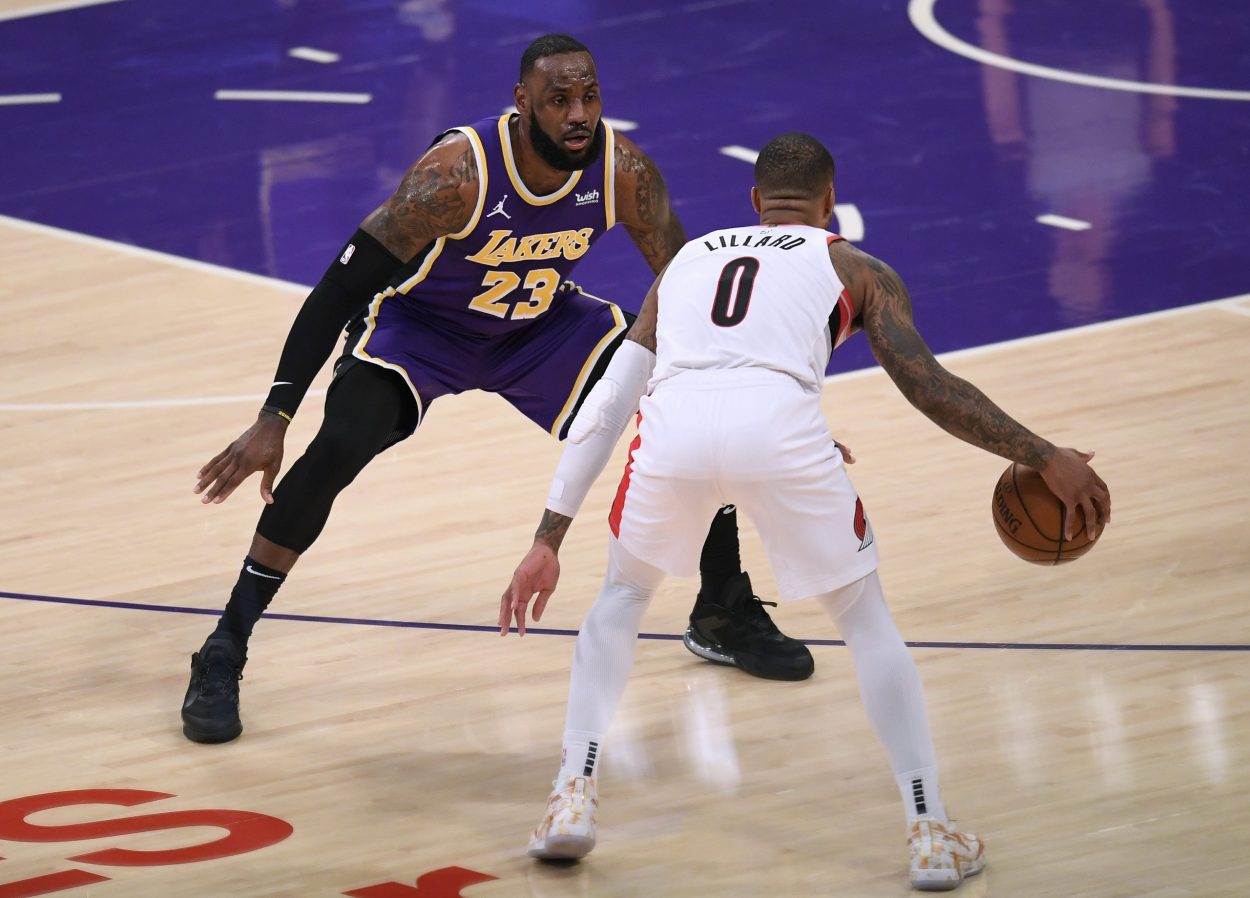 LeBron James' 'Godfather' Meeting With Damian Lillard Hints at Concerning Trend That Could Ruin the Twilight of LBJ's Career
LeBron James reportedly met with Damian Lillard this summer to discuss their basketball futures. The meeting might not have explicitly been a recruitment pitch, but it still hints at a concerning trend that threatens to derail the last chapter of LBJ's career.
Remember earlier this summer, when fans and media went wild over Damian Lillard attending a WNBA game with LeBron James amid mixed reports about Lillard's future with the Portland Trail Blazers? As it turns out, that game did serve as the precursor to a private meeting.
Just as they did with Russell Westbrook later this past summer, James and Anthony Davis met with Lillard to discuss their basketball futures. Although an explicit recruiting pitch never took place, Lillard felt reinvigorated about his place in Portland, suggesting King James continues to lose influence as a guy who can convince top stars to play with him.
LeBron James and Anthony Davis held a Godfather-style meeting with Damian Lillard
LeBron James wanted to have a discussion with Damian Lillard about the future. So with Lillard in LA for a rap music video shoot and both stars in attendance at a Sparks game, LBJ "shot his shot," so to speak.
During an interview with Chris Haynes of Yahoo Sports, Lillard explained that he received a text from James with an accompanying invite to have lunch. Dame said he agreed to meet at the James residence for a chat.
When Lillard arrived, he took the elevator to the top floor. The doors opened, revealing something out of the Godfather movies. James sat on one side, with Anthony Davis on the other. The stars were about to dine on Italian delicacies and drink wine in a meeting of the minds.
Dame told Haynes that James opened the conversation by speaking about his experience living in LA. Although Lillard said he did not believe the meeting explicitly entailed a form of recruitment, he also said James expressed curiosity at his situation.
The Blazers star reportedly told LBJ and AD that he felt the three could play together, though he also felt skeptical about forming a superteam. Lillard gave LeBron his flowers and said the meeting made him respect James even more, but it also reinforced his desire to stay in Portland.
Lillard is his own man, and perhaps James never intended to recruit him to the Lakers. Still, with Haynes reporting that LA had already looked into acquiring Dame, his failure to sway the Blazers star points to a recent concerning trend.
James struggles to recruit top stars to LA
Some fans might look at the above headline and think, "What?" After all, LeBron James played a central role in getting The Brow to the Lakers. The two also met with Russell Westbrook before LA acquired The Brodie this summer.
But some qualifications are necessary on both fronts. When it comes to Davis, he already showed a sense of desperation in trying to leave the New Orleans Pelicans. He already had a friendship with James, who all but openly campaigned for the Lakers to acquire him.
As for Westbrook? Well, he's an LA native. He went to UCLA. Moreover, the Washington Wizards' eagerness to move off his contract made it all the more likely the Lakers could land him, for the right price. Plus, Westbrook remains a pretty polarizing talent whose game prompted questions about his fit with James and Davis.
Realistically, James' track record of convincing stars — whether implicitly or explicitly — to play in LA isn't great. The Lakers had an opportunity to possibly land Kawhi Leonard or Paul George in the summer of 2019. They whiffed, as Leonard and George signed with the crosstown rival Clippers.
According to the LA Times, Kyle Lowry had an interest in joining the Lakers this past summer. However, Jimmy Butler and the Miami Heat ultimately proved more tempting to the veteran point guard. That partially explains why LA eventually pulled the trigger on the Westbrook deal.
Again, each of these guys has different desires and motivations. LeBron is not solely at fault for failing to lure star players to LA. Still, it's troubling for the Lakers that elite talent is opting for other destinations, because James isn't getting any younger.
Inability to recruit stars could ruin the last great chapter of LeBron James' Lakers career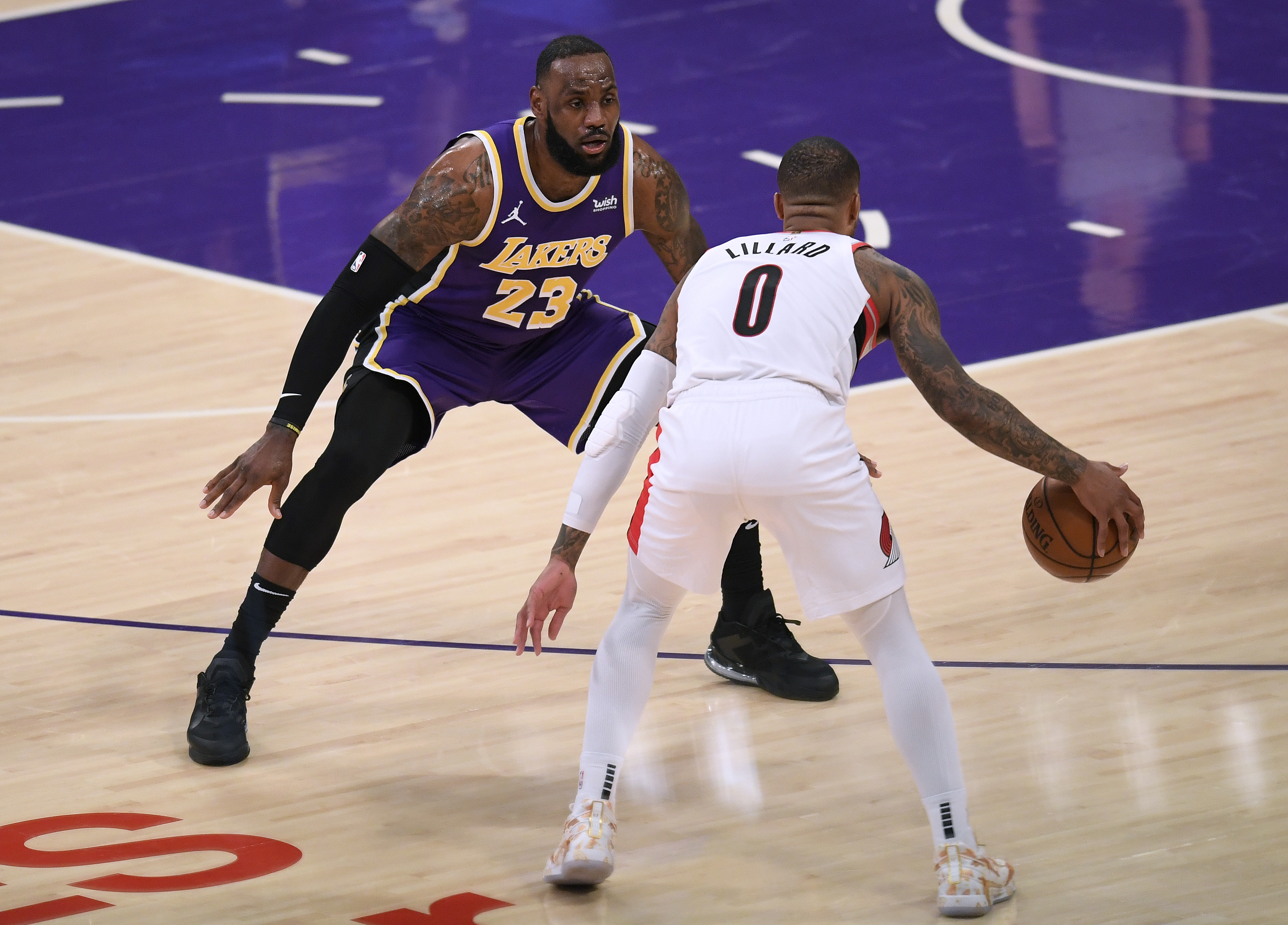 Nobody doubts James' ability to still play at a high level. But he's 36 years old. At some point, the skills will decline. The Lakers cannot afford to be beholden to a supporting cast of veteran players when they do.
It's entirely possible LA establishes better chemistry on the floor and lives up to its contender status this season. Or maybe Westbrook isn't the right fit for James and Davis.
Regardless, LeBron James and the Lakers need to recruit star talent in the coming years. Otherwise, LA risks failing to maximize the final chapter of his esteemed career.