LeBron James' Recent Dominance Has Former NFL Player Marcus Spears Boldly Declaring He's the GOAT Over Michael Jordan: 'LeBron Is the Greatest'
There likely isn't anything LeBron James can do at this point for Michael Jordan fans to say he's the GOAT over MJ, but it's certainly hard to look past his play of late. James has been doing a little bit of everything for the Los Angeles Lakers, proving that age is just a number by putting up some massive stats in his 19th season.
ESPN analyst and former NFL player Marcus Spears isn't overlooking what he's doing, either. In fact, Spears recently went on TV and declared that James was the GOAT over Jordan.
LeBron James has been on a dominant run for the Los Angeles Lakers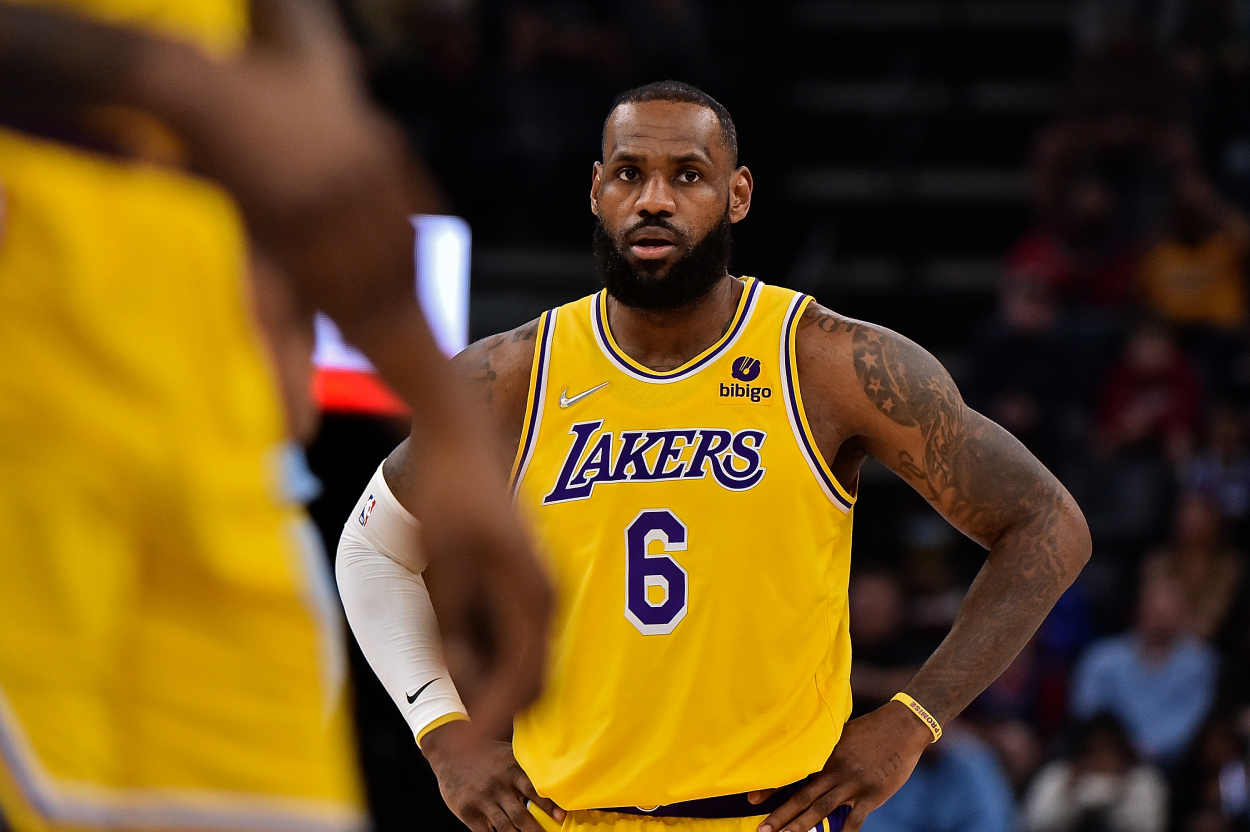 The Lakers have struggled so far this season, but it hasn't been because of LeBron James.
Despite turning 37 years old on Dec. 30, James is averaging 28.0 points for LA to go with 7.2 rebounds and 6.8 assists. He is also shooting 52.0% from the field.
LeBron has also been absolutely dominant in December. He's averaging 34.8 points, 10.3 rebounds, and 6.5 assists in his last six games. James is also shooting 57.0% from the field and 40.4% from 3-point range.
To put it simply: The King is doing things we have never seen from someone his age. And that has led to Marcus Spears calling him the GOAT.
Marcus Spears called LeBron the GOAT over MJ
Former Dallas Cowboys defensive end Marcus Spears has been a LeBron James supporter for years, and during a recent appearance on ESPN's First Take, he raved about the four-time champ's recent play.
"He's the greatest basketball player I've ever seen," Spears said on the Dec. 29 episode. "I know that this argument goes all over the place, but, to me personally, LeBron is the greatest."
Spears then praised James for constantly improving his game over the years, despite already being one of the world's best players. For example, he won three MVPs as a mediocre shooter before later making over 40% of his long-range shots in 2012-13 (another MVP season). He's now making 2.9 three-pointers per game this year after only making 1.5 in 2007-08 when he led the NBA in scoring.
"The level of respect I have for the amount of work that he put in, even after being considered the best player in the NBA," the 38-year-old Spears said. "… I know people will fight tooth and nail for MJ. LeBron James is the best basketball player I've ever seen in my life. And I consider him to be the best basketball player ever."
The commentator admitted that it comes down to personal preference in terms of what people like to see out of a player, but he ultimately added that no one has ever seen "this kind of basketball player before" in regards to LeBron.
LeBron James' recent success adds to his GOAT argument against Michael Jordan
Saying LeBron James' recent play is a main reason why he's the GOAT wouldn't necessarily work. His success late in his career and Michael Jordan's play later in his isn't an apples-to-apples comparison.
Jordan was retired at 37, but returned to the league at 38 with the Washington Wizards, and he wasn't playing anywhere near the level James has been this year. MJ averaged 22.9 points, 5.7 rebounds, and 5.2 assists at 38, and 20.0 points, 6.1 rebounds, and 3.8 assists at 39.
So, if you already think James is close to Jordan, his longevity does have to come into play a little bit when debating between the two. Jordan only played in the NBA for 15 seasons and was a shell of himself once he got older. LeBron is in his 19th season and doesn't appear to be slowing down anytime soon.
All in all, the LeBron James-Michael Jordan GOAT debate will last forever. And while James' recent play shouldn't be the main reason people consider him the greatest, it does need to be put into consideration. He has been absolutely dominant and has shown fans something they have never seen from a player of his age.
Stats courtesy of Basketball Reference