LeBron James Has the Best Response When Asked About Playing With Bronny James
Bronny James has been hyped up as the next big phenom after his father for years. Since he was barely old enough to dribble a basketball, people have been speculating about his place in the future of basketball. When asked about his son's future in basketball, and possibly fed up with answering such questions, the father answered it in the most LeBron James way imaginable.
Following in LeBron James' footsteps
As the oldest son of the most popular basketball player on the planet, Bronny James has grown up watching his father go from young phenom to NBA to Champion, to veteran superstar in the NBA. Born just one year after his father entered the NBA as a teenager, Bronny's place as a potential heir apparent to his father has been talked about since he was just a child.
By the time that Bronny was 10 years old, his father stated that he was already getting college offers. LeBron spoke about how uncomfortable this could be.
"He's already got some offers from colleges. It's pretty crazy. It should be a violation. You shouldn't be recruiting 10-year-old kids."

LeBron James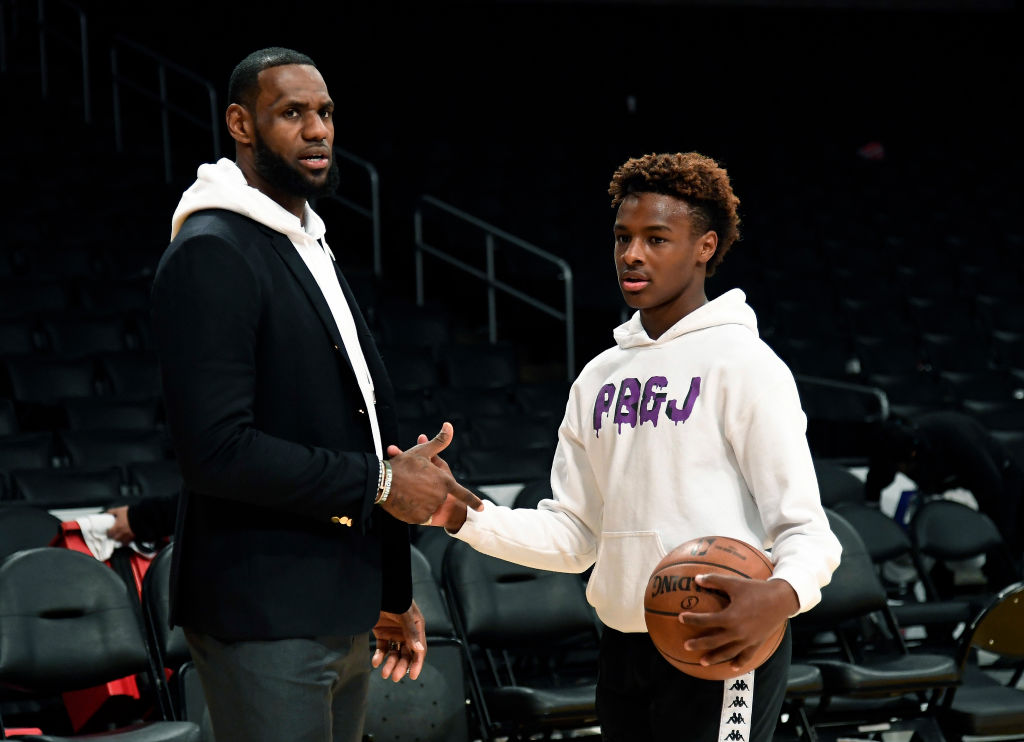 LeBron has spoken about the peculiar situation not only Bronny, but his other kids are in. He's even stated that if he could go back, he would name his eldest son something other than LeBron James Jr. so he could forge his own path and choose exactly what he wanted to do, whether it was basketball or something else. As of right now, however, it would appear that Bronny James has hoop dreams just like his father did as a child his age.
To LeBron's credit, he has done everything in his power to support his son. Over the last summer, LeBron got criticized for excessive celebrations during his son's game, as well as getting too involved with the team. LeBron, however, just appears to be enjoying his son's success and showing that while he has tough shoes to fill, his father will be there beside him the whole time.
How is Bronny James doing?
With Bronny growing up in an era where video and highlights travel even faster than they did when his father was an up-and-comer, highlights of his game have gone around the internet for years. When he was just a child, videos popped up showing him emulating moves and dominating others in the youth leagues.
Now in high school, Bronny is learning in the toughest environment yet. Sierra Canyon High School is a young school, but it is already developing a reputation as a training ground for NBA talent. Head coach Andre Chevalier has already seen some players, such as current Sacramento King Marvin Bagley III, come through his doors and leave as NBA prospects. With Bronny and Zhaire Wade, son of LeBron's best friend Dwyane, the pair had astronomical expectations this year based on name and name alone.
Sierra Canyon is currently 27-4 and playing in the high school playoffs. However, Bronny does not have the role that many expect of him just because of his famous father. He might have all the hype in the world, a name that makes him basketball royalty, and the weight of the world on his shoulder, but he is also just a ninth-grader playing among students three and four years older than him.
Bronny averaged six points per game off the bench, but it doesn't do anything to diminish his hype. Even the best players in the world often need to grow into their roles as varsity superstars, so this isn't shocking. If anything, it shows how unfair expectations could be. Still, with Bronny's expectations still through the roof, people are already looking at a future in the NBA.
What does LeBron think about Bronny's NBA future?
By the time Bronny graduates high school in 2023, many believe that the NBA could finally do away with the one-and-done college rule that forces players to either go to college, spend a year overseas, or miss out on the chance of being drafted. If this was the case, and Bronny is the real deal, he could be a hot commodity coming out of high school.
LeBron was asked about the possibility of playing with his son in the NBA. If everything fell in line, Bronny would enter the NBA 20 years after his father did, and if his father continues to defy age, that could mean that the two could play together in the NBA.
"My son in the ninth grade, man. [He's] trying to worry about what project he gotta turn in tomorrow. That's what we worried about right now. And that's the most important- school, home, and being the best big brother he can be."

LeBron James
All of the hype and predictions about Bronny forget that he is just a child. LeBron doesn't want his son to feel like he has to be one thing. If Bronny does make it to the NBA, he can expect his father, whether as a teammate, opponent, or retired fan, to be right there cheering him on. If it doesn't work out, LeBron doesn't want to feel like it was his only option.
Time will tell what happens, but as of right now, LeBron seems perfectly content letting his son be a normal kid.