LeBron James Still Hasn't Joined This Elite List of 5 NBA Players But Says He Could If He Wanted
Few NBAplayers in history can match the achievements of LeBron James. But there is one specific record that King James does not have. Only five players have earned it, and the reason he has not is due to his unselfishness on the court.
The NBA star is a phenomenal scorer, but James' willingness to create opportunities for others means he will probably never join a club made up of Wilt Chamberlain, Kareem Abdul Jabbar, Julius Erving, Michael Jordan, and Steph Curry — at least according to him.
A rare piece of NBA history still eludes LeBron James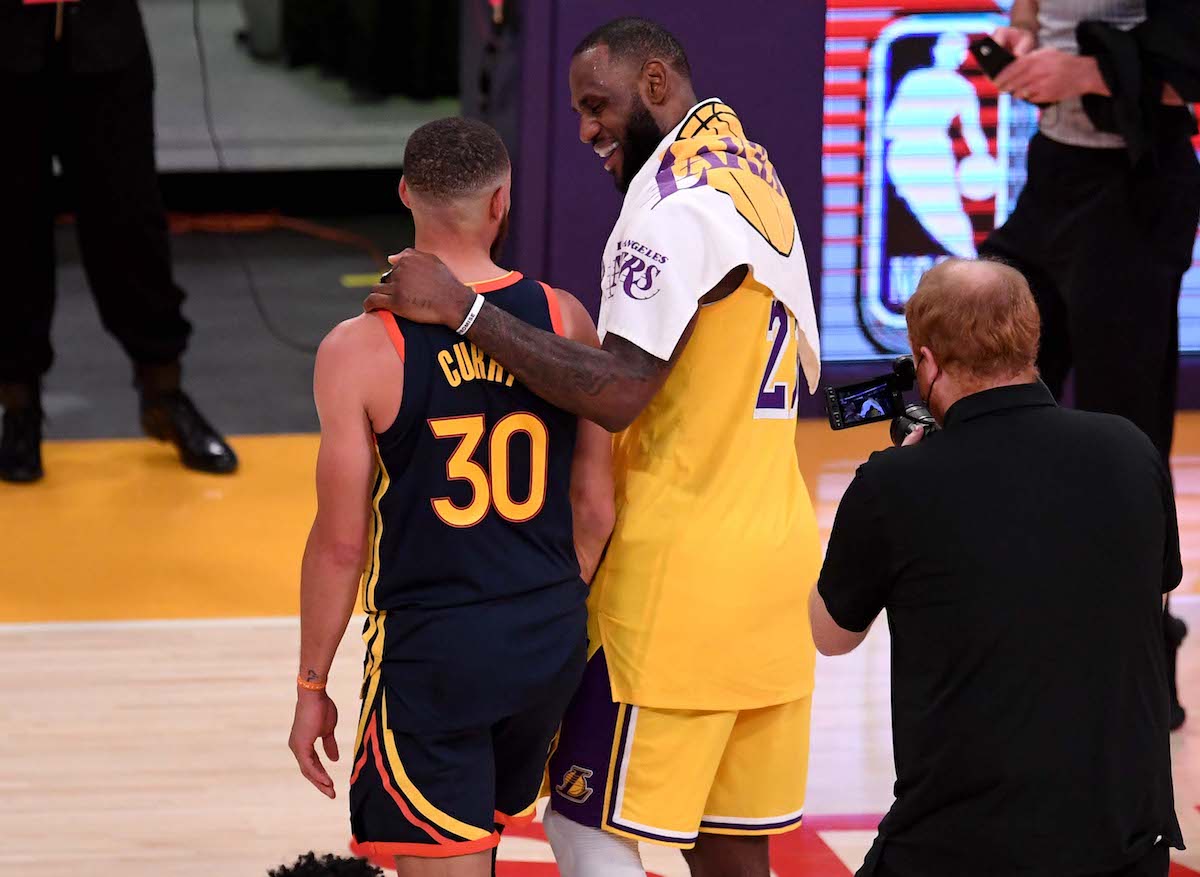 LeBron James has accomplished everything you can as an NBA player. Somehow, he's lived up to the stratospheric hype that followed him from St. Vincent-St. Mary High School to the league. He parlayed that success into successful businesses. But there is one place in the NBA's record books that does not count James as a member.
Five players in history have win multiple championships, MVP trophies, and scoring titles in their careers: Wilt Chamberlain, Kareem Abdul Jabbar, Julius Erving, Michael Jordan, and Steph Curry. Even including Erving on that list is slightly cheating, since you have to count his ABA stats to match the criteria.
Other players got close to making it on the list. George Mikan, Kobe Bryant, Shaquille O'Neal, and Bob McAdoo only won one MVP award; Bob Pettit has one championship to his name; the scoring brilliance of George Gervin and Adrian Dantley never culminated in a title. But James not being on that list is the most surprising omission of all. He averages 27 points a game for his career, but his one scoring title came all the way back in the 2007-08 season.
James knows that, for a player of his talents, earning that distinction is a matter of desire more than anything else. "If I really wanted to," James said in 2010, "if I really wanted to be the scoring title [champion], I could do it every single year ⁠– every single year ⁠– I could really do it. But it doesn't matter."
James has never presented himself as a scorer, but he is fantastic at it
Scouts proclaimed a teenage James as the next Michael Jordan, but his approach to the game resembles Magic Johnson more than anyone else. His proclivity for passing, even in clutch moments, drew tons of criticism when he was younger. But he's always maintained that he was a playmaker first and a scorer second. Once he added championships to his resume, James' desire to be a team player became something to celebrate.
But James' scoring prowess can't be understated. He averaged 27 points a game as a 20-year-old in his second season. And yet, this is the part of his game he's developed the most during his career. He didn't develop a consistent jump shot or post moves until his time with the Miami Heat.
Once he matched his athleticism with a similar amount of skill, James could not be stopped. He had an effective field goal percentage of over 60% in his last two seasons in South Beach. And his 51-point outing in Game 1 of the 2018 NBA Finals was a showcase in elite shotmaking.
James is currently third on the NBA's all-time scoring list and could break the record in the next two years. Not bad for a guy who's "not a scorer."
Which current NBA players could conceivably join this list?
As far as the original list goes, only a few players might have a chance of adding to it one day. The most obvious candidate is Kevin Durant. The only thing missing from his resume is the second MVP award. Given how incredible he looked during the playoffs, the forward enters next season as one of the favorites, provided he stays healthy.
The other hypothetical options have youth on their side. Giannis Antetokounmpo already has two MVP trophies and a championship at the age of 26. But it's hard to imagine the NBA's scoring champion being someone with his difficulties shooting the ball.
On the even younger end, Luka Doncic, Jayson Tatum, and Zion Williamson are all superstar offensive players who are or project to be good enough to be one of the two best players on a title team. But none of their teams look likely to win a championship any time soon.
RELATED: Gilbert Arenas Delivers the Verdict for the Greatest NBA Scorer Ever, and It's Not Michael Jordan: 'And I'm a Jordan Fanatic'