LeBron James Hasn't Played 1 Game With Andre Drummond but Is Already Calling Him a Bizarre Nickname: 'I Don't Know Where That Came From'
LeBron James hasn't played for the Los Angeles Lakers in nearly a month. That means he hasn't played with his new teammate, Andre Drummond, as Drummond signed with the Lakers about a week after James went down. However, even though they haven't played one game together yet, The King is already calling Drummond a bizarre nickname.
That nickname is "Big Penguin."
LeBron James hasn't played with Andre Drummond on the Lakers yet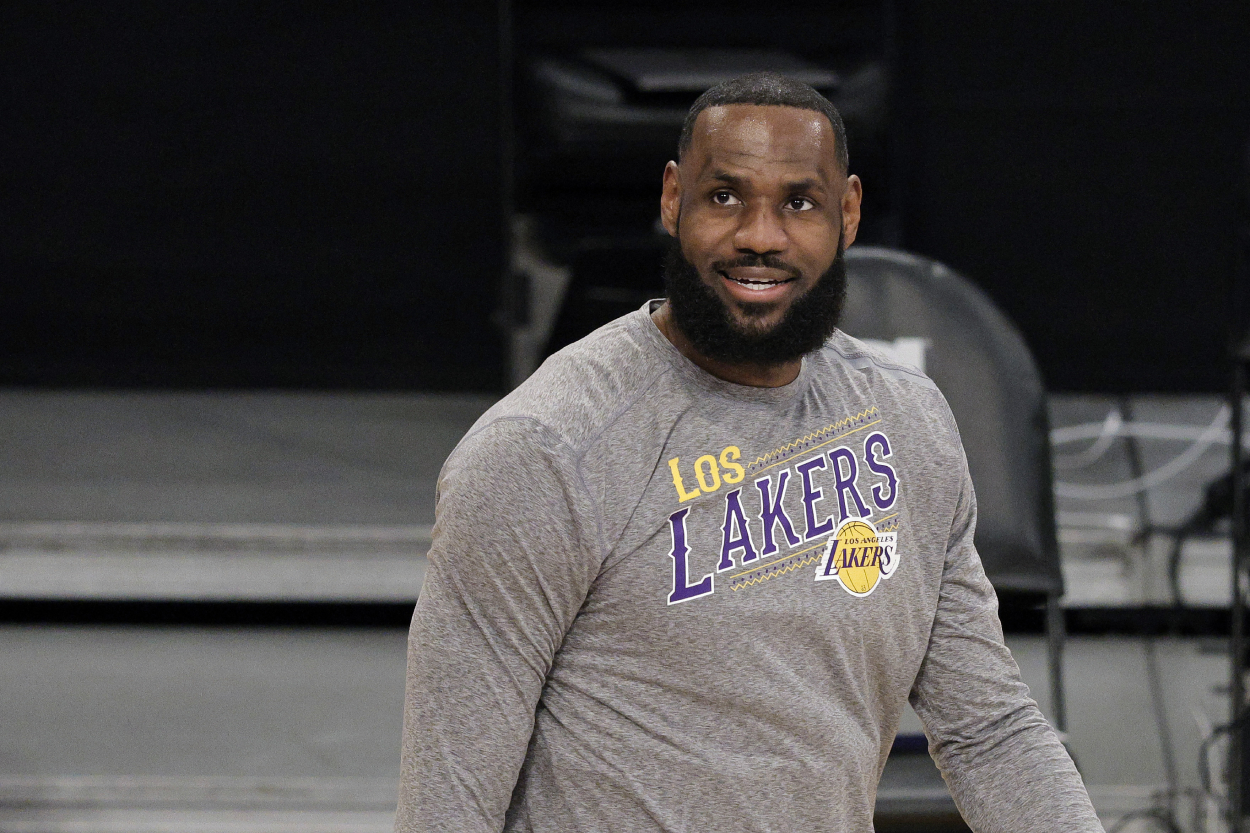 Coming off their 2020 NBA championship, LeBron James and the Lakers have been hampered by injuries this season.
Prior to going down, James had been averaging 25.4 points, 7.9 rebounds, and 7.9 assists. However, he hasn't played since March 20. Anthony Davis, on the other hand, has only played in 23 games for the Lakers this season. He has averaged 22.5 points and 8.4 rebounds but hasn't played since Feb. 14.
While it looks like they could both return to the court soon, this means the Lakers' new addition, Andre Drummond, has played with neither LeBron James nor Anthony Davis yet. Drummond averaged 17.5 points and 13.5 rebounds in 25 games with the Cleveland Cavaliers earlier this year. However, the Cavs ultimately bought out his contract, and he signed with the Lakers at the end of March. In five games with LA, he has averaged 9.2 points and 9.2 rebounds.
It will be interesting to see how Drummond plays once LeBron James and Anthony Davis return. But so far, the three of them haven't yet shared the floor.
That hasn't kept James from calling Drummond a weird nickname.
LeBron has a weird nickname for Andre Drummond
If you look at Andre Drummond's Basketball Reference page, it says that his nickname is "Big Penguin." LeBron James has already addressed the weird name with him, too.
"I don't know where that came from; Bron came up to me one day and said, 'Yo, is your nickname Big Penguin?'" Drummond said recently, per Lakers reporter Harrison Faigen. "I said, 'Man, I don't know where that came from, or how it started, or who came up with the name.' All I know is somebody must have found out that penguins are one of my favorite animals and kind of put two and two together."
So where did this weird nickname come from? We don't know for sure, but Faigen quote-tweeted a Pistons fan's claim that Drummond's former Pistons teammate, Greg Monroe, called him that because Drummond likes the movie Happy Feet. Another NBA fan claimed that Drummond used to make videos in a penguin suit.
While neither of those rumors is 100% confirmed, it's certainly a hilarious nickname that Lakers fans will probably embrace.
Either way, this shows the Lakers seem to have strong team chemistry. That camaraderie can ultimately go a long way toward winning an NBA championship, too.
LeBron James and the Lakers can win an NBA title if healthy
Sure, the Lakers have the Brooklyn Nets to worry about, as well as the Utah Jazz, Phoenix Suns, and Los Angeles Clippers. However, if the Lake Show can get healthy, they have as great a chance as anyone to win the NBA title.
LeBron James has proved throughout the past decade that he knows what it takes to get his teams to the NBA Finals. He has made it to the championship round in nine of the last 10 seasons. He also has a dominant squad around him this year as Anthony Davis is arguably a top-five player in the world, Dennis Schroder can score and facilitate, and both Montrezl Harrell and Kyle Kuzma have proved they can get the ball into the basket if needed.
The Lakers, who are 34-21 and in fifth place in the Western Conference, ultimately have five players averaging over 12.5 points per game, in addition to Andre Drummond, who is averaging 16.1 points between the games he has played on the Cavs and Lakers.
While LeBron James and the Lakers may not have a Big Three that is as explosive as the Brooklyn Nets', they are definitely stacked. Their talent and strong team chemistry should give them a great chance to win a second consecutive NBA championship.
Stats courtesy of Basketball Reference